Product Specs
Rip stop Nylon shell, polyurethane coating
Aqua foil outer
Polyamide inner
Weight: (Male size XXL) 390Gr
Leg lengths available: 29 INS, 31ins, 33ins
The deluge waterproof over trousers are marketed as been both waterproof and breathable. The Berghaus Deluge trouser features a 3/4-length zip together with a series of robust studs on an outer storm flap that stops wind driven rain breaching the trousers. On many occasions I've opened one of the two zips on either leg to allow airflow whilst still maintaining a water barrier. Having an upper zip also helps the wearer to easily reach items within the trouser pockets.
The fabric itself is not exceptionally breathable – and I've found that without the vents things get clammy very quickly. When moving fast in the rain this can be an issue.
The Deluge over trousers are not fitted with pockets..The trousers are treated with DWR (Durable Water Repellent), which prevents precipitation of the garment exterior becoming saturated.Not only can these trousers provide a waterproof barrier, they can also be used for thermal properties and worn as a extra layer during winter months when wind chill can reduce the body's temperate. Again using the zips and buttons to adjust the venting and allow air circulation whilst still providing protection from the wind.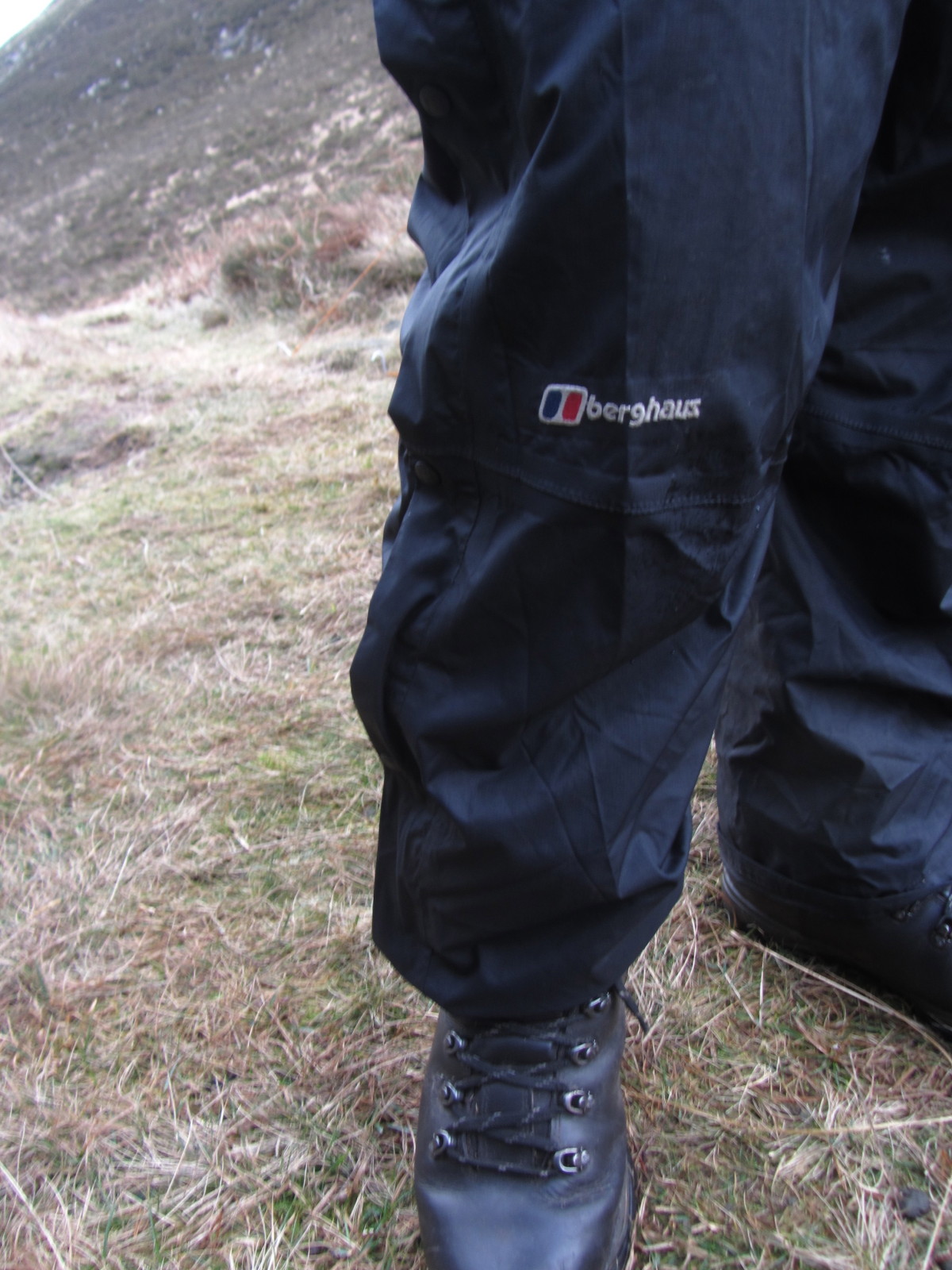 The waistband is elasticized with a draw cord which aids a range of adjustment with a pull cord toggle, which I found useful as sometimes whilst carrying a heavy backpack the waistband can be pushed down. The waistband is also wide enough for a comfortable fit Without any nipping.
The Berghaus deluxe trouser is manufactured from an Aqua foil outer and a polyamide inner. The material itself is quite robust and it able to withstand hiking through brambles and dense woodland without any tears or abrasions on the material. Neither the seat nor the knees are fitted with any cushioning material, which could prolong the life of the trouser, but this would reduce breathability. Having worn these waterproof trousers in torrential rain I have benefitted from the protection they provide.
Regarding breathability these trousers are not ideal, whilst they do provide me with protection from the rain, I've often felt the breathability can be an issue if the garment is not allowed to vent by adjusting either the zip or studs to allow air flow. How many of us have gazed up in the sky when the first drops of rain are felt and thought, wonder should I put my waterproofs on? It's usually by the stage its too late and you're soaked. The lower zips allow you to quickly jump into these trousers with boots on – and that's a real plus.
Tip:Store the Deluge trousers with the zip fully open as this will make putting them on quickly.The latest version of the deluge does come with a small stuff sack but I use a large strong rubber band and compact and store my trousers in a handy easy to get to outer pocket in my rucksack.
Care and cleaning
Like any outdoor kit these trousers are going to take some amount of abuse not only as a result the weather but trudging through boggy mountainside will clog up the membrane of the material and reduce the breathability and waterproofing.. After each use I wipe the trousers with a damp cloth (no detergent) to remove any dirt or debris from the trousers. I usually wash them every two months or if I've used them on a multiday trek. Currently I favuor using Grangers for washing/reproofing my Deluge trousers.
 Summary
Berghaus Deluge waterproof trousers are an excellent, affordable choice of waterproof trouser that offers its wearer protection from the elements, a comfortable fitting garment, and practically of a simple yet user friendly design. While the Deluge would not be the choice of the ultra light enthusiast among us it is however a practical essential item.
Pros
Simple Design
Value for Money
Easy and quick to put on (even over boots)
Robust
Cons
Low breathability compared to more expensive full Goretex options.
BUY NOW FROM AMAZON
If you like the look of this gear, please consider purchasing from Amazon via the link below. We receive a small referral fee at no cost to you if you do. Please also be assured that this in no way affects the content of our reviews, you'll see these purchase links in the products we hated too, just in case you disagree with us!
The deluge trousers are available in Mens and Womens versions below (size selected at Amazon)