The luxurious green carpet of moss covered the forest floor as far as the eye could see, which to be honest, wasn't that far, due to the limited visibility. The thick green moss covered the bases of the dark conifers, jammed tightly together into this small patch of hill, silently sucking at their rain sodden trunks like a living green quicksand. Here and there the fallen remains of their dead companions lay covered by the moss, their jagged stumps jutting up like rotten black teeth in a green mouth.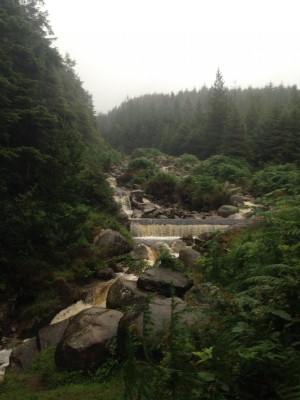 Dense mist filled the air, its grey intrusion pervading everything, moisture glistening on the moss and trees, shiny beads and steady drips from spindly dark branches, all to the tune of the yellow water river that we could hear thundering unseen to our left. Along with the heavy rain which had falling since we left the car, the mist, and the already soaking vegetation, we were having a very damp start to our walk!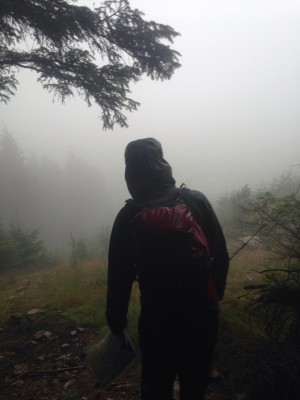 I was with Eamonn in the Western Mournes, for a morning working on pacing and timing, and a good leg stretch at the same time. We chose a route near Yellow Water picnic area, as it was a place we had never explored before. We decided to go "off piste" at the start of our walk, and made our way up through the aforementioned forest, before making our way up past the Kilbroney Red Bog, a very apt name for such a wet place! However we both said we would like to return there on a drier day, as it was a real haven of tranquility, the only sound was the patter and splish of the ever present rain, soaking us further with every step.
A well worn, but well rutted, and in places very mucky, path led us down through some more forest, where we stopped for a quick bite, eamonn producing some hefty scotch eggs that he had brought along, they really hit the spot! We made our way down onto a forestry road, which we found occasionally bisected by some of the Kilbroney Mountain Bike trails, although we only saw one hardy soul using them, a quick nod and greeting were exchanged as he passed by, before he rattled onwards down his selected route.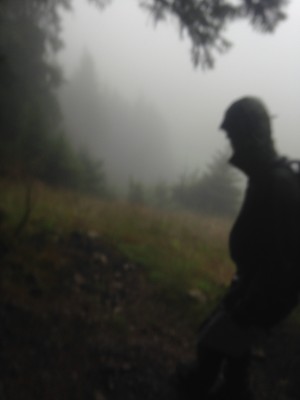 We followed the forest road until meeting up with the mourne way, this was the first time I'd been on this part of it since doing the whole route in the scorching heat last summer. Today couldn't have been more different though, we were thoroughly soaked, and didn't hang around making our way back up to the car at Yellow Water. 10 Km under our belts and a great mornings walking had, we returned home happy.