Lightweight microfleece pullover
RRP £45
Over the past few months I've been trying out the Columbia Titan Pass half zip fleece – a light weight pullover fleece. With Winter fast approaching I was able to leave my down jacket at home during the warmer months and give the Columbia fleece a try.
The Men's Titan Pass 1.0 is made from Polartec 100 comfort stretch fleece with a single zipped pocket on the sleeve.
The sleeve pocket is a novel addition, I've found it useful for keeping things like my iPod or phone easy to reach.
The Titan Pass is part of Columbia's new Titanium Range. We've also reviewed their technical tee here and their walking trousers here.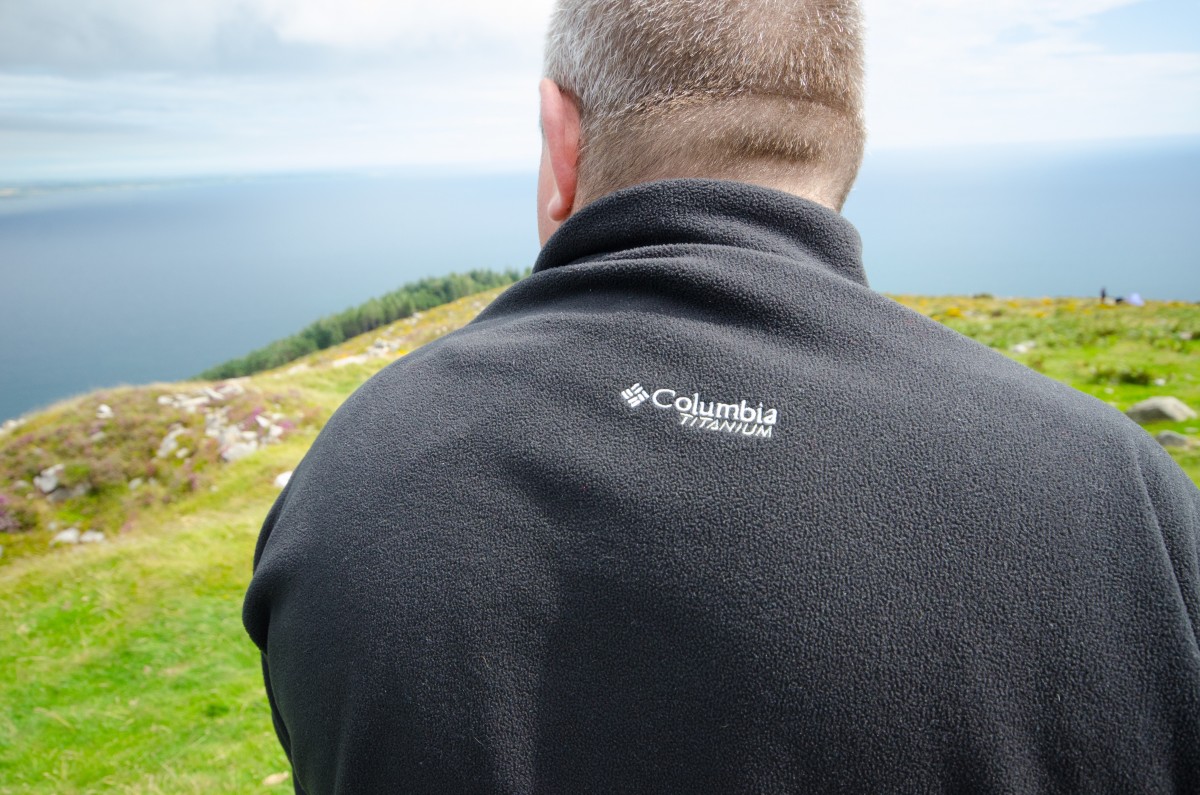 first impressions
Being quite a big lad I've always had issues with garments fitting my body correctly. The first thing I noticed about the Titan Pass was that it had a wide fitting neck allowing me to close the zip and still have the comfort to move around in.
Too often in the past I found the proportional sizing of particular parts of a garment to be lacking, such as a loose chest but tight neck, or vice versa. The Titan Pass fleece fits well.
FEATURES
Polartec 100 fleece
Zip-closed security pocket
Regular Fit
Center Back Length: 28″
FABRIC:
Polartec Microfleece 100 100% polyester
Available in sizes S  M  L  XL  XXL – All in regular fit.
I reviewed the XXL fleece which fits as follows:  Neck19-19.5  Sleeve 37 Chest 50-53 Waist 44-47 Hips 48-50
The cuffs and waistband are elasticated and fit comfortable against the wrist and waist preventing draughts without riding up when walking.I found the sleeves allowed enough material that if necessary I could wear a long sleeve base layer underneath the fleece.
As I previously mentioned I was impressed and how well fitting the collar is, with a generous thicker fleece and a robust zip to fit. One improvement I would have made was to have an inner flap behind the half zip,but the collar does incorporate the same elasticated hem as the waist and cuff which reduce heat loss.
The Titan Pass fleece has a security zipped pocket on the left arm which is just about big enough for a small mobile phone or an iPod.
I must mention I found the security pocket a bit tricky opening and closing this zip as I ad to extend my arm out straight in order to pull the zipper.
BREATHABILITY
Its seems that any outdoor kit can't be discussed without the question of 'Breathability'!
The Columbia fleece is manufactured using 100% polyester Polartec fleece that comes in the form of lightweight, softer, and more comfortable micro fleece. I found the Titan fleece allowed a good level of breathability and I was able to adjust my airflow by simply opening the half-zip or by wearing the fleece next to skin.
During greater exertion such as hiking uphill with a pack things would start to get clammy, but this is the case with all fleeces.
COMFORT
I found the Titan Pass fleece fit me very well, it allowed the extra room where I needed it such as the neckline and waist but still gave me a good range of movement.
The micro-fleece material was soft and comfortable against the skin. Having wore the Titan Pass fleece throughout the Spring/Summer season I felt it was a good choice of mid-layer providing warmth and comfort.

Conclusion
The Columbia Titan Pass 1.0 half Zip Fleece acts as a versatile Mid-layer which could be worn under a waterproof jacket or as an out layer during the warmer Spring/Summer season.
The Columbia Titan Pass fleece would be a goodl choice of mid-layer for any outdoor enthusiast whether they're a seasoned climber or a Sunday stroller.
BUY NOW FROM AMAZON
If you like the look of this gear, please consider purchasing from Amazon via the link below. We receive a small referral fee at no cost to you if you do. Please also be assured that this in no way affects the content of our reviews, you'll see these purchase links in the products we hated too, just in case you disagree with us!
Men: Women: