I slipped on the loose shale underfoot, dislodging a solitary stone, which skittered its way down the steep incline ahead of me. It tumbled and bounced unabated, picking up speed as it went, before disappearing into the bracken far below. Sweat stung my eyes as I resumed the task in hand, and concentrated on finding a path across and down the steep hill, down towards the last of today's checkpoints, and then on to the finish of The Mourne Mountain Marathon 2014.

I had wanted to do this event for a few years, but various things had prevented this from happening, but I was very keen to give it a go this year. I approached my friend Eamonn about doing class D, but he said he'd already done class D, and would rather give the tougher class C a shot instead, so in at the deep end for me, class C it was! There had been a slight clash of dates prior to entering, as the Sunday of the 2 day event was my wedding anniversary! However the ever wonderful woman that is my wife said she'd be OK with me disappearing for most of the weekend, so in went the entry, and team 39 would be on that start line come September!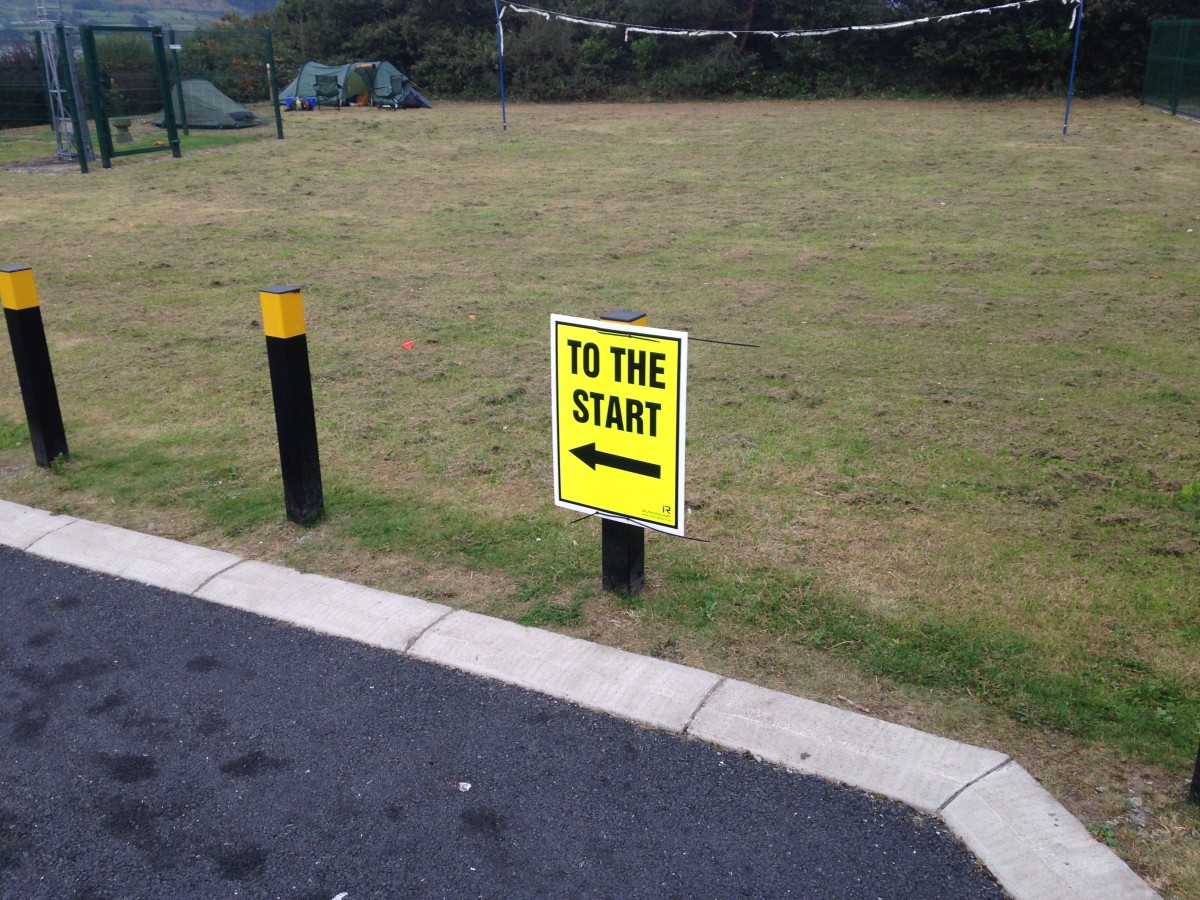 The morning of the event dawned warm and hazy, a few clouds clung stubbornly to the tops of the high Mournes as we passed by on our way round the coast to Rostrevor. I was looking forward to the event, but had a slight touch of nerves, as although I am an experienced hiker, and have walked long distances before many times, this was my first experience of competing in an event like this! Killowen Outdoor Centre was a hub of activity, as participants milled around in various states of readiness for the day. We checked in and received our "dibber" for electronically punching in at the checkpoints, this was strapped to Eamonn's wrist, and we made our way up to the start (via a kit check) for our scheduled time of 0830. The short walk to the start got the legs nicely warmed up, and as we approached the start, and waited to get going, my nerves were replaced by a sense of anticipation, I just wanted to get going now! The murmur of conversation from the gathered competitors in their team pairs soon ceased when the instruction was given to start, and off we went!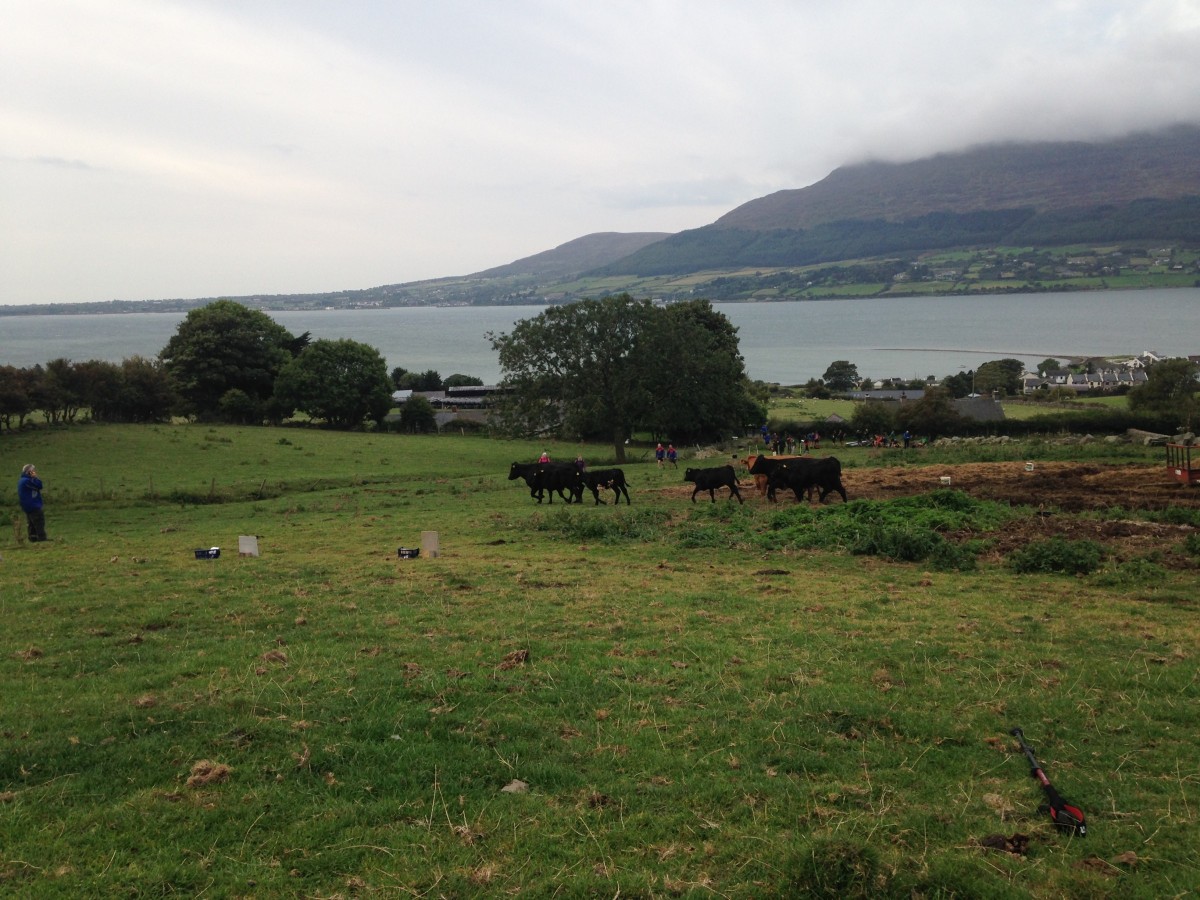 Dibber cleared, then first check in, through the start, and we were handed our locations for the day. Rucksack off, map out on the ground, get coordinates marked. A small herd of cows ran across the field as we were doing this, someone made a joke about them not punching in at the start line! Rucksack back on, and off up the hill. The first day was to be a steady climb up through the hills and forests above Rostrevor, before making our way down, up and onwards towards Eagle Mountain, then to the overnight camp near Sandy Brae. I had warned Eamonn beforehand that i wasnt aiming to break any records, which was a good job, as I followed him along at a slow but steady pace!
I stopped occasionally to let a quicker participant pass me when I heard them behind me, a nod and a greeting, and onwards we all went! We checked the map as we went, the clear dry weather was aiding the navigation, but not the fluid intake, as all that sweat had to be replaced! As we approached Shanlough before contouring around Eagle, I went to take a drink from my water bladder, I got one mouthful, it sputtered a couple of times, then nothing – empty! Luckily, I had my trusty "Water To Go" bottle with me, so filled up at the next stream, and gladly gulped down some water. We had the strategy of eating on the go as much as possible, so I took the opportunity to munch down some jelly sweets for a needed energy boost.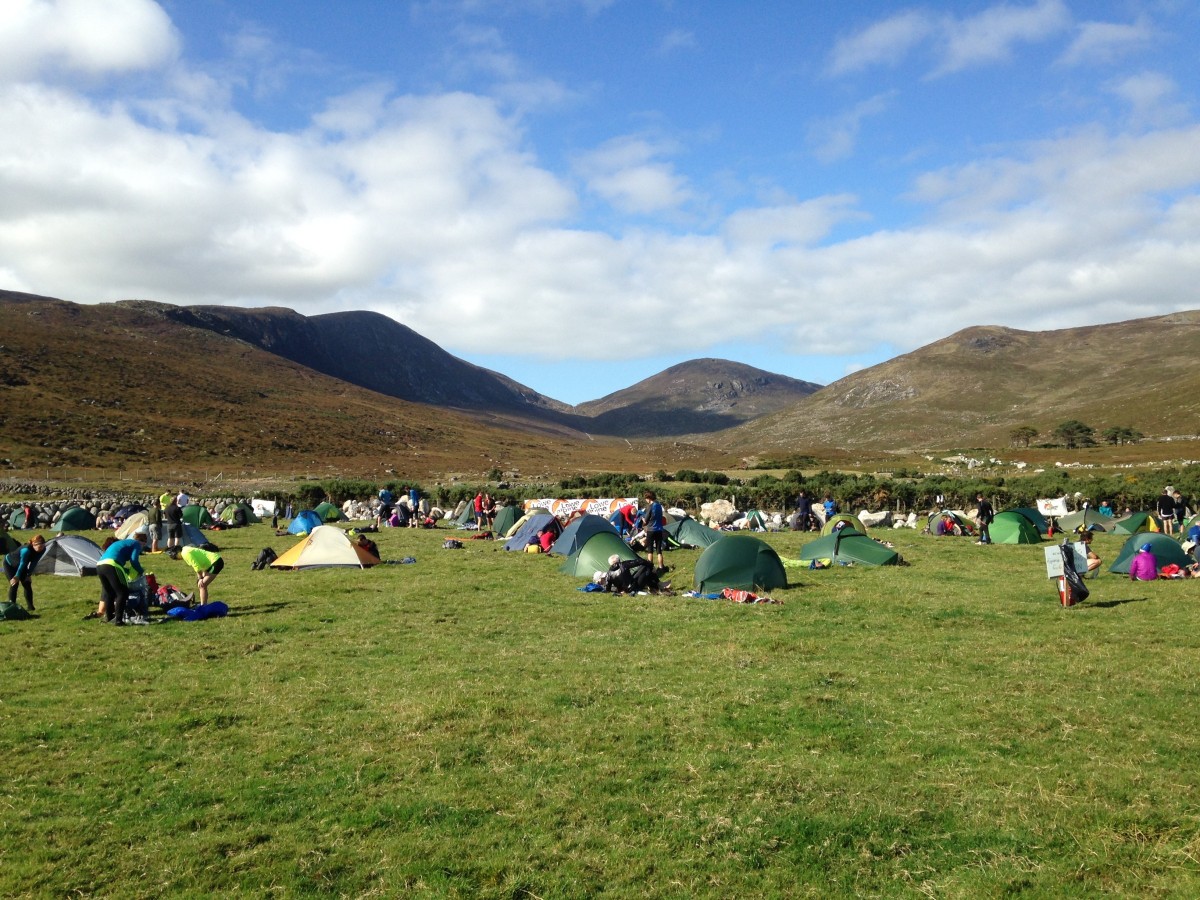 A leg sapping contour around Eagle, then up over its summit. I love the view from here, and on any other day I would have sat and taken it in, probably with a leisurely cup of tea! Today however was just a quick glance before grabbing the first of 2 points in a cluster, before making our way down into the valley for the second one, the steep rutted ground, combined with dead heather roots and rocks, made it a tricky descent, then it was onwards to the finish! We arrived at camp in a time of 6hrs 40mins, which was a lot quicker than I had estimated, and we weren't last! Bonus!!
The location for this years camp was in a lovely location, looking up the valley towards Windy Gap, and once we had the tent up, we sat and enjoyed the view. The warm weather and the views were a lot easier to enjoy when you weren't lugging yourself and a rucksack over those hills! The camp was a hive of activity when we arrived, and got busier as more teams finished day 1. We were soon joined by the other Hikersblog team of Rusty and Oisin, who were also competing in class C, and then by our good friend Claire and her team mate Paddy. We all sat and chatted about the days exertions, as we watched the sun go down behind the hills we had covered today.

The valley ahead of us filled slowly with shadow, creeping up its edge like a giant sundial. The temperature dropped just as the sun did, and we all layered up and ate and drank our fill, before retiring early for some well earned kip! We went to bed around 2130, and I was out like a light, only to awake requiring a comfort break due to all the water I had taken in over the evening! At least it showed I wasn't dehydrated! It was just after midnight, and the camp was quiet, with only the odd person here and there going about their preparation for day 2. On the way back to my tent, I stood and stared at the stars, the dark sky dripped with clouds of them, countless silver pinpricks, the constellations sharp and clear in the dark sky were a true wonder to behold. However, it wasn't long before my shivering, due to nip of the night air, prompted a return to the warmth of my sleeping bag!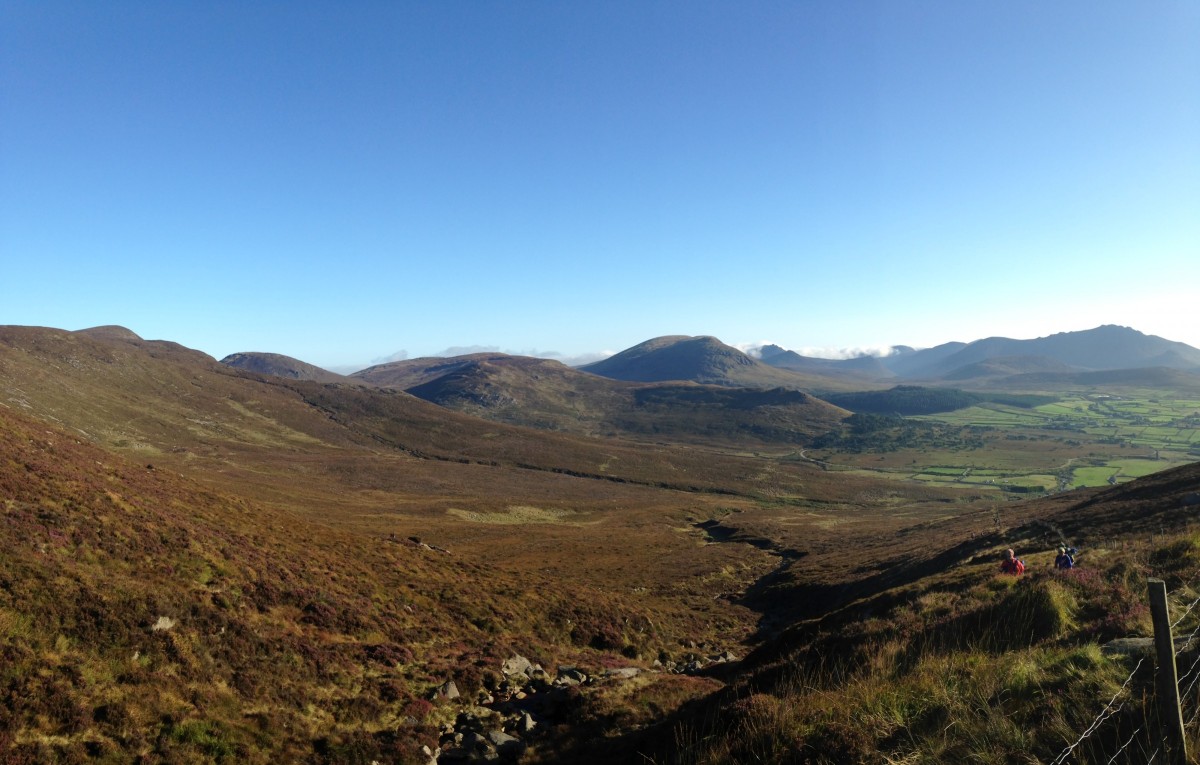 I awoke way before my alarm on the Sunday morning after a fitful few hours, but felt well enough rested for it. My early awakening did however enable me to beat the queue for the toilets, which later reached epic proportions, as the sun rose and the camp came alive once more. The day had dawned clear and bright, the clear blue sky telling the tale that it was going to be another warm one today!
A leisurely breakfast was enjoyed, before packing up and heading down to the start line for day 2! This morning was a mass start for our class, and Rusty and Oisin had decided to join us for the day. After having plotted our points for the 2nd day, it was a steady procession up the hill and onwards over our course for the day. There was hardly a breeze today, and it certainly felt a lot warmer! Again, our navigation was spot on, and all of the checkpoints were easily located on our way round, it was getting to each of them that was the tricky part in the warm conditions! Again we were setting a faster pace than I had anticipated, and I was pleased with my progress. We knew that after the second last one, it was all downhill to the finish, downhill is a good thing, right? Wrong!!
The aforementioned steep slope was a tricky end to the day on sore legs, and we half stepped, half slid our way down, making our way onto a grassy track, until finally the last checkpoint beeped it's greeting to us. Then it was a case of making our way down a much more manageable slope to the finish, we had done it!!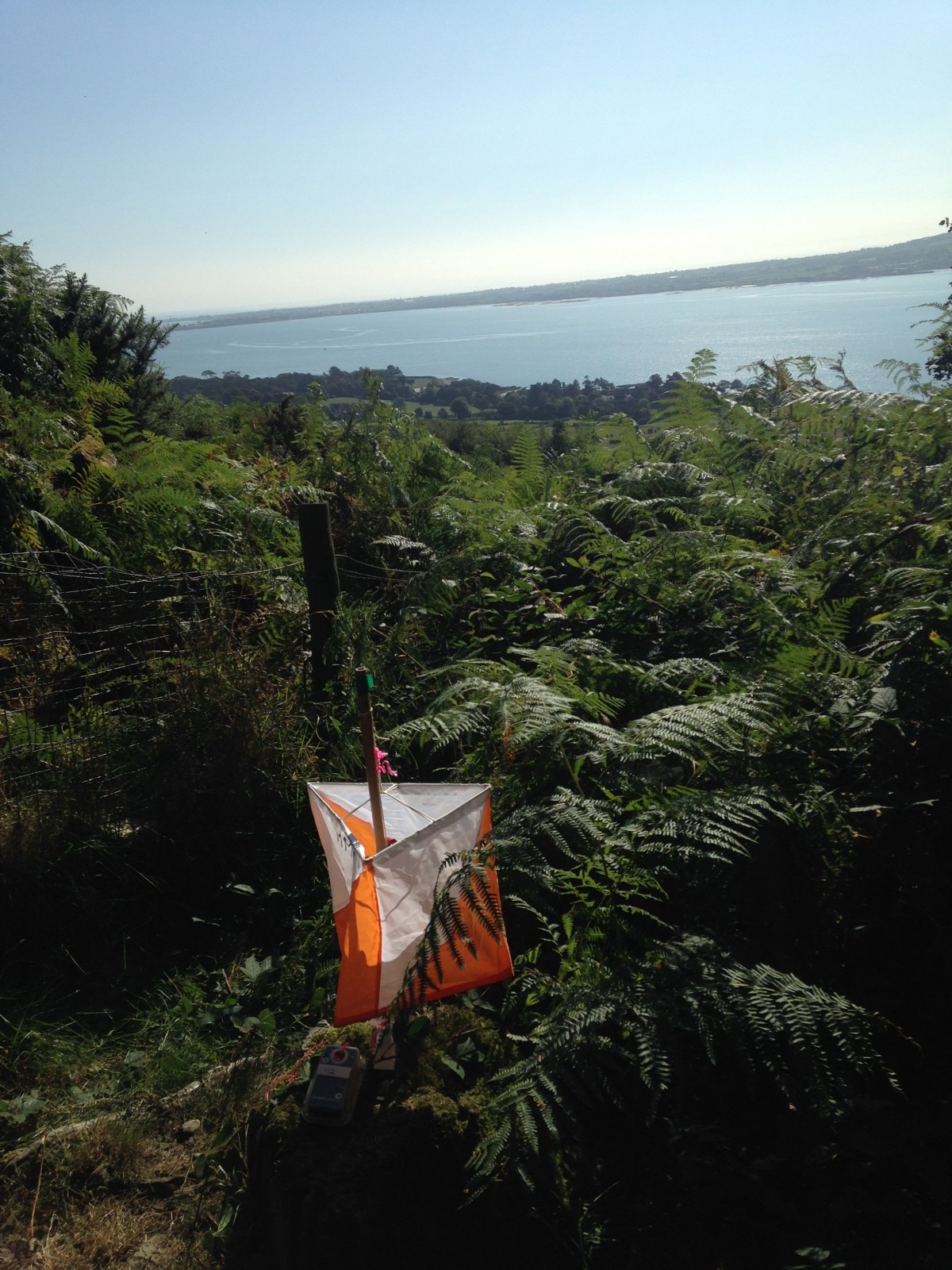 Elated, we all made our way round to Killowen again, was it really only yesterday morning that we were last here? We downloaded our results for the day (we came 53rd in C class), and collected our bright pink t-shirts, before collapsing on the grass for a rest. Getting up again was one of the hardest things I did all weekend!! Once I had a shower and change of clothes, I actually felt OK, and although it was one of the toughest things I had ever done, I had risen to the challenge and reached the finish line in one piece! Finally, just a word of thanks to everyone involved in planning and running this fantastic event, I can see why so many come back year after year, I am now one of those people!
So roll on 2015, I will definitely be back to have another crack at it!