We had stepped onto the verge to allow a car to pass on the narrow lane, and as we hopped back onto the dark road to continue our journey, there was a loud rustling in the hedgerow, and dark shapes made their way up the road ahead of us. "DEER!!" John exclaimed, and sure enough the beams of our head torches picked up a small herd of deer, emerging one by one from the hedgerow, and scampering up the lane.  We stood transfixed, as 10, maybe 12 deer scampered off, panicked by the new visitors to their suburban habitat. We were only 20 minutes or so into our journey, but what a way to start our walk!!
We were on the  Newcastle challenge trail, a 28 mile roughly circular route, which starts and finishes in Newcastle, and includes circuits of Tollymore and Castlewellan forest parks. John and myself had been planning this walk for a while, and wanted to see if we could conquer it in a days walking. We managed to agree on a date, and everything was in place for a Monday assault. It turned out that Ed could also join us, and we quickly came up with a plan for our walk. I would pick up John at 0500, and meet Ed in Donard car park, as he was bivvying in Donard wood the night before. We aimed to start walking at 0530, which meant a start in the dark, but giving us roughly about 13 hours before darkness fell again, to complete our trek. The route on the Walk NI website starts in Newcastle, travelling up Newcastle beach before joining Murlough beach and onwards from there. However a check of the tide tables (recommended if attempting this walk) revealed that high tide coincided with the start of our walk, so we opted to do it in reverse, tackling Tollymore forest park first, and aiming for  a finish along the beach back to Newcastle, hopefully just before the next high tide rolled in!
I awoke just before the alarm at 0420, and was raring to go, which isn't always the case on a normal Monday morning! A quick breakfast and cuppa, and off I went.  The weather was calm and clear but nippy, and a defrost of the car windscreen delayed my departure for a few minutes. John was ready and waiting as usual, and greeted me with "Morning! We must be mad!" before enjoying a laugh together about the truth of his statement. As we approached Newcastle, the outline of the Mournes was clear and distinct in the pre dawn. Normally we would be heading to hike them, but today we would only skirt them, though they would never be far from view the whole day. We met Ed as planned, (he had enjoyed a porridge pot breakfast at a picnic table in the dark) and off we set.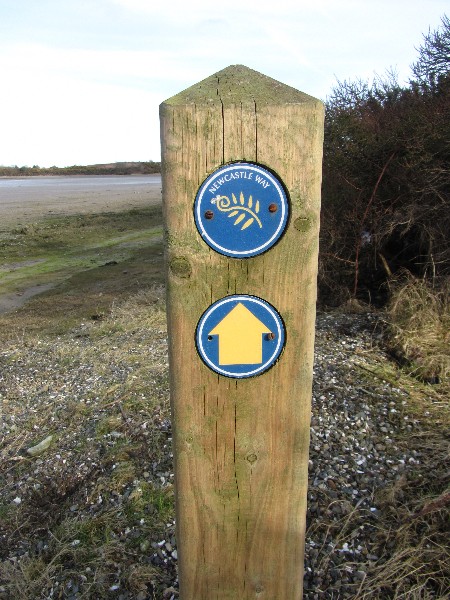 The Newcastle challenge trail is well marked on the OS 1:25000 map of the mournes, and this makes it quite easy to follow. It is also quite well waymarked at most locations, with the odd exception. After our aforementioned encounter with the deer in Tipperary Lane, we continued up a steep tarmac road into Tollymore, the sky lightening as we walked, the dawn chorus getting into full swing, we walked in silence, soaking up the sounds and smells of the predawn forest as it woke up for the day. For us it was a day off work, a distraction from the norm of the everyday, a tough physical challenge for our bodies, and a test of our wills. For the creatures of the forest it was just another day the same as any other, and as they got on with their routine, we passed on and left them to it.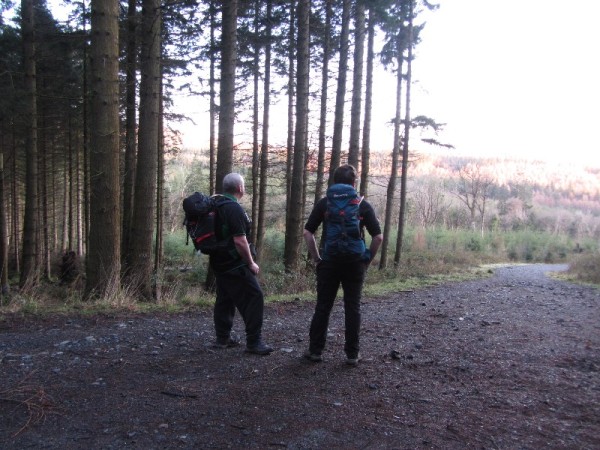 The sky was really beginning to brighten now, its shades of blue contrasting with the emerging spring greenery, everywhere buds and shoots were emerging, ending the long sleep of winter, the yellow gorse flowers adding dashes of coconut scented colour to the hillside. It was really mild, and we had already dispensed with fleeces etc, and were in baselayers. We stopped for a spot of "second breakfast" at the farthest end of Tollymore, where we watched Red Squirrels scamper and jump in the high branches, natural trapeze artists and acrobats, effortlessly leaping, their bushy red tails flying through the air.  Suitably refreshed, we pressed on. We made our way through Tollymore to the Bryansford gate,  and then from there onwards to Castlewellan. Along the way John spotted a Buzzard perched on a fencepost, but it flew off before wwe could get a picture! A fair sized road section then led to a small rocky lane, then a concrete lane, and then back onto another small road. Then it was onto "cow lane", which is actually a field rather than a lane! We crossed a small stream with a sturdy bridge, then negotiated a very boggy field, where we strayed a little off course (getting very muddy in the process!) before making our way back to the trail after a quick map check (and spotting a waymarker that we had somehow missed!). Then it was over another little bridge and over a stile into a green lane with high hedges either side.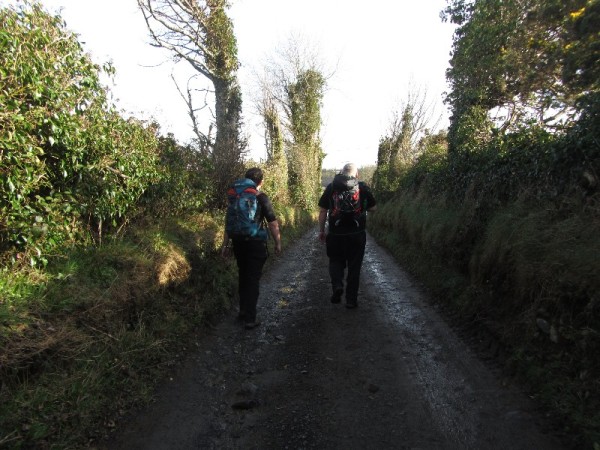 We were now entering the outskirts of Castlewellan, and rapidly approaching our halfway point for our walk. It was still only mid morning, our pace was good, and we were feeling good, confident now that we could easily chalk off the full distance of the trek in the time we had allotted ourselves.  A quick pit stop at a local garage for some refreshments, and we headed on into Castlewellan forest park, where we planned to enjoy a longer break alongside its lovely lake. I topped up my water pack at a lovely little campsite on the Crow Road, with what I think is one of the nicest views of anywhere I have ever camped. Great memories of time spent with old friends and family in my Scouting days came flooding back, and I stood and smiled, pausing for a brief moment enjoying my thoughts.  Then it was onwards to our lakeside repast, giving the legs a well earned rest, while conscious not to sit still too long, for fear of cramping up. We ate and drank our fill, before making our way back along the opposite side of the stunning lake, the view of the trees and water in the late morning sunlight was a great backdrop as we trekked on. We passed around the back of Castlewellan Castle, then onwards into the town itself.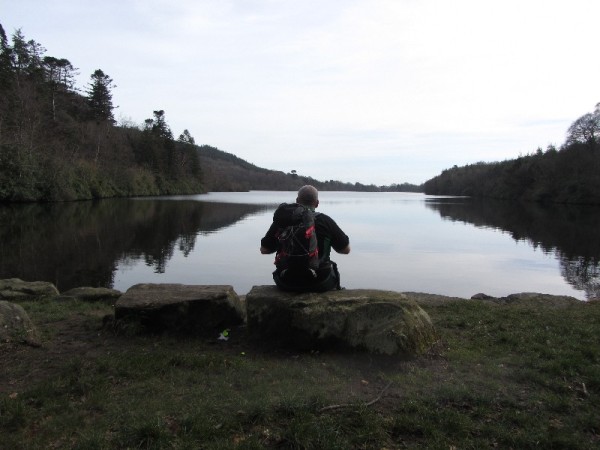 From there, it was down another quiet country road, before veering off onto some really tranquil green country lanes, unchanged for untold years, rural highways to allow people and livestock to move around freely. It was very peaceful off the road, the birdsong and the rustle of the old hedgerows in the occasional light breeze, the odd bumblebee bumping and  buzzing its way along, searching for whatever early spring blossoms it could locate. Through the small hamlet of Maghera, where the smell of food wafting from the local Inn had us salivating at the thought of a cool pint and some pub grub.  However, we fought the temptation, and pressed on, with the thought that a well earned pint at the end of our walk would taste all the sweeter for doing so.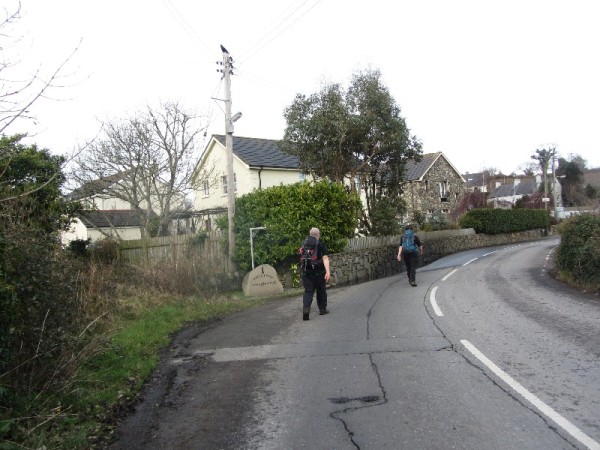 Having passed Maghera, we knew that the bulk of our walking was behind us, and we were making good time. We passed a large standing stone jutting from the verge, a lovely reminder of our ancient past, sadly spoiled by a telegraph pole stuck right beside it! We stopped at the 12 arches bridge car park, and sat at a picnic bench for a break.  We took the boots off and let the feet air for a while, enjoying the feeling of relaxing and taking the weight off for a moment. We then made our way towards Downshire bridge, before following the trail onto the foreshore. We followed the shore, it was teeming with birdlife of several different species, a stunning location as we approached the end point of our days trek. Before long we were looking at Ballykinlar Army camp across the narrow channel that feeds Dundrum Inner Bay, and could see the warning flag up, indicating that the firing range was in operation. We heard the crump of explosions, and the clatter of gunfire echoed around the huge dunes around us.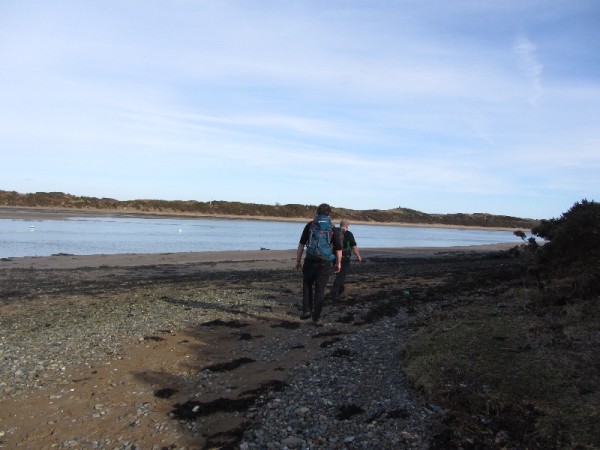 We cut inland across the dunes, making our way back onto the beach again when clear of the range, I'm unsure whether we had to do this or not,  but none of us wanted to take any chances! Then it was onto the mighty sweep of Murlough beach, the sea on our left, the mighty dunes, 6000 years old on our right, the mighty mournes sweeping darkly down to the sea in front of us. Murlough was the first designated Nature Reserve in Northern Ireland, way back in 1967.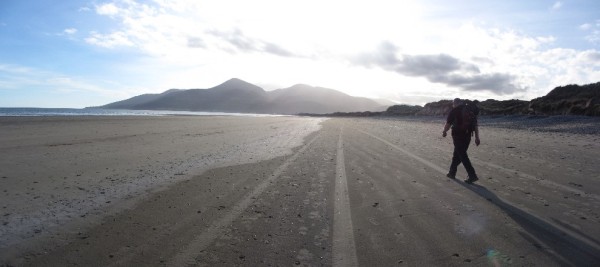 We could make out Newcastle at the end of the long expanse of flat sand ahead of us, the sun was on our faces, and the taste of salt was on our lips from the steady evening breeze blowing over the sea, as the tide rolled onwards and inwards on its daily cycle. The closer we got to Newcastle, still ahead of us in the evening haze, the further away it seemed, and even the relatively soft sand was not being overly kind on our tired feet! Eventually we passed below the Slieve Donard Hotel, and made our way up into Newcastle, and back down main street to the Donard car park, where we had left some 12 hours earlier.  Our day finished in O'Hares for a couple of well earned pints beside the roaring fire, where we discussed what we had experienced that day, and laughed about our sore feet.  All in all, as Mondays go, it was a pretty epic one!!
GPS Track Data
Have a look at our GPS data for the hike below. The map is interactive and scrollable. Feel free to download the GPX file if you would like to use it to guide your own hike on this trail.
Video Footage
Thanks for reading.