We made our way up the track, the looming mountains ahead of us pin sharp in the clear morning light, the bright sun in the azure sky bathing the valley in its golden light.  It felt good to be alive!
Due to family and work commitments, I had been unable to get out for my usual monthly camp in January, and I was itching for a night in the hills, and when the chance coincidence of Ed and I having the same Friday off presented itself, a plan for a camp was quickly hatched.
Late on Thursday night, I finished packing all the necessary kit needed for a overnight camp, set the alarm, and got an early night. Now all I had to do in the morning was grab a quick coffee and catch the early bus to Newcastle. We had arranged to grab a hearty breakfast in Newcastle before hitting the trail. We had a close eye on the 24 hour weather forecast, and it was a giving a mixed bag of weather, sunny spells and showers followed by very heavy rain, which was expected to hit about 6pm. So with this in mind we decided to camp lower down, nestling along the shelter of the upper reaches of Donard Wood on Slievenamaddy.
Finishing breakfast in Newcastle,we entered the woods via a detour due to a fallen tree, it was great to be out in the cool crisp February morning, the high sun and blue skies providing nourishment for the soul, as we ventured onward and upwards towards our camp.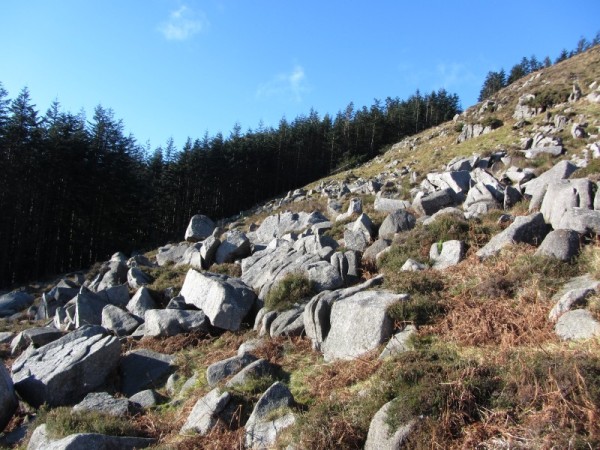 It was magic to be back out again, everything we needed strapped to our backs. With childish anticipation, we discussed our adventure ahead as we walked. Leaving the sanctuary of the main body of Donard Wood, we ascended up Slievenamaddy, stopping along the way to capture some footage and photos     overlooking Newcastle and Dundrum Bay.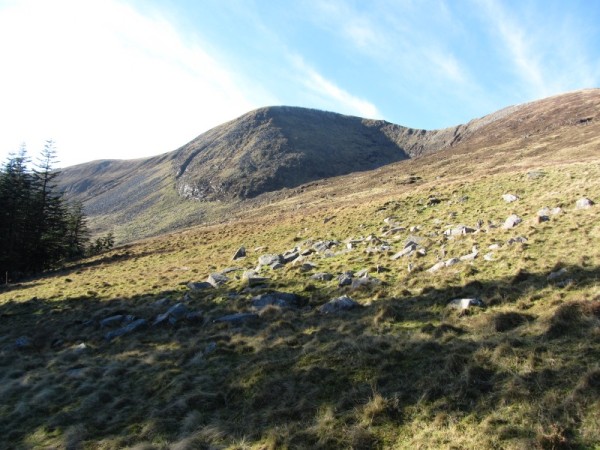 After an hour we reached our campsite, and I quickly pitched my tent, and we headed off for a wander. Leaving as much kit behind in the tent as we could, and armed with a stove and some food, we started ascending toward the Donard/Commedagh col, commonly known as ' the Saddle', although with its seemingly endless stone steps, I could give it some choice names of my own!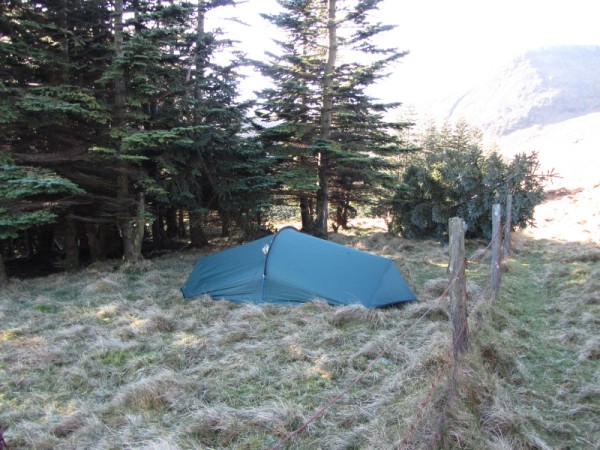 Having reached the saddle, we crossed over the stile and the Mourne Wall towards the castles of Commedagh, which are a series of naturally formed granite towers and gullies that extend across the southern face of Slieve Commedagh above the Brandy Pad. The weather was still holding alright, but gazing across towards Carlingford Lough, we could see a large bank of dark clouds looming. Having spent more time than we probably we should have exploring the castles, we retraced our steps back over the path to the stile we had crossed earlier.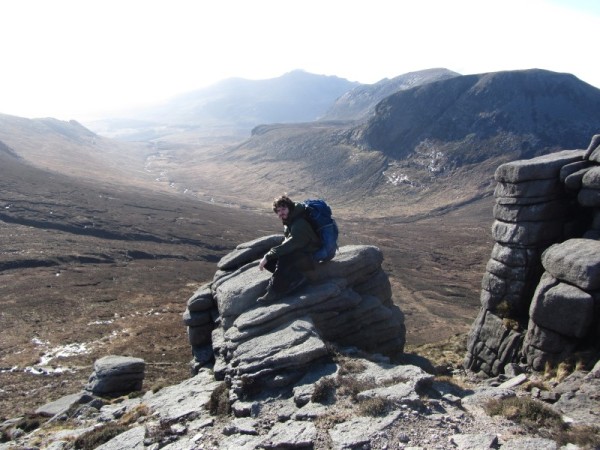 Using the wall as a wind break, we fired up the MSR stove and refreshed ourselves with a nice hot brew and a bite to eat. Feeling replenished, we started our descent down the valley towards the glen river, where we planned to fill the collapsible 10 litre bottle ed had stashed in his backpack, and thankfully he agreed to carry it back up when it was filled with water again!
We arrived back at our camp around 4pm and set about making dinner, on the menu this evening would be some MREs (Meal ready to eat), which were chili con carne, these were easily heated by placing in boiling water until warmed through nicely. I actually found it quite tasty! We were just finishing our meal, and I commented to Ed that so far we had been lucky that it had stayed dry.  This was obviously the kiss of death, as with the words barely out of my mouth, I felt the first tentative drops of rain on my face!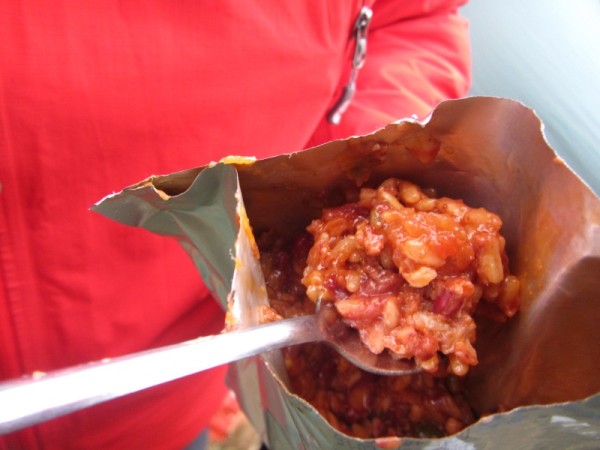 As Ed was going to bivvy as usual, and it being too early to call it a night, we both took shelter in my tent. I was sitting on my brand new Vango compact sleeping mat as we chewed the fat and listened to some music. But it was a sound of another kind that caught our attention! We had wondered what the unnerving crackling noise was, it turned out my sleeping mats membrane had ruptured,  resulting in all the air be pushed into one solid bump rather that evenly spread throughout the mat! "Oh that's just bloody great" I said, well it was something along those lines…..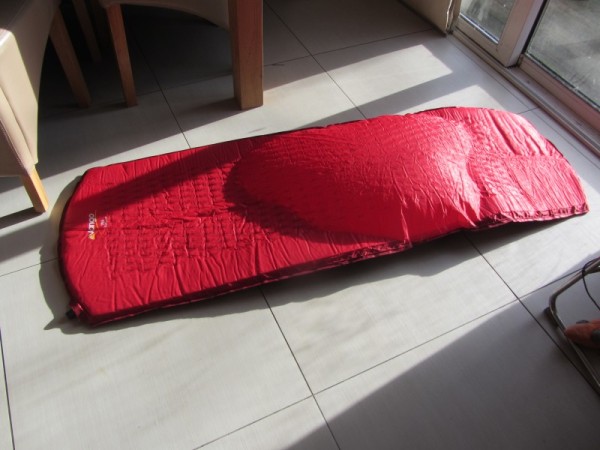 Luckily for me, Ed only wears base layers when using the bivvy, so I was able to use his fleece and coat to sleep on, along with the swollen remains of my sleeping mat! The rain was now very heavy, and as wind increased its bluster, we prepared ourselves for a rough night ahead. With my iPod and mini speaker we were able to listen to some good music, and at some point I was comfy enough to fall asleep, only to wake to Ed shouting at the weather from the comfort of his bivvy bag!  At some point around 3am the rain finally stopped, though the wind hadn't abated that much.
When I awoke, I gave Ed a shout, and said that we should consider packing up while the weather was holding. All in all I slept for a reasonable five hours, poor Ed had hardly slept a wink! So we got ourselves sorted, got everything packed away and made our way down the hill, leaving no trace of our nights pitch.
 It was still dark as we made our way down through the forest back towards the glen river, where we stopped at the third bridge for a warming morning coffee and a cookie. As we approached the town, the heavens opened again, in Newcastle, we stood and watched large waves crash onto the shore, and decided that another hearty breakfast was in order to cap off a great trip. So there we sat, back in the same cafe, about 24 hours later having the same breakfast again, somewhat weary from our noisy night in the hills, but all the better for our little adventure, and the memories gained from it.