Mid-height Hiking Boot
Fabric outer
Weight: 445g
Heel-Toe Drop: 7mm
RRP: £180
As someone who walks a mixture of paved greenway trails and hill hiking routes, the ON Cloudrock was an interesting boot to consider. ON is a well known brand to the running community, who prize its cushioned sole and comfort when running over mixed terrain.
With the travel limitations experienced throughout 2020, I spent the most of this year testing that hypothesis, with a combination of paved Greenway walking and Mourne Mountain hiking trips.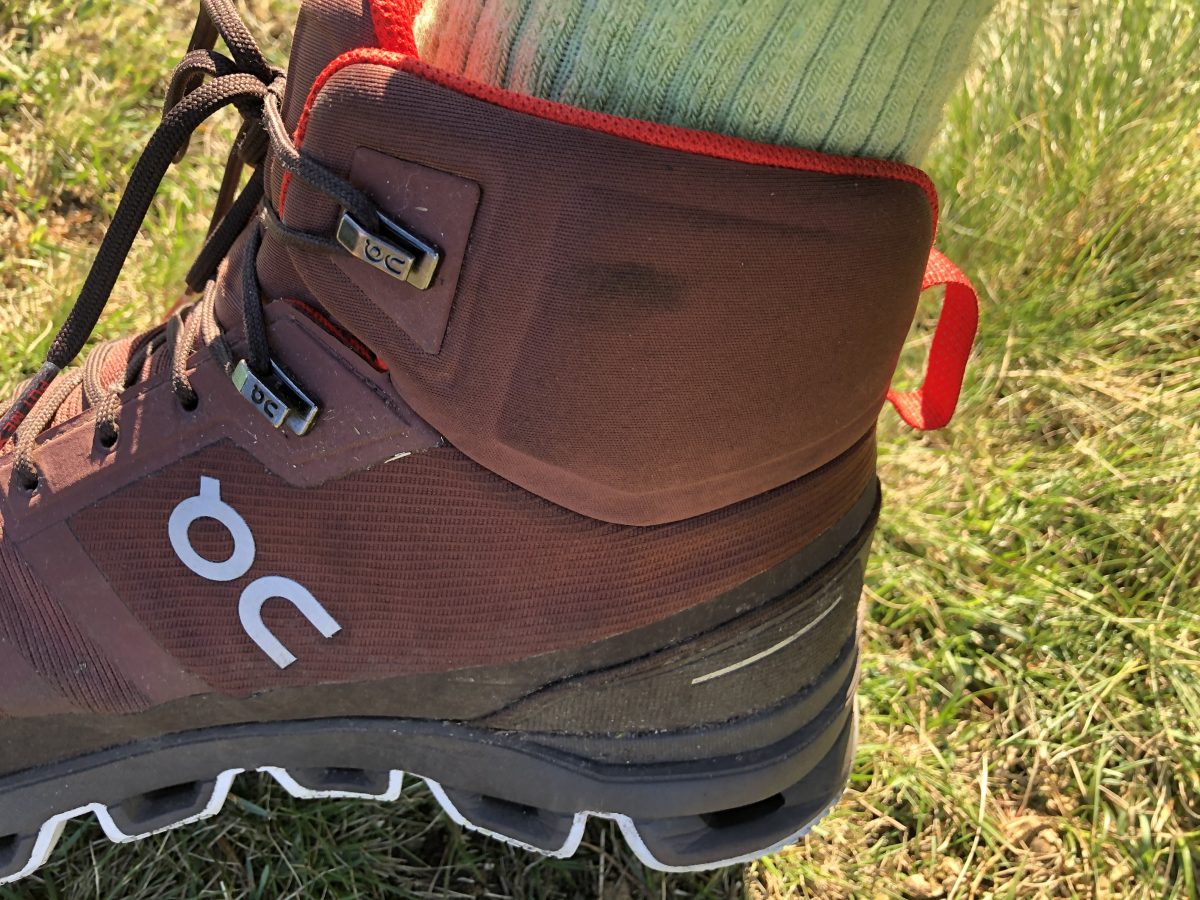 One of the first things you'll notice about the Cloudrock boot is the sole. The lugs at the bottom are hollow, which gives them a certain amount of spring. Travel restrictions during early-mid 2020 prevented me from visiting the Mournes, so I spent a great deal of time walking local Greenway paths around Belfast.
While they are certainly scenic, these routes are paved and as such tend to be very hard on the knees and ankles when using more minimalist footwear. Thankfully this is one area where the Cloudrock's running brand pedigree pays dividends. A typical training walk on Belfast's greenways sees me covering a minimum of 12 miles, sometimes 20+. In minimalist shoes like the Merrell Grassbow, this almost always results in a day or two of knee and ankle ache afterward.
The Cloudrock's cushioned lugs helped spare much of this impact and I found harsh, paved routes to be a lot easier on the joints. This is reassuring for those way marked routes which include a mixture of hill and road sections. On many of our longer trips I've found running trainers to be too unstable for hill use, and hiking boots to be too punishing for the road sections. These boots will be excellent for double duty.
At first the hollow lugs did concern me. How long would they take to wear through? They seem to be holding up well. After a full year's use and well over 1500 miles of walking, the outer white layer of the lug has worn away to show a brown inner – but there's at least another 1500 miles left in them. More if I stick to hillwalking and reach for my trainers for city greenways.
The generously padded ankle cuff is very comfortable, even when laced tightly. It provides plenty of support while still allowing a reasonable amount of flexibility. The presence of a pull tab on the heel is useful when jumping out of your bivvy bag and into your boots in a hurry.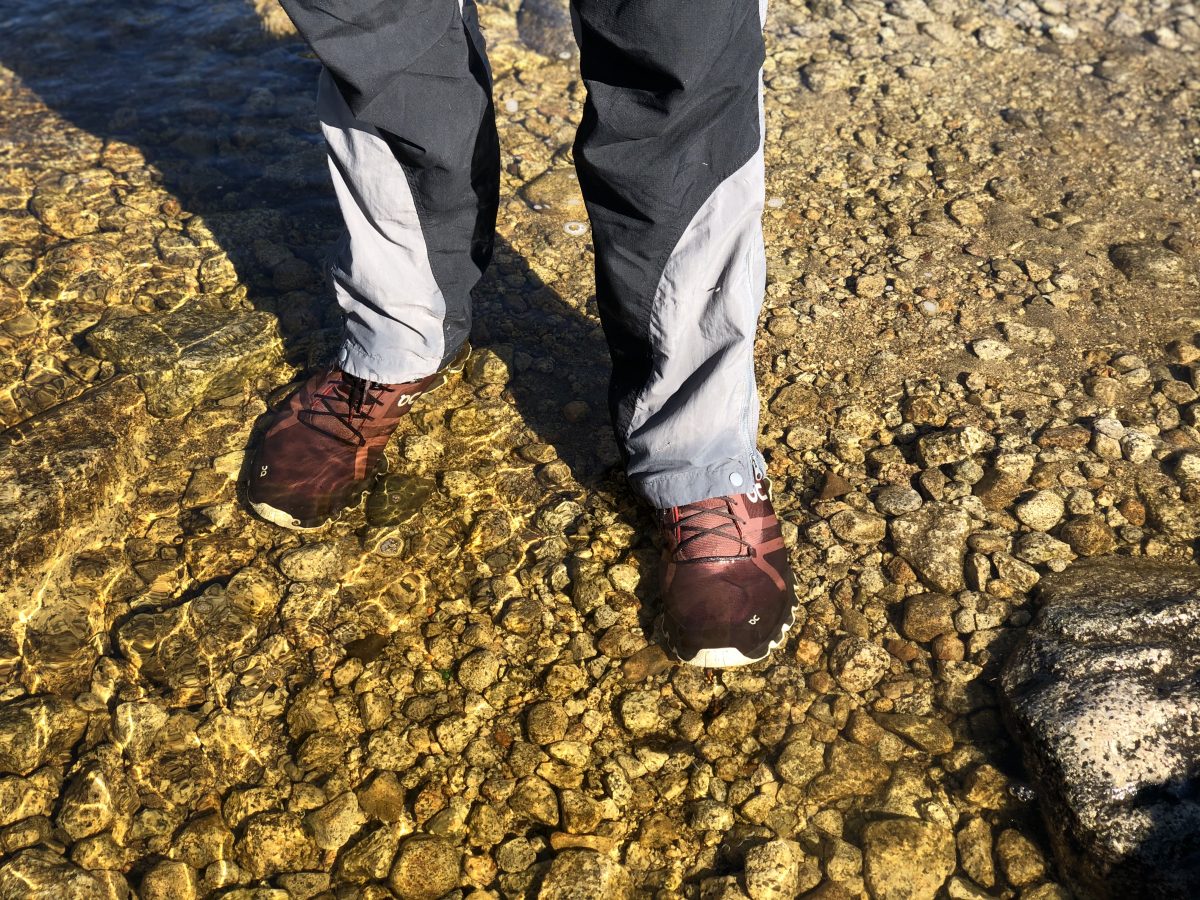 The boots feature a Goretex liner for waterproofing. This is a welcome addition to a mid-height boot and it hasn't let me down yet. I wouldn't bother with Goretex in anything with a lower ankle, as water will just get in over the top (and stay in) for the rest of your walk.
I'm pretty hard on Goretex liners, as I wear orthotic insoles inside all my footwear. This tends to put quite a bit of stress on the side wall of the boot (and thus the liner) however the Cloudrock liner has held up well so far.
The Cloudrock is a reasonably lightweight boot at 445 grams, something I have appreciated during longer walks.
Grip is good, although not quite as strong as with the Merrell Crestbound which is admittedly a much, much heavier boot.
The laces cinch the boot in well, with the hooks at the ankle allowing variable tightness at the forefoot and ankle. Given the fabric outer used in the Cloudrock, this is a good thing – as you'll want thinner socks in spring/summer and thicker socks in winter.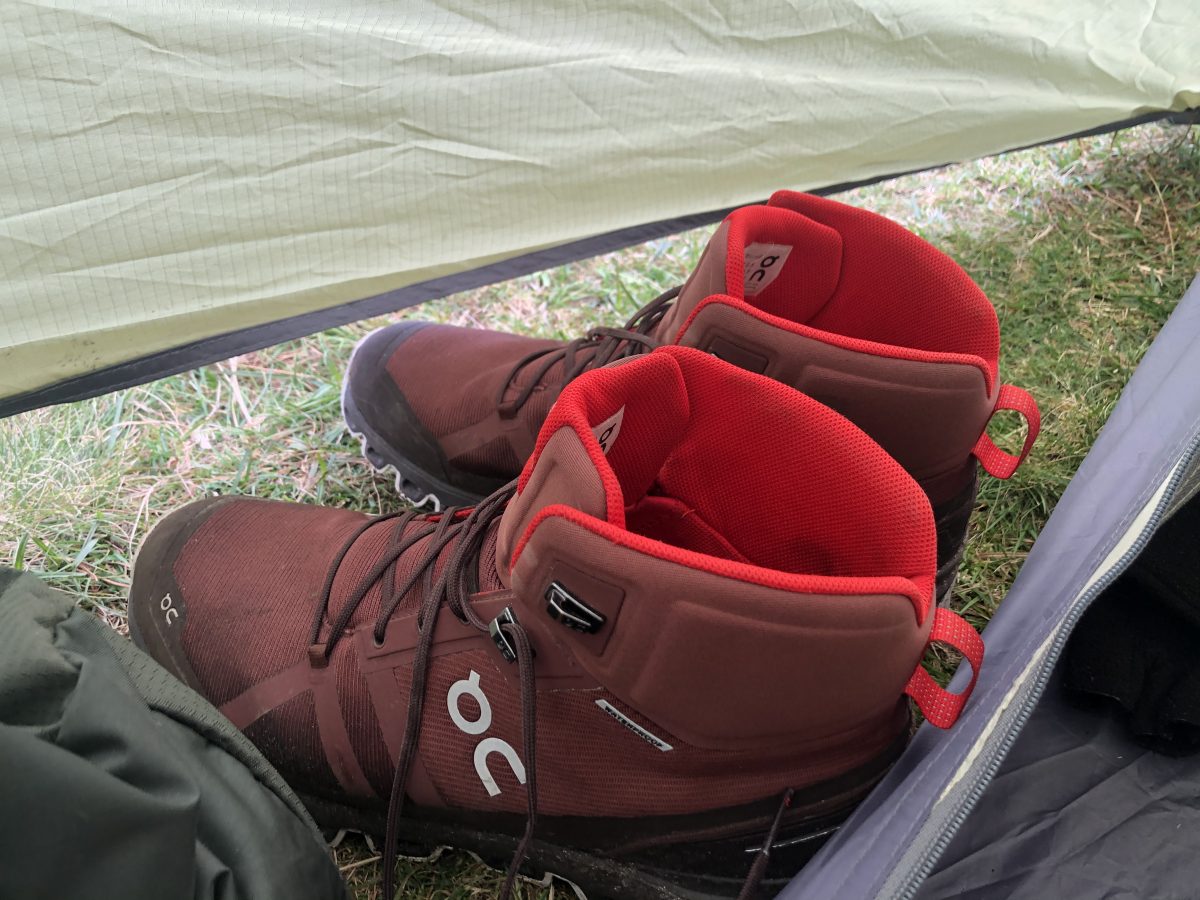 Overall my impressions of this boot are excellent. Comfort, weight, grip and waterproofing all score highly.
The only potential area for concern will be the long term wear levels on the hollow sole lugs. So far, after a year of use (>1500 miles) they seem to be holding up decently. Expect a longer term update in 2021.
Conclusion
At £180 the On Cloudrock is certainly at the higher end of the price scale.
It delivers excellent grip, waterproofness and exceptional comfort, in a lightweight package. It really comes into its own during mixed routes, where high impact road sections connect hill routes.
To really get value for money and longevity from this boot – restrict any paved surface exposure to the mixed routes, reaching for trainers/runners for any purely paved routes.
Long Term Update (April 2023)
After three years of use / abuse, including an excessive number of miles on paved greenways, I finally wore down these boots to the extent that they needed replacement.
This is something I've experienced many times in the past. The softer compound on hiking boots which give them great grip in the hills, makes them ill-suited durability wise to long miles on the pavement. If eking out as many years as possible from a pair of boots were a priority for me, I'd have saved these for the hills, and would likely be using them for many years hence.
Personally, I prefer to wear the boots I like most, even during paved walks, accepting the fact that I will wear them down prematurely and require a new pair of boots every few years.
My replacement boots were purchased from Taunton leisure at my own expense.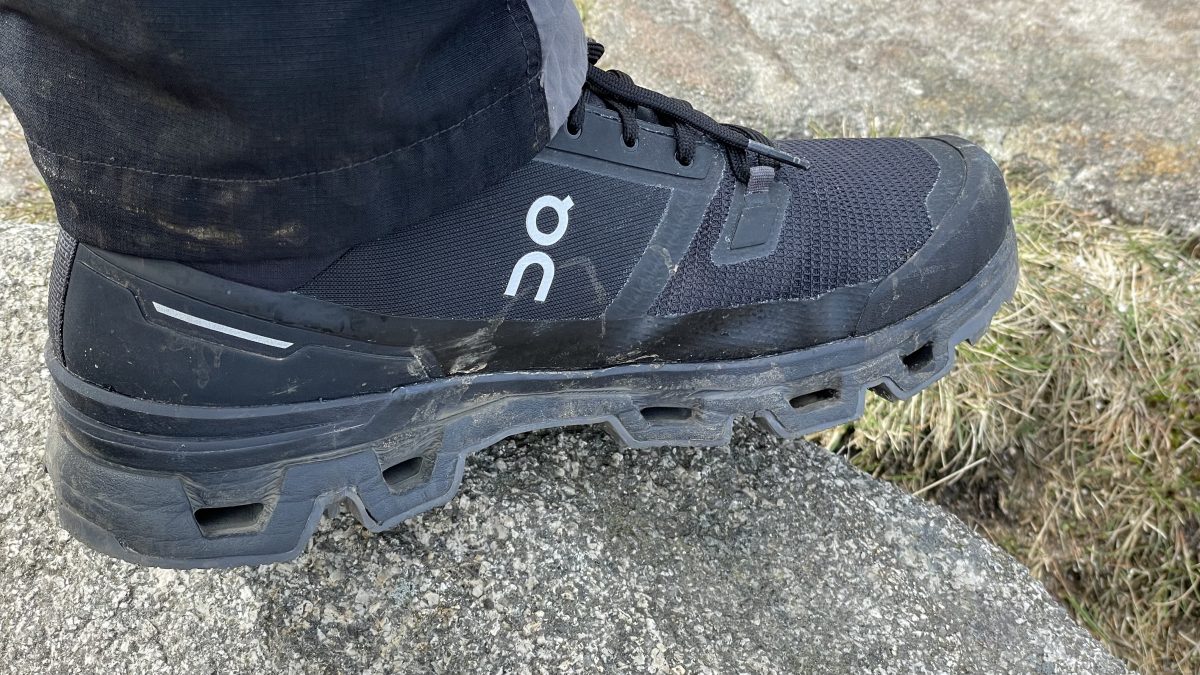 I opted for another pair of the same boots, this time in black. There have been very subtle design changes, a more padded tongue, slightly wider laces, some changes to the logos. Everything else remains more or less the same.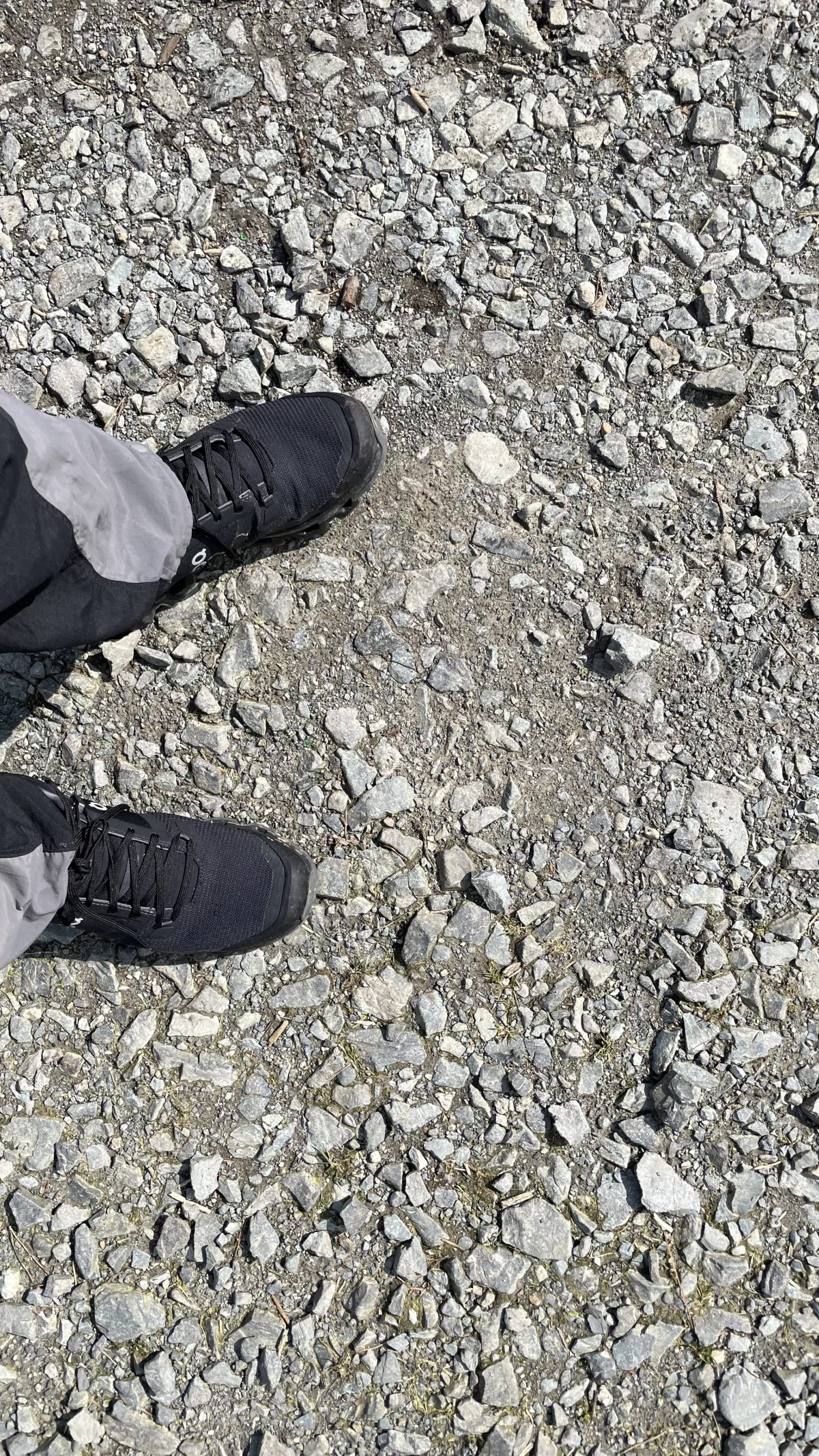 The black colour has a sufficiently muted design that the boots really can pull double duty. They don't scream "I'VE WENT HIKING", so you can comfortably wear them with jeans and a shirt.
This is important to me, as I only have one set of orthotics (which I really don't like to go without) and moving them between different pairs of footwear is a hassle.
I'll continue to walk both about the hills and around town / greenways in these. Very pleased with these boots and they remain my goto three years in.