I've been making regular use of the Vango Zenith 100 over the past couple of years. It's a good solo tent, easy to pitch, quite light and robust. However it definitely has that "cloth coffin" vibe that you get with many solo tents.
When Vango sent the Cairngorm 200 to review, it looked like a good fit for something with a little more space.
The Cairngorm 200 is one of the latest tents in Vango's "Trek" range. It's a two person tent with the familiar single hooped design, with a small lifter pole at each end. The main design is the same as the Zenith 100. However the space achieved is a great deal more, at a similar weight, thanks to some innovative weight saving measures.
It's a classic design which has seen variations from many different manufacturers over the years.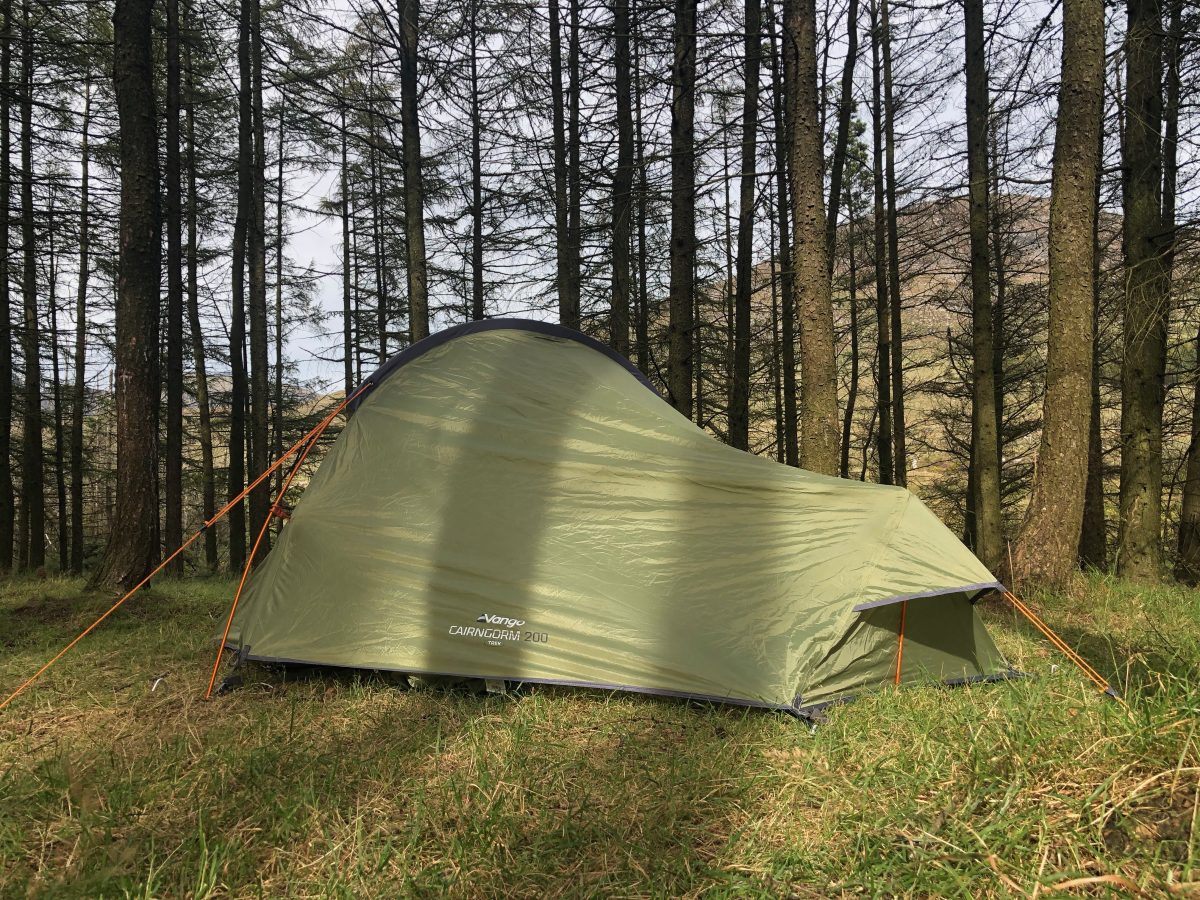 Essential Specs
Berth: 2 Person
Weight: 1.85kg
Price: £150
Field Notes
The Cairngorm 200 achieves a lot of space for its weight. It's at a good weight for a beginner's solo tent, while offering enough space to be luxurious for one person and their gear. In a pinch it could see two good friends through the night, although things would be cramped with gear for two.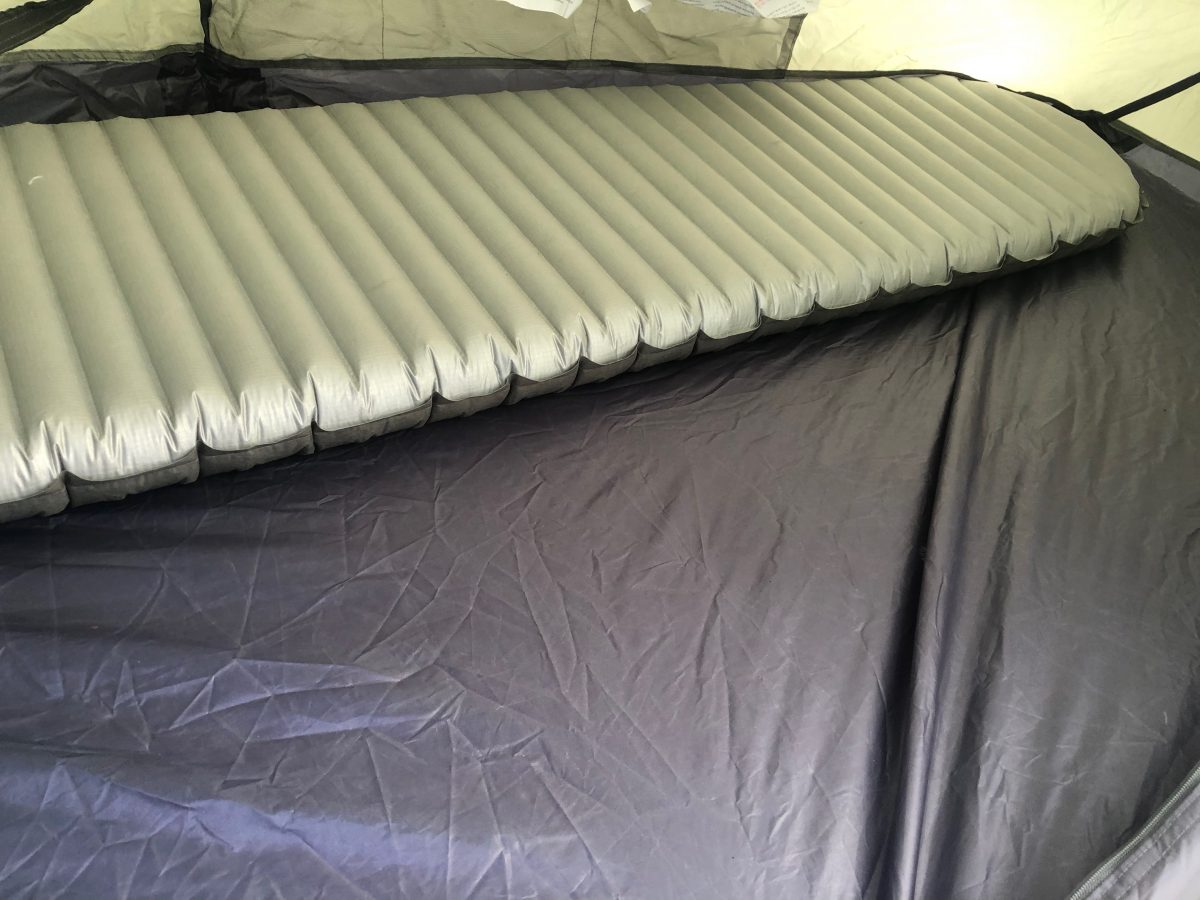 As you can see in the above image, two regular sized sleeping mats (such as the regular NeoAir xTherm pictured above) could fit beside each other if arranged head to toe. It'd be a little cozy, but two people could hold out for the night easily enough.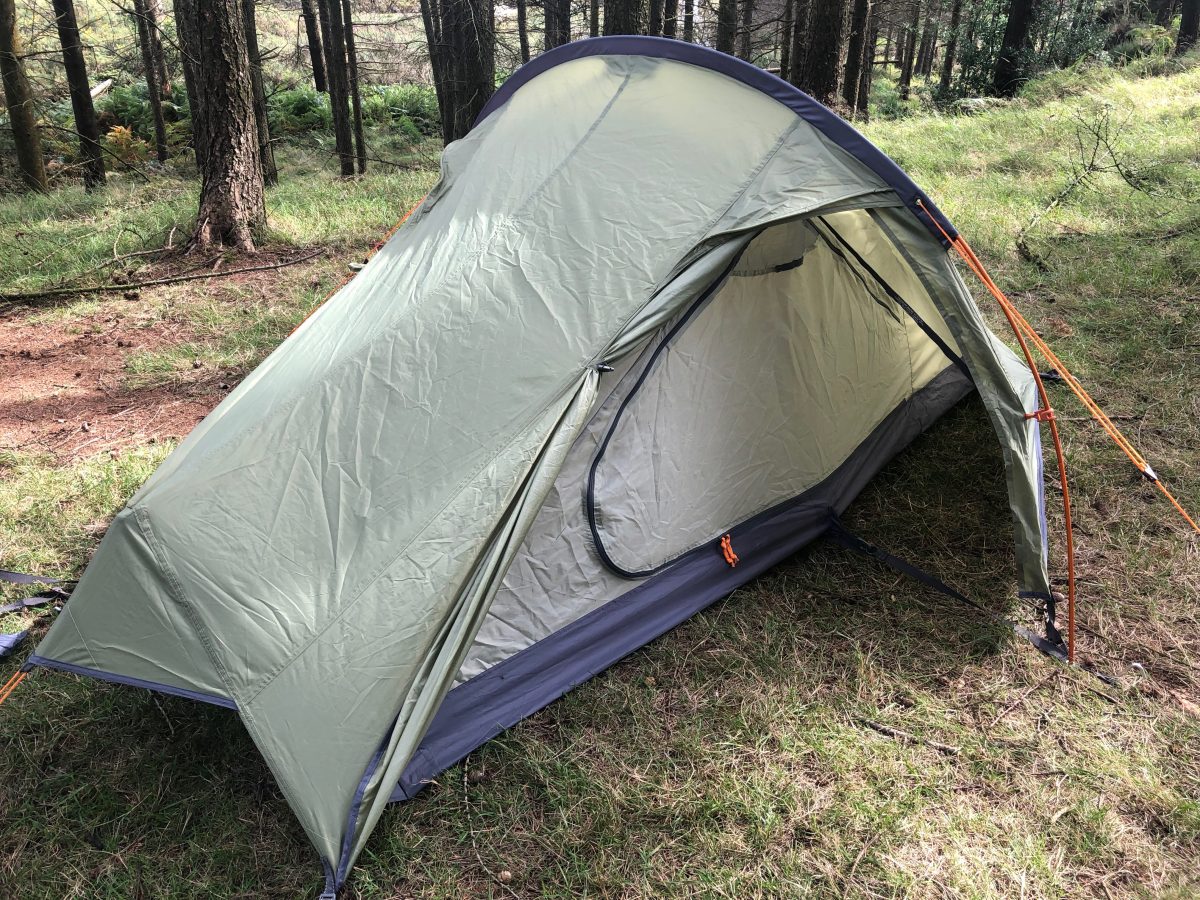 The porch space is decent. It'll accommodate one person's gear without much trouble. For two, it'll take some stacking. While there are two doors into this tent, it's worth noting that only one has a porch.
The porch can be held up by a walking pole to allow safer cooking and easier entry and exit in good weather. This is a nice touch. I don't use walking poles, but a stick of the appropriate length does the same job.
Notice the band running diagonally towards the main pole. This is the Vango proprietary TBS (Tension band system) for taking the slack out of the tent for dealing with high winds. It's pretty intuitive to use, just slide the plastic runner until there's no slack left. It's a decent way of making the one pole tunnel design a little more robust against stronger winds.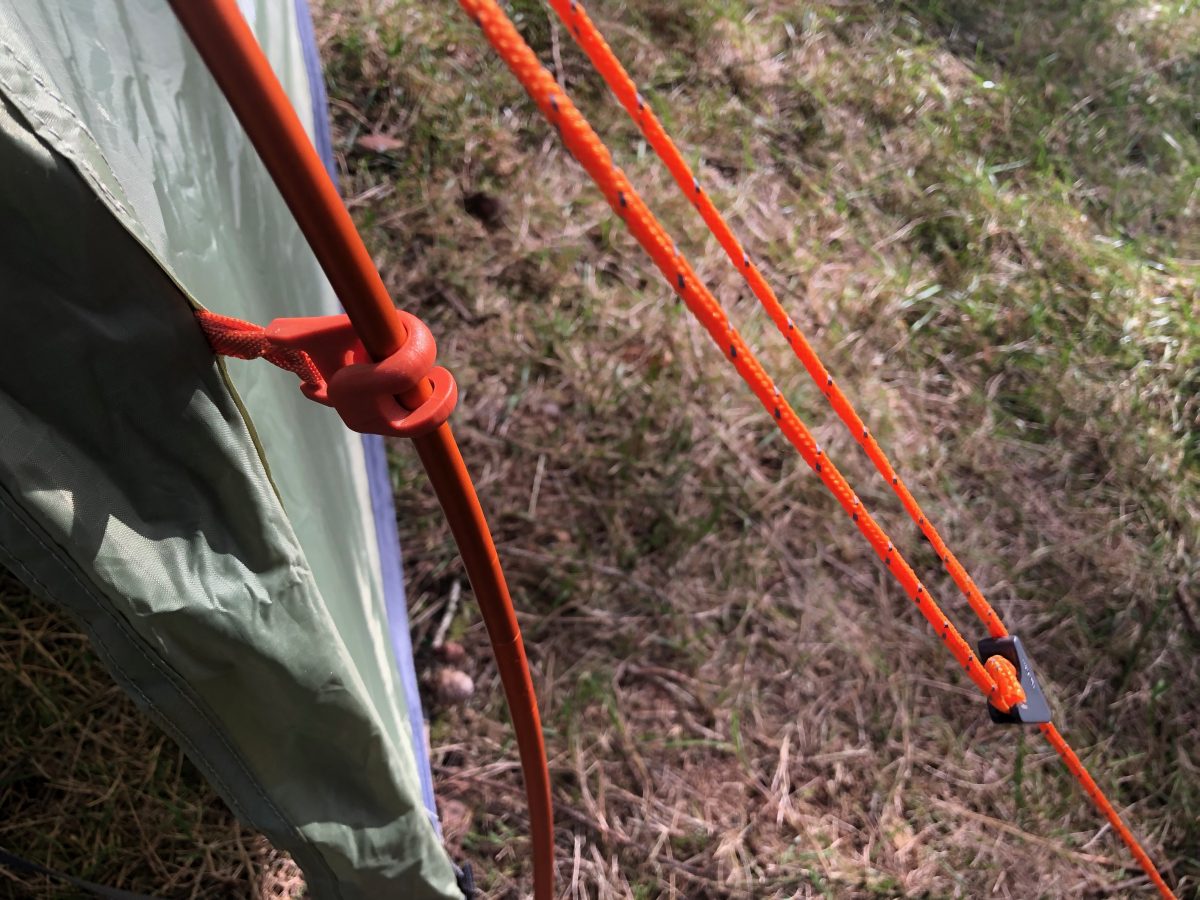 The Yunan alloy poles certainly feel light, this is undoubtedly one area where weight has been saved to achieve the high space at the 2kg weight. The plastic clip is a welcome addition as it helps retain the shape.
The reflective Linelok runners are a mainstay of Vango tents these days. They're straightforward to work with when your tent needs a little tightening in the middle of a storm. I quite like the reflective feature, it reduces night time stumbles by catching the light of your head torch.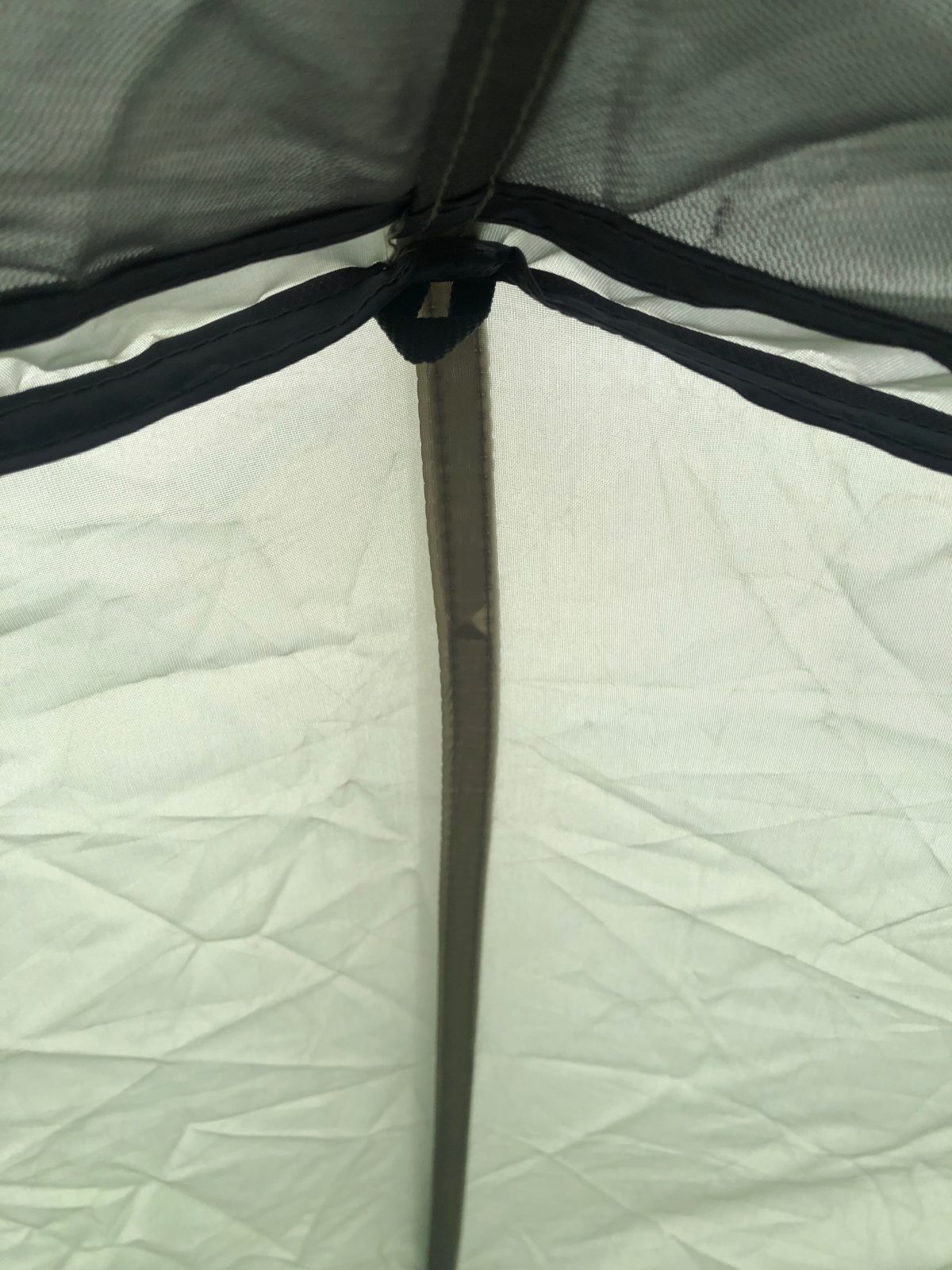 Where previous Vango tents have had a plastic loop at the ceiling of the inner, the Cairngorm 200 has a fabric loop, further saving weight. I use this to attach a battery powered tent lamp with an S-biner. I prefer when a tent can accommodate one of these as the soft light is easier to work in than the harsh, directional glare of a head torch.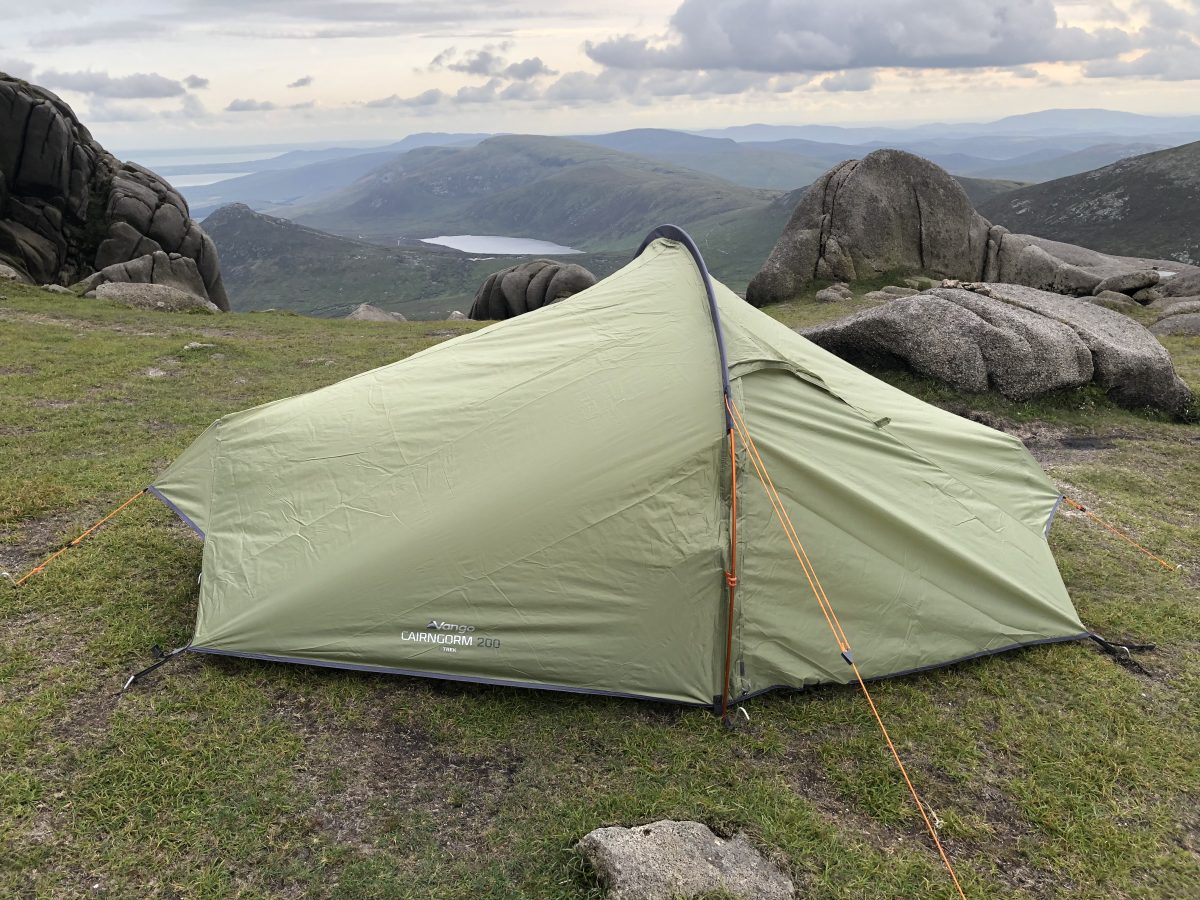 I've used this tent at lower camps and summit camps. The tent can hold its own pretty decently in high winds, but it's always best with tunnel tents to pitch in the most sheltered suitable spot you can find.
I never found any issues with condensation and the tent saw off plenty of heavy rain in the time I've been using it, without leaking.
One of the camps was at a ground-level camp site (The climber's inn) in the height of summer, if I were to suffer condensation, that would have been the time.
The lack of overlapping poles does mean that the fabric will take more pressure from the wind at times. For summit camps in all seasons and all weather, something with a geodesic or semi-geodesic design would definitely be preferred.
Another area where the geodesic alternatives beat the tunnel design is ease of placement. Tunnel tents like the Cairngorm 200 rely quite heavily on tension for their shape. You put the poles in, peg everything down, but it only really takes its shape when it's fully tightened out.
On the other hand geodesic alternatives (Such as the Nemesis, or the semi-geodesic Mirage) are free standing once the poles are in. This allows you to just lift the tent and move it a few paces in either direction if you find the ground isn't to your liking, or change your mind about your spot.
It's worth remembering though that the Cairngorm 200 is considerably lighter than the geodesic tents, so all that stability and ease of movement does have a cost.
The Cairngorm 200 comes with the usual universal Vango features such as the rapid stuff sack, compression straps, tent repair kit and standard Vango alloy pegs.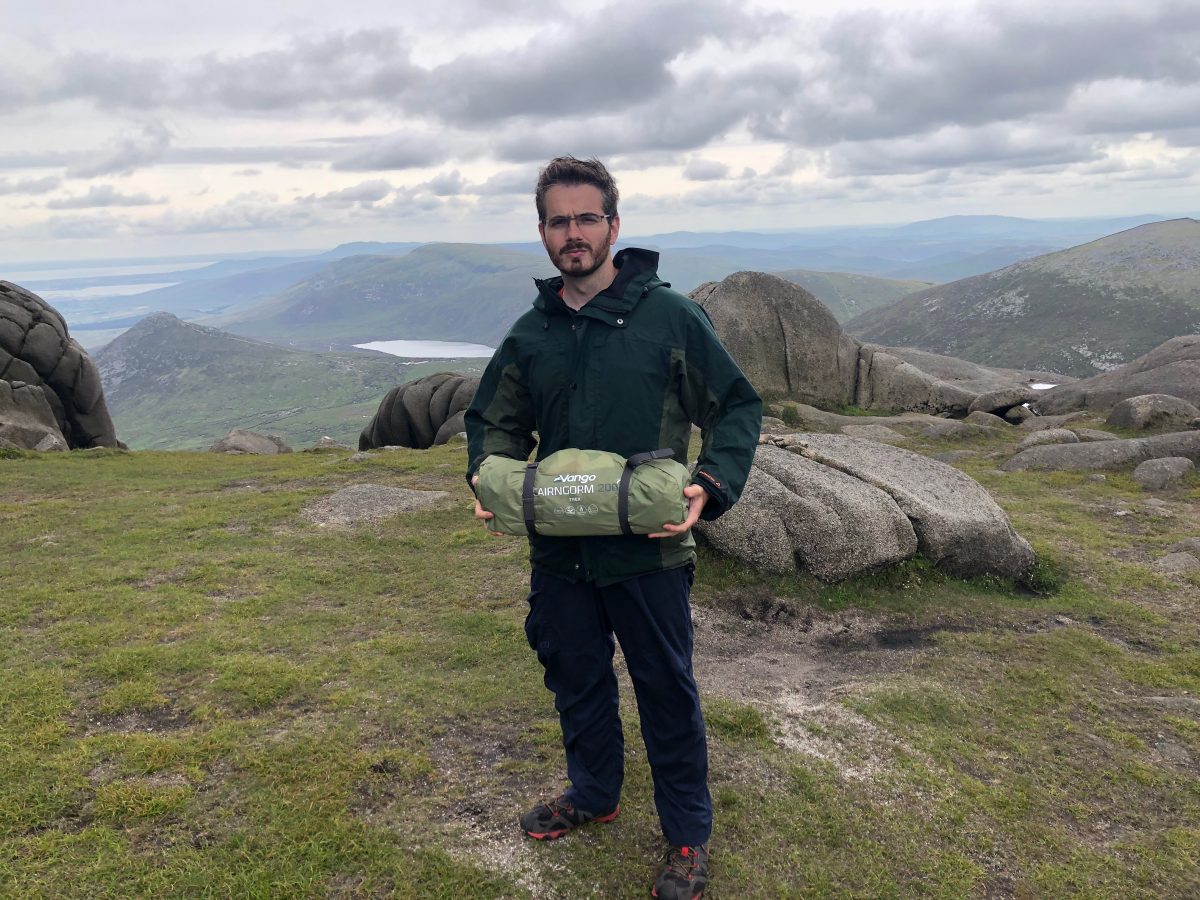 As you can see the tent packs down small. The above shot is how it arrives from the factory. You'll never get it quite that small again, but with careful rolling, it packs down close. Alternatively, the rapid stuff sack allows for frenzied careless stuffing and compression, my preferred approach when it's chucking it down, or rain is on its way.
Conclusion
The Cairngorm 200 achieves a good balance between the competing factors of spaciousness, weight and price. It's a comfortable solo tent, or a snug shelter for two if the going gets tough. It's well featured for its price point. The lack of a second porch is a shame, and like all tunnel tents I wouldn't want to face down a strong gale in it.
I'd recommend the Cairngorm 200 as a good quality tent for someone who's just starting out and wants something decent, without going crazy and buying anything super technical from the outset. A solid offering from Vango.