Not being as much of a gear fanatic as some of my fellow Hikersblog contributors, I had never actually heard of Keen footwear, so when I was asked to review the Durand Mid WP boots, I was "keen" to see what they had to offer!
I am very hard on my walking boots, and any pair I own need to be able to stand up to some punishment, on long and short distance treks over varied terrain. Keen state that the Durand will keep going for one million steps and beyond, so they sounded right up my street (or track).
Overview
The Durand has a lightweight yet sturdy construction made up of breathable mesh and nubuck leather. The mesh fabric is situated in areas like the upper foot where vapour can escape more easily, aiding the breathability of the boot. The nubuck leather provides greater robustness around areas of greater stress such as around the lace eyelets and close to the rubber rand.
The lower eyelets are fabric based, with metal reinforcement whereas the eyelets around the heel area are fully metallic. I've had a little difficulty with the length of the laces, feeling a shorter lace would make the boot easier laced and lead to less unravelling, but this is a minor criticism in what is a very solid boot.
The toe area features a generous, high rubber rand to protect from scuffs while a side profile of the boot also benefits from a protective rand. I've done my share of scrambling in the boots and found the generous rands to provide great protection while also adding a nice aesthetic to the boot.
The ankle area features nubuck for a little stiffness with mesh for breathability. A length of fabric transfers lace tension to the ankle area, which brings a more even tension to the ankle area, rather than a front-heavy cinch which can be found in some boots.
The sole pattern provides a good aggressive grip and doesn't pack out with mud on those wetter walks. The rubber wears slowly and despite some extensive use I haven't noticed any significant wear-down.
The colour differentiation in the sole, while aesthetically pleasing also denotes the two different types of rubber compound used on the sole. The black outer rubber is softer, providing greater grip in areas of force transfer during walking, so your heel or toe doesn't slip when stepping onto a wet rock. The orange inner rubber is tougher, making the boot more robust in these areas without sacrificing grip. This approach aims to bring the best of both worlds, balancing the age old problem with boot soles. Softer rubber provides a greater grip, yet wears down quicker, while harder rubber grips much less but is more robust. I've found both the grip and the robustness of the combination sole to be very effective. It's early days yet to comment on the million step guarantee, but the boots are standing up well to some very heavy use.
The boots feature Keen's own waterproofing technology called Keen.Dry. I was a little apprehensive at first about using a boot with a technology other than Goretex, but have found the Keen.Dry membrane to be very effective at keeping out water while remaining surprisingly breathable.
The outer fabric mesh and nubuck brings greater breathability than a full grain leather outer otherwise would, which helps the performance of the membrane. The wet Irish climate has meant the Durand has seen plenty of wet, marshy walks and I've never found waterproofing to be a problem. Crucially, the ankle cuff is high enough that water won't spill in over the top easily. After all, waterproofing is of little use if water spills over the ankle – and in such cases can often be a hinderance in proper boot drainage.
Thoughts from the trail
I had been advised that the boots were running half a size small, and so selected a half size bigger than normal. The boots arrived nicely packaged, and fit well from the word go, though they did require a thicker pair of socks for a perfect fit.
I wasted no time, and literally tested them straight out of the box! I wore them for a day out on a couple of previously unexplored Mourne hills, and was immediately impressed by how well they fit, and how comfortable they were for brand new boots. There was a slight "breaking in" period on my first couple of walks, but once they adjusted to my feet, it was like I had owned them for years!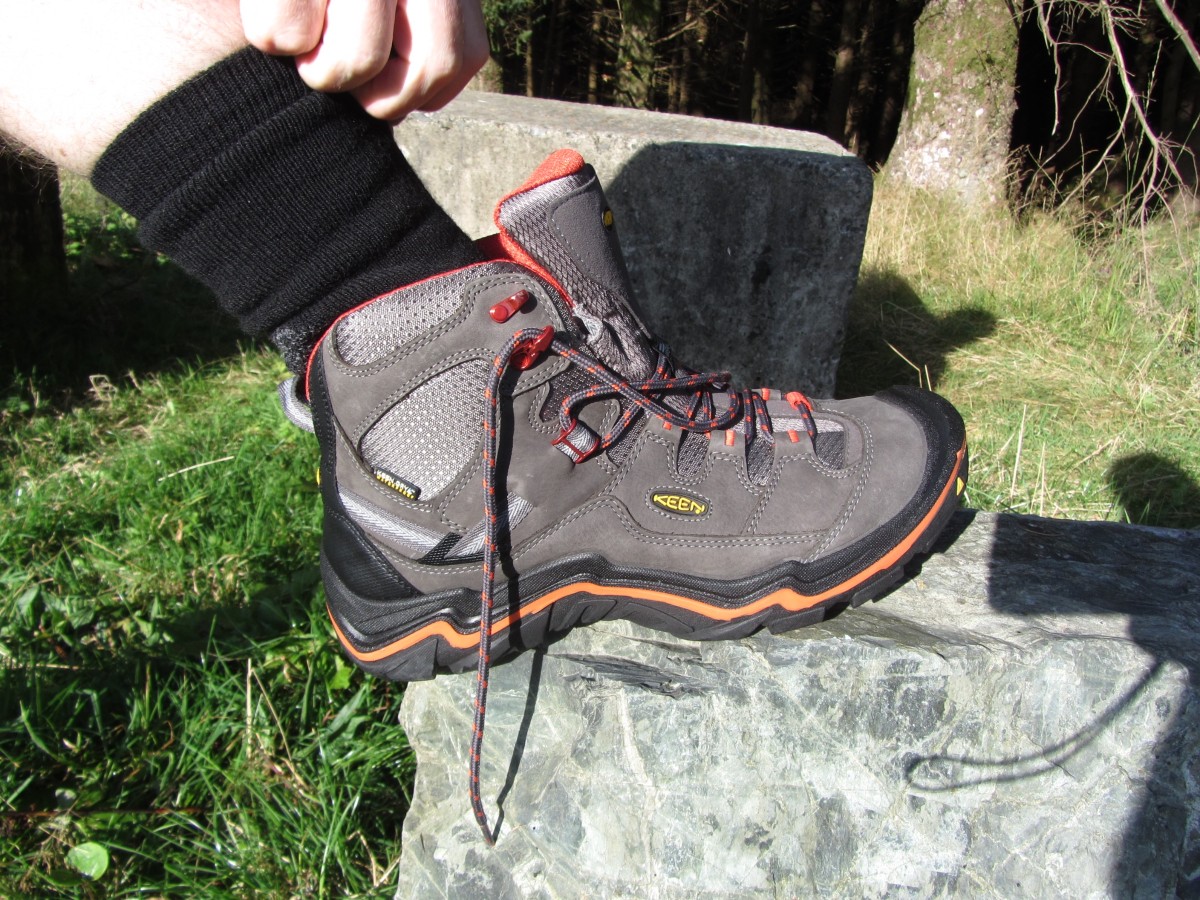 One of the main selling points of the boots is their durability. In the few months I have had them, I haven't made it to 1 million steps (yet), but I have done roughly around 150,000 by my rough calculations. The boots have taken everything that has been thrown at them so far, and kept on going. They are well made, and quality durable materials have been used in their construction.
The Keen Dry ® Membrane kept my feet warm and dry during various excursions through the bogs and rivers I have encountered on my treks in the hills and mountains, dry feet are a real bonus on a long walk!
I have also been impressed at how breathable the boots are, keeping my feet dry from inside as well as out.
I was interested to see how the Nubuck leather uppers would stand up to the infamous Mourne bogs, and they have coped very well. The light colour of the leather is showing some staining, but hasn't affected the performance of the boot in any way, so isn't a major issue in my opinion.
As the name suggests, the Durand is a "mid" boot, but I have found they offer me adequate ankle support and protection, without being too restrictive while walking, and the tongue and ankle area is nicely padded.
The rubber from the outsole runs up over the toe area as a "bumper", nicely protecting the front of the boot from scrapes, and the toes inside from knocks! I have had issues with boots becoming badly scuffed in the toe area before, so feel this is a good feature, which will help the longevity of the boot. They also feature an integrated PU heel cushion, which is a great feature, especially on harder terrain, and provides excellent shock absorption, literally putting a bit of a spring in your step! Other features include a removable metatomical dual density EVA footbed, and a TPU stability shank.
I recently tried the boots in the snow, and found them to have good grip on both fresh and compacted snow, as well as frozen ground.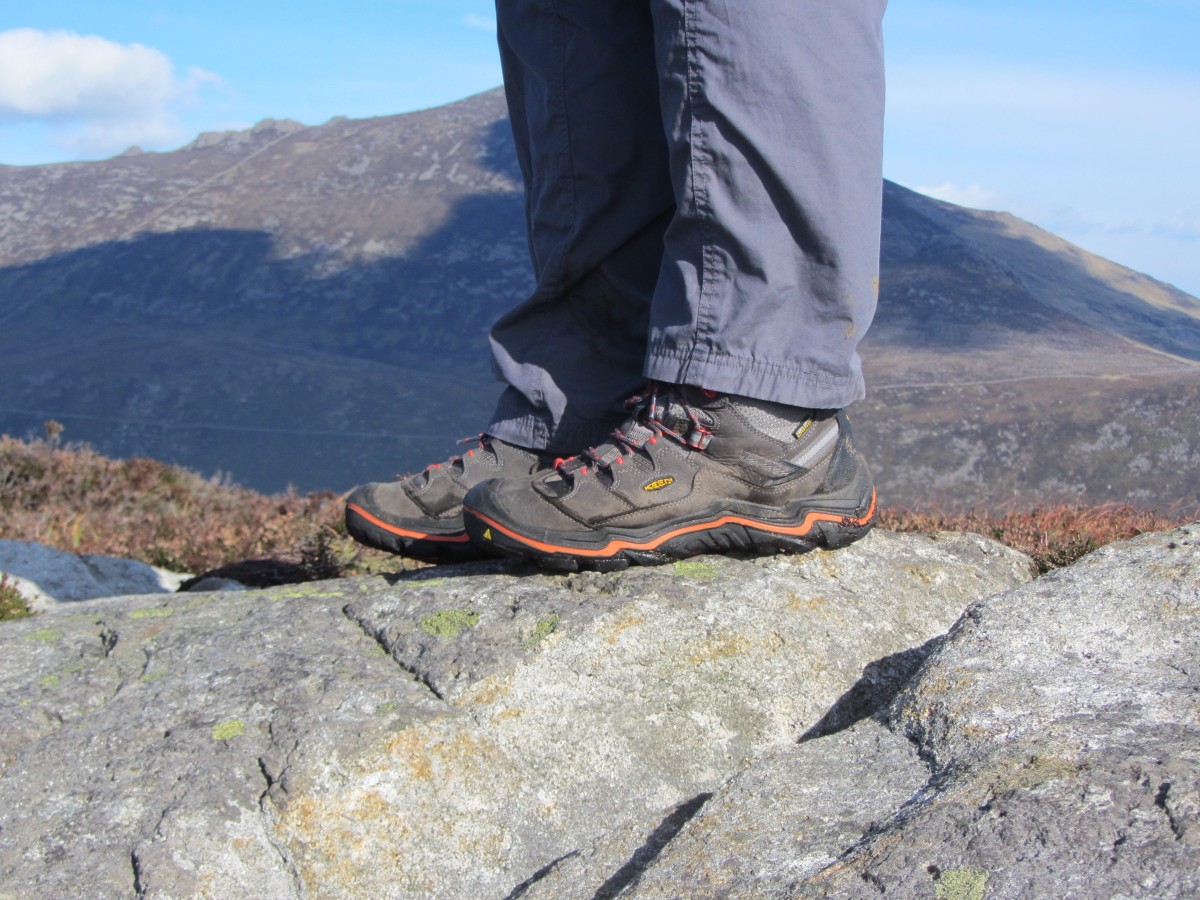 While on the subject of laces, a couple of minor criticisms about these. I personally find the laces too long, and even with double tying there's still quite a bit hanging down. Also the speed lacing system at the top sometimes gets in a bit of a tangle when in a hurry, as the top 2 cleats are quite close together. But with a bit of care these have not caused me any issues.
Those minor criticisms aside, I have found it very hard to find any fault with the Durand. They are a durable, well made boot, with lots of great useful features. I think it would be hard to find a match for them!
BUY NOW FROM AMAZON
If you like the look of this gear, please consider purchasing from Amazon via the link below. We receive a small referral fee at no cost to you if you do. Please also be assured that this in no way affects the content of our reviews, you'll see these purchase links in the products we hated too, just in case you disagree with us!
Men:Women: