At a glance
Value – 10/10
Comfort – 10/10
Waterproofness – 10/10
Grip – 9/10
Video Report
Field test
On a rain sodden day in the Mourne Mountains a few months back,  a massive test for  my old "waterproof" boots, proved that their race was run, and that they were no longer waterproof.  The soaking my feet took that day meant that a new pair of boots were required, and a lot of internet searching and checking reviews ensued.  I had put off buying a pair, due to the usual lack of funds, but the amount of walking in the hills that I do (still never enough though!) meant that I needed to get something sorted ASAP.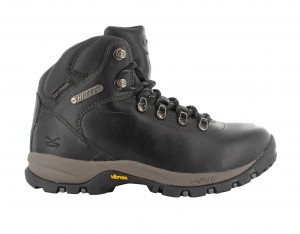 Imagine my delight then, when a pair of boots came to me, courtesy of Hi-Tec! Now I must confess, even with all the searching and review reading, Hi-Tec were not a brand of boot that I knew a big lot about! I always associated them more with running shoes etc, would their boot offerings be any good? Well I was now going to get the chance to find out! My aim was to try the boots over varying terrain, distances and weather conditions, to give an accurate picture as possible  of the properties and performance of the boots.
With previous boots I have owned, I had always "broken them in" for a while before their first proper usage, wearing them around the house etc, to allow them to become accustomed to my feet, but due to a number of factors, I never had the chance to do this with the Hi-Tecs! Their first outing was on an overnight camp on the 674m Slieve Muck, in the Mourne Mountains. So they would be broken in on the hill! It was a baptism of fire for the boots, as the night of the camp produced strong winds, driving rain and sodden, uneven ground to trek over.
I was amazed how comfortable the boots were right from the word go, plenty of room round the toes, and good support from the insole.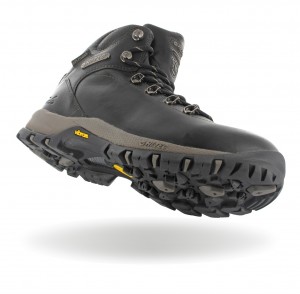 As we made our way up the aptly named Muck in the dark, splashing through puddles and traversing boggy ground, with a full pack, the Vibram soles gave great grip, making our steep trek to the campsite a breeze! When they were removed before heading into the tent after a few hours soaking, my feet were bone dry, both from inside and out, keeping my feet fresh as a daisy, even after their many dunkings!
The next morning, I was again pleased and surprised at how good my feet felt, the boots had fitted me that well straight out of the box that there was none of the usual soreness I would have expected, at all! They took me home again with no dramas at all, and I was pleased with the stability and traction of the boots on the descent.  Since that first outing, I have covered many more miles in the boots, on everything from dry dusty trails to sodden boggy ground, from fording streams to scrambling up rocks, and I really cant fault them, they are comfortable, light on my feet, and I haven't had wet feet since I got them!
conclusion
The boots are available at £99 at the moment, and for that price, I think you will struggle to get a better all round waterproof hiking boot, so if you are in the market, pick yourself up a pair, your feet will thank you for it!
buy now from amazon
If you like the look of this gear, please consider purchasing from Amazon via the link below. We receive a small referral fee at no cost to you if you do. Please also be assured that this in no way affects the content of our reviews, you'll see these purchase links in the products we hated too, just in case you disagree with us!