Back in the winter of 2011 I was taking part in the expedition section of my Mountain Leader training course and decided that I needed an insulating jacket; and after trying the Fitzroy jacket on, I knew that this was the jacket for me.
Owned and enjoyed for 4 years
Since then it has been a firm favourite for me and I wear it all year round to some degree. In the Winter months I'm rarely seen without it; from going to work in the cold mornings, to short forest walks in the dark evenings and of course in the mountains when I stop for lunch or if it's really cold.
I have also found use for the jacket in the summer months, but it's so warm I only really use it when I'm sitting around camp – it just adds that extra bit of comfort.
Below are a run down of some of the features and my thoughts into this remarkable jacket.
Zips
The main zip is chunky, rugged and two-way with an internal draft excluding baffle. The baffle folds over the top of the zip which helps to stop my stubble getting caught in it.
Fit
The fit of this jacket is exceptional for me and I never feel constricted while wearing it. It's slightly longer length at the front and even longer at the back, partially covering my backside – really helps keep the heat in!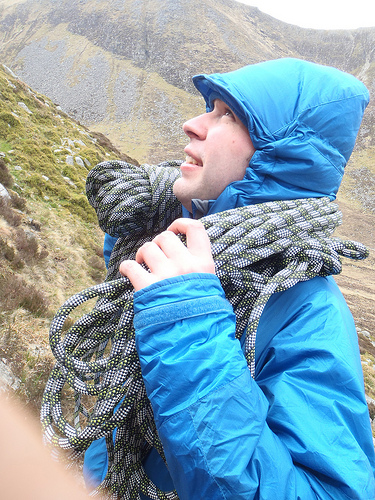 Sleeves
The sleeves are a good length and don't expose my wrists when I reach above my head while climbing. On days that aren't too cold you can get away without using gloves by pulling your hands back inside the sleeves.
The cuff adjustment is a hard wearing rubberised Velcro tab with a long strip mating of material that almost encircles the entire wrist giving you plenty of adjustment.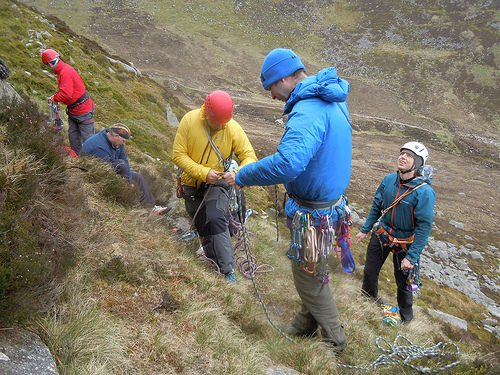 Hood
The hood is helmet compatible and with a helmet on I find that it works well but isn't perfect. For me the hood over a helmet just feels a bit too tight.
During Spring and Autumn camps the Primaloft One filling is enough to take the edge of any cold weather.

Without a helmet it is perfect; there's internal toggles for adjustment at the side and an external toggle at the back to adjust volume. Once the hood is adjusted to my head it feels more like I'm wearing a beanie instead of a hood as I find it moves perfectly with my head and doesn't get in the way or obscure my view.
Another nice feature is the wired peak that helps stop it slapping about in the wind and also helps keep the wind and rain out of me eyes.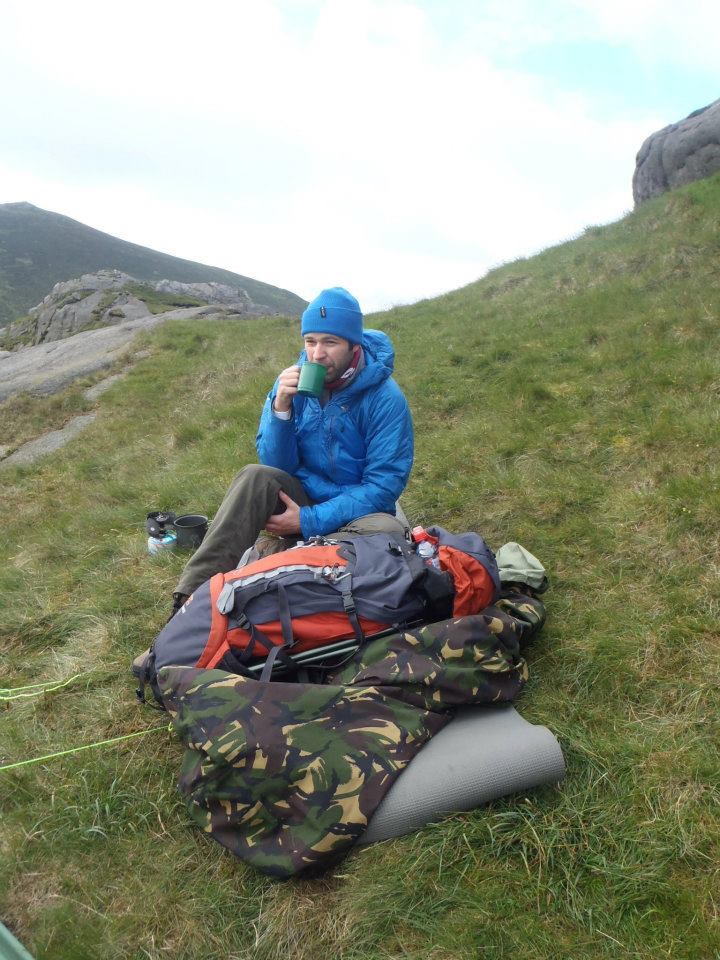 Pockets
There are four pockets on the Fitzroy jacket; two laser-cut hand pockets that are fleece lined to help warm cold hands, a Napoleon chest pocket and a pocket on the inside that I use to keep the stuff sack that comes with the Fitzroy.
Fabric
The outer fabric is Drilite Loft II which after 4 years of wear I still find it very windproof, water resistant and breathable. It's easy to clean and drys extremely quickly. Just a quick whirl in the tumble dryer is enough.
Filling
The main insulation filling of the Fitzroy jacket is Primaloft One. With 100g of filling in the body and 60g in the arms and hood, I find this adequate for most situations, only feeling a slight chill at times when I have been sedentary for extended periods – such as sitting around at camp. Normally taking a gentle stroll around the camp site, or walking over to my tent to get something is enough to build the heat back up again.
I think the Primaloft insulation is prefect for the British and Irish climates where we have more wet days than dry. The heat retention properties of the Primaloft when wet make the Fitzroy jacket more adaptable than jackets with Down insulation.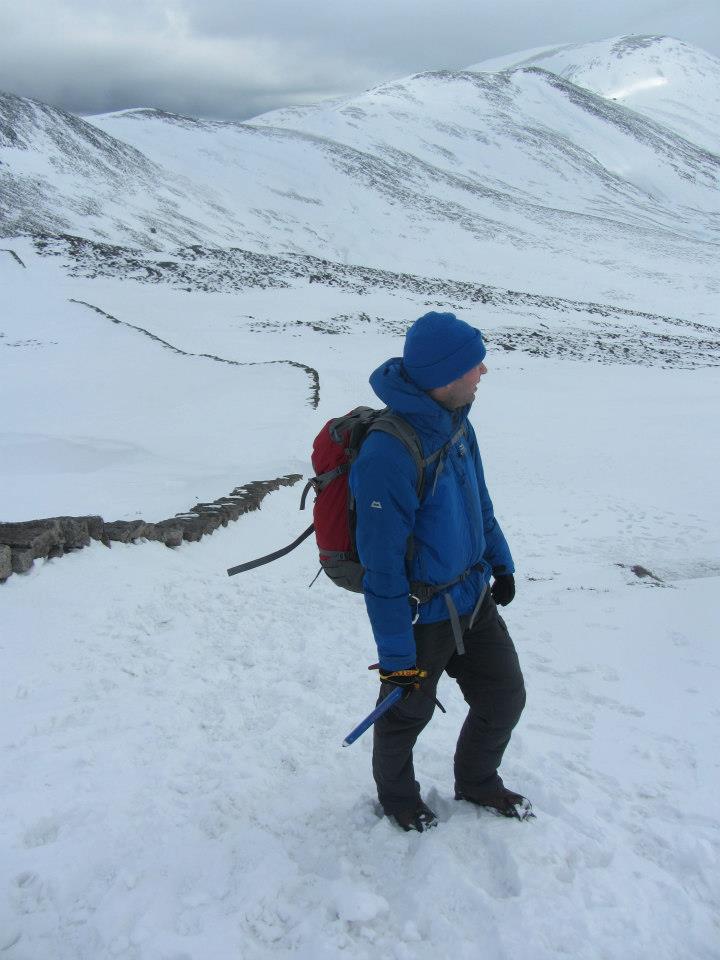 Something that I love is the fact that the body of the jacket doesn't ride up when reaching above, as this really adds that feeling of freedom of movement and comfort. No unexpected cold drafts getting in. The jacket weighs 648g and feels very light when worn.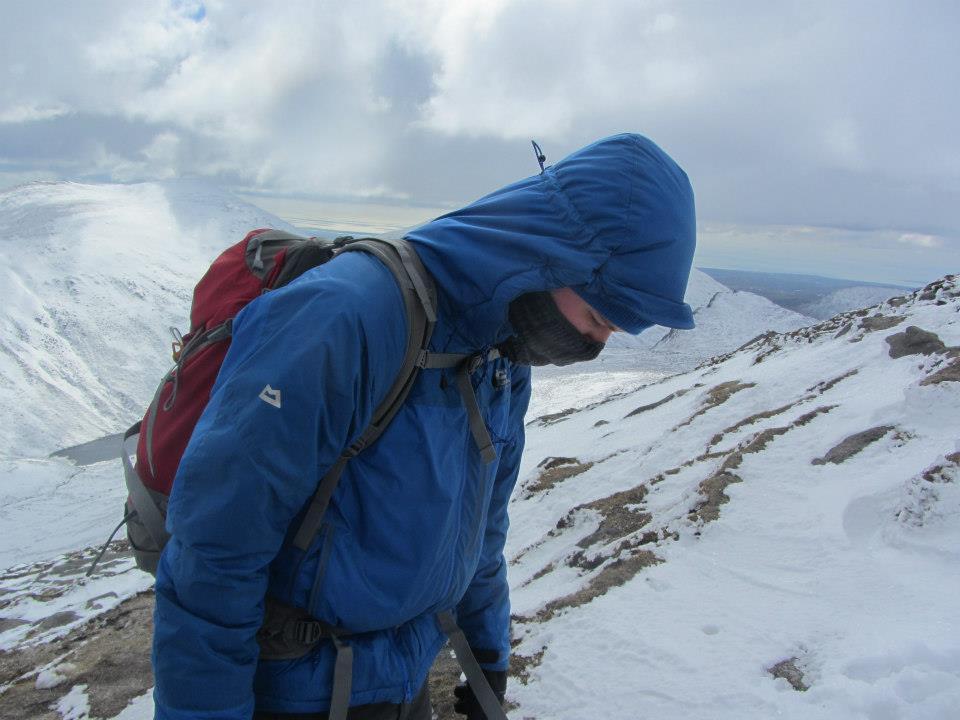 Conclusion
If you're looking for a jacket that can tick as many boxes as possible then the Fitzroy would be a great choice. It's served me well over years from bivis under the stars to Scottish Winter walking in the Cairngorms and I really can't fault it.
If for some reason my Fitzroy was lost or damaged beyond repair would I buy another one? Yes, without a doubt!
Buy now from Amazon!
If you like the look of this gear, please consider purchasing from Amazon via the link below. We receive a small referral fee at no cost to you if you do. Please also be assured that this in no way affects the content of our reviews, you'll see these purchase links in the products we hated too, just in case you disagree with us!