---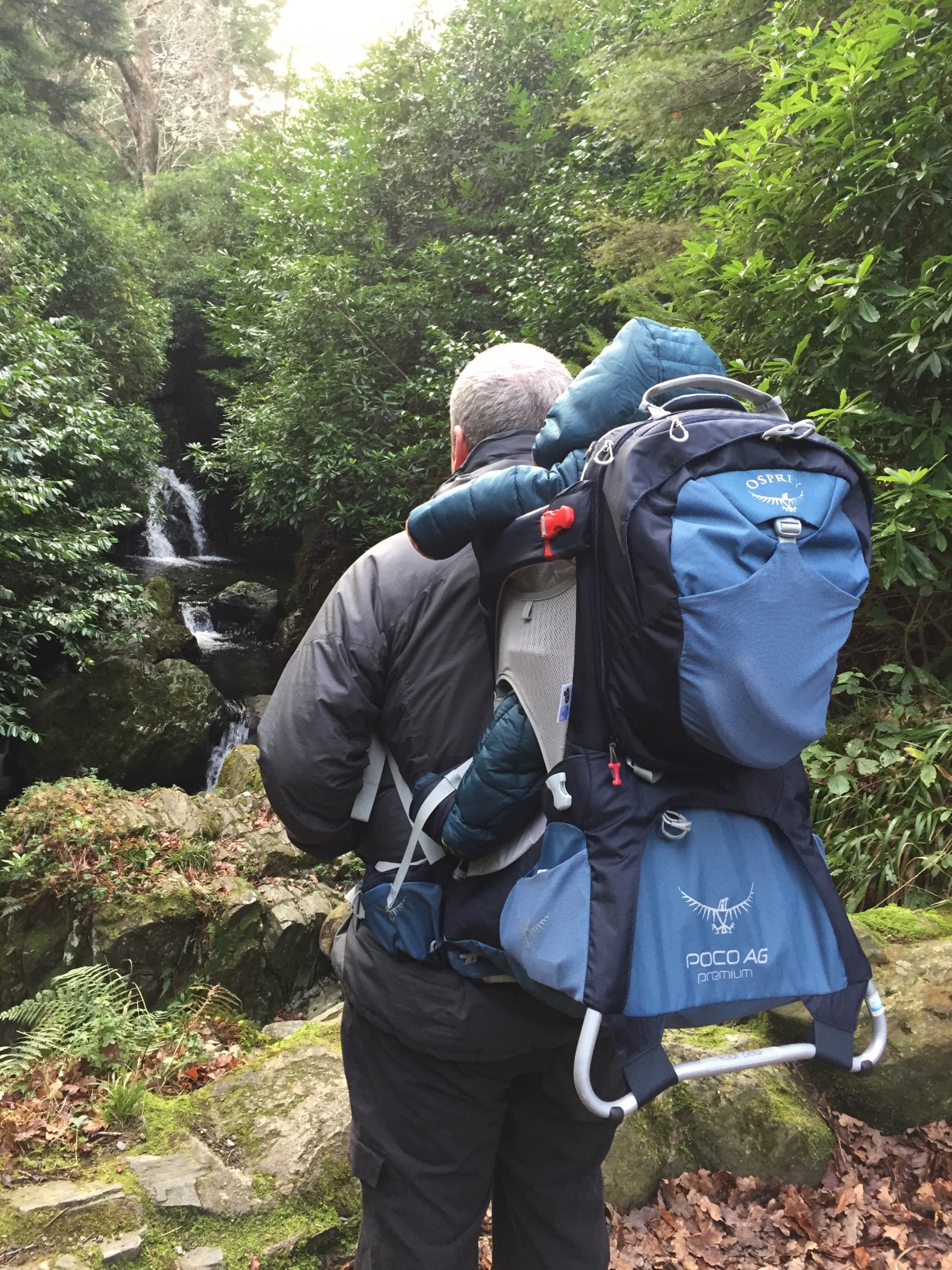 I've been a big fan of Osprey rucksacks for a few years, and have previously purchased a few, notably their Kestrel 68 which was used extensively for 5 weeks during 'The Long Walk North'.  Just a couple of months after I completed that trek, I was delighted to find out that my wife Catrióna was pregnant with our first child, and our son John arrived in May 2016. Catrióna and I share a mutual love of the outdoors, and have been keen hikers and campers for many years, and this is something we both fully intend to continue as parents.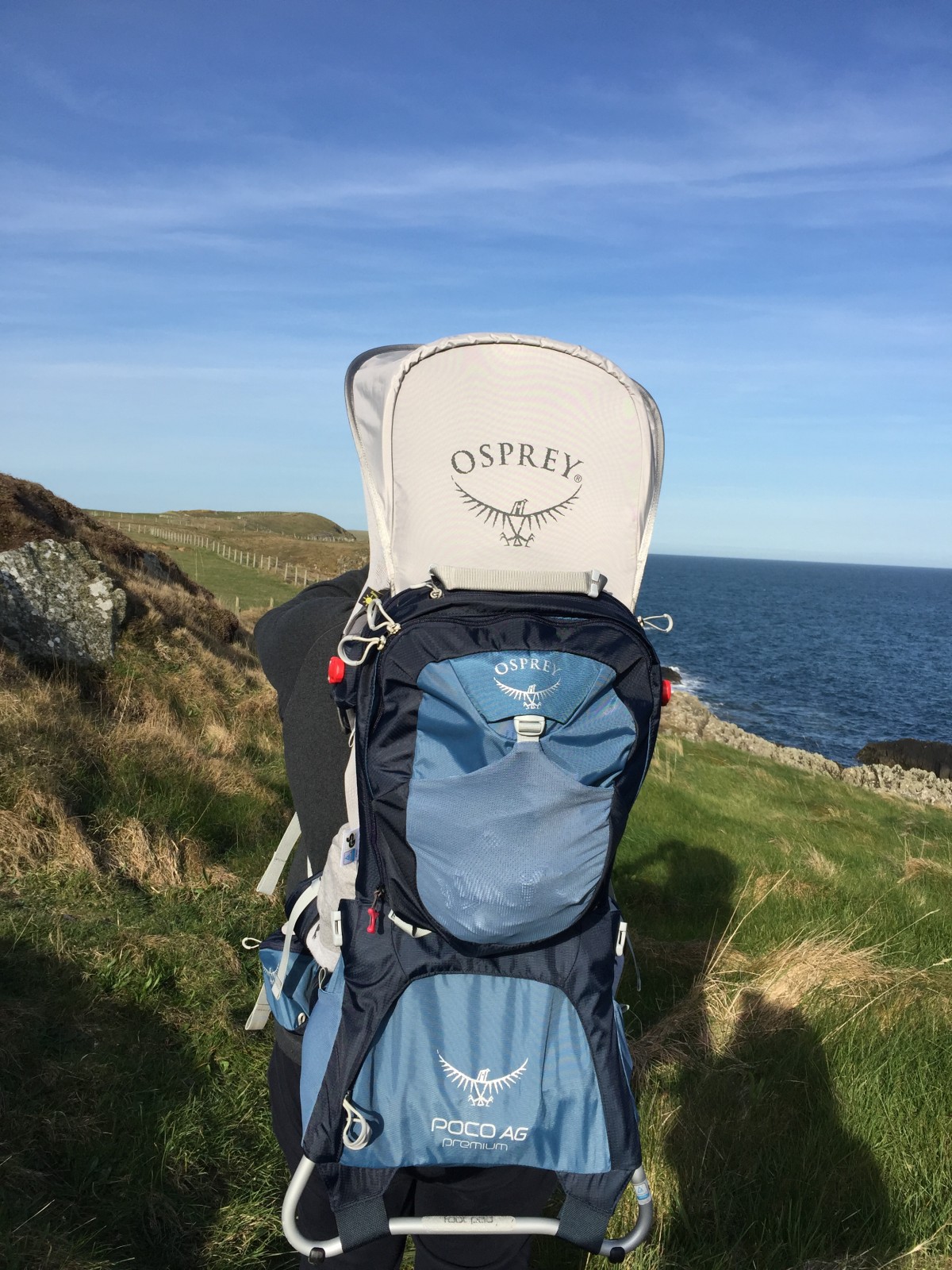 So I was excited to learn that Osprey were bringing out a new model of their 'Poco' baby carrier, and delighted to learn that I was going to get a chance to put it through it's paces! The Poco AG Premium is packed with features, including:
Adjustable child's safety harness, seat and foot stirrups
Built in retractable sunshade with SPF 50
Fit-on-the-Fly™ adjustable hip belt
Front zippered pocket
Detachable raincover
Internal key attachment clip
Large zippered lower compartment
Removable 11L Daypack
Removable and washable 'drool pad'
Sternum strap with emergency whistle.
So to my thoughts. Having unpacked the carrier, I gave it a quick weigh, and had it at just over 4kg, which I believe to be reasonable considering everything the Poco offers. I have come to expect Osprey packs to be easy to adjust and comfortable, and the Poco is no exception. It comes equipped with their AntiGravity™ suspension system, an easily adjustable back system, which lifts the pack off the wearers back, increasing comfort and ventilation. It's made from a tubular aluminium frame, covered with a tough mesh, which contours to fit the back, and extends round into the hip belt. The mesh has just enough 'give' that it's comfortable against the back, whilst being stiff enough to effectively do it's job well.
There is much more airflow, especially around the lower back, and the weight of the pack and it's passenger is spread evenly, increasing stability.  This is great on long hikes, especially on warmer days.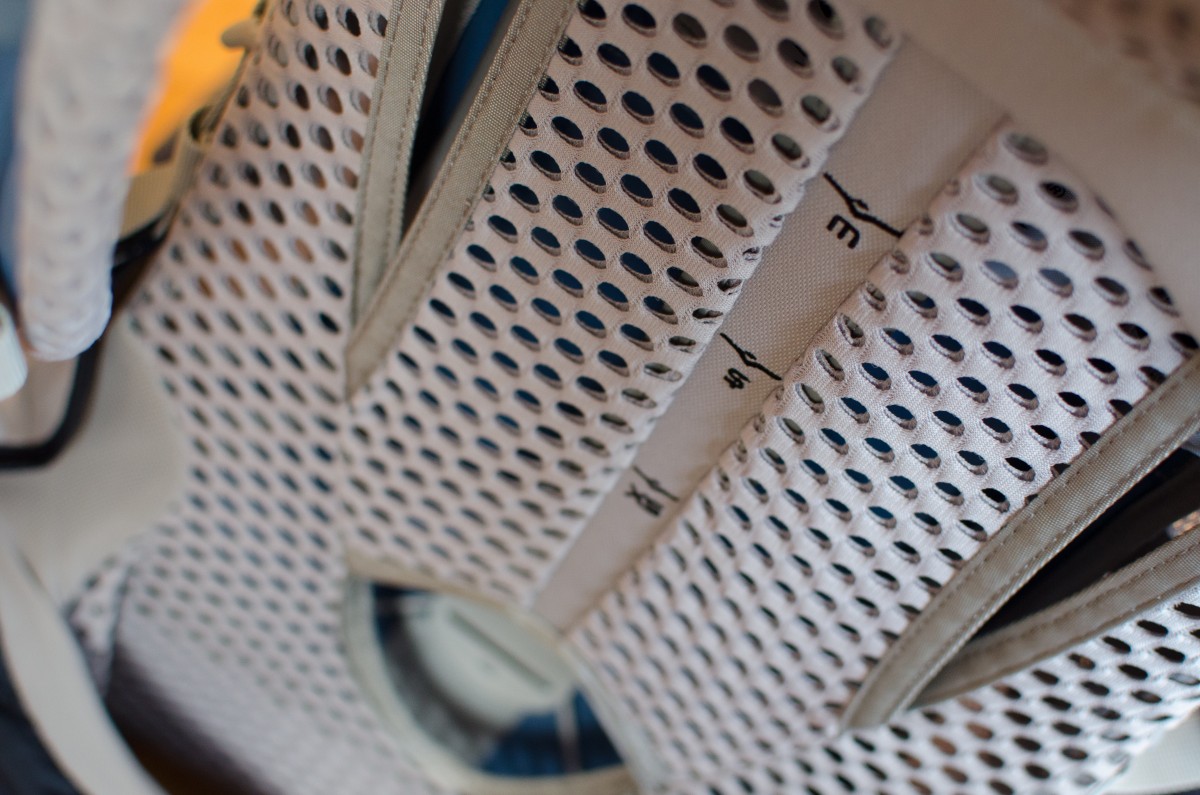 The adjustment of the back system to suit different users is very easy, and this is invaluable if changing carriers at some point during a long days hiking for whatever reason.
The back length is fastened and unfastened with one clip, and can be simply slid to the correct length.
There's a great range of adjustment in the back system and it will fit a range of back sizes easily. There is a compartment for a hydration system, but this seems to be designed solely for the new style Osprey bladders, as my existing older Osprey hydraulics water bladder won't fit the narrow opening, which I did find disappointing.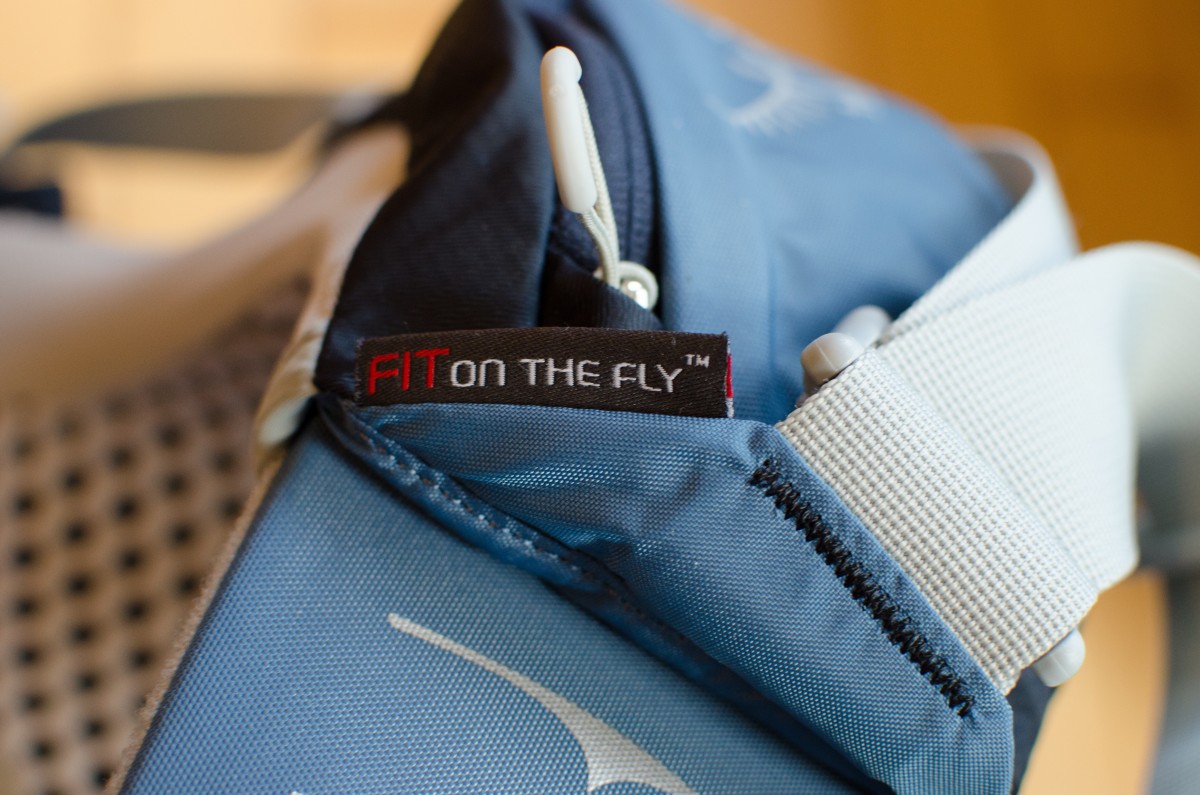 The hip belt features Osprey's Fit-on-the-Fly™ adjustment system, this offers 13cm of adjustment either side of the belt for a comfortable and secure fit. It consists of 2 stiff fabric panels with graduated markings, which slide in and out of sleeves on the belt. These are secured snugly with Velcro panels. The belt hugs the hips nicely, and is nice and wide for comfort and security. There are two zippered pockets, one of which is lightly padded to help protect more delicate items. The pockets are a decent size, and there is also a small mirror included, so you can check on your little passenger if hiking solo!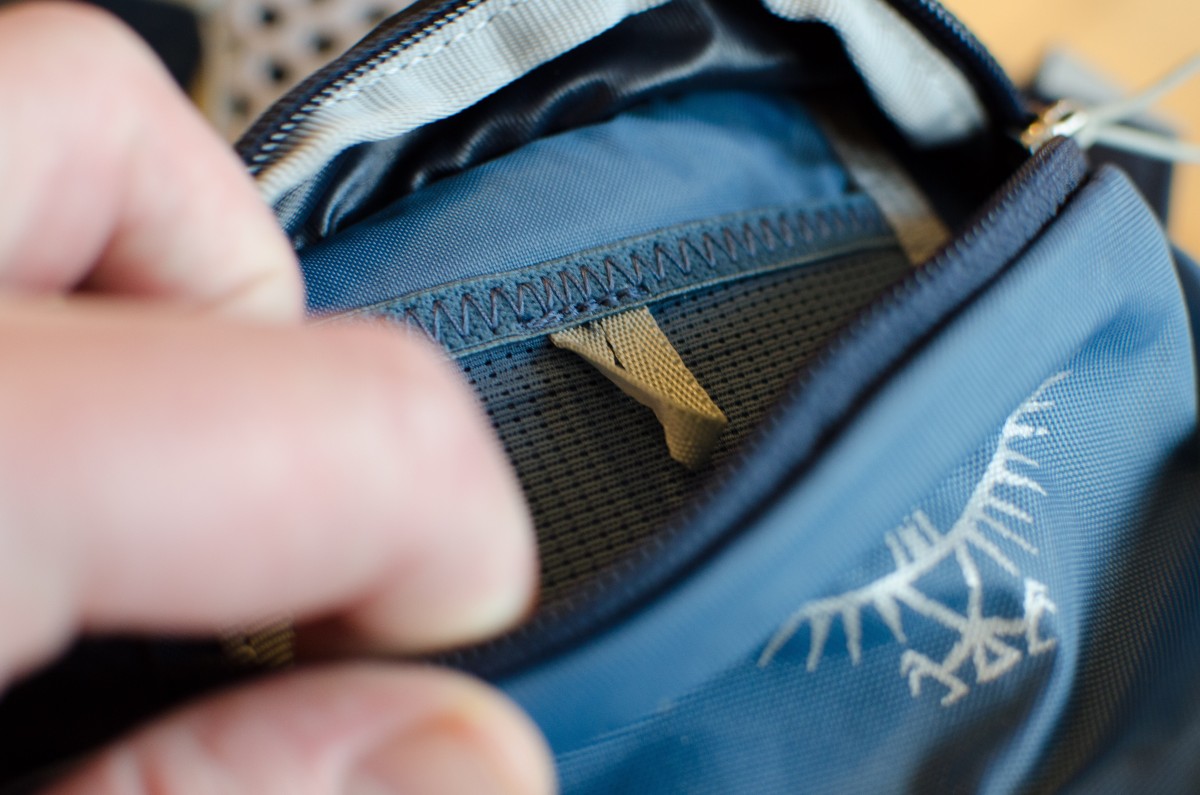 The shoulder straps are a good width and length, easily adjustable, and made of punched foam and soft mesh to reduce weight and increase breathability and comfort. I have hiked for hours with John on board, and the pack stuffed with all his supplies for a day out, and have found them to be comfortable and supportive when the Poco is fully loaded. There is also an adjustable sternum strap, the clip of which has an integrated emergency whistle. Two reassuringly tough grab handles, one at the front and one at the back of the passenger, make it easy and secure to get on and off, and to move it around whilst not wearing it.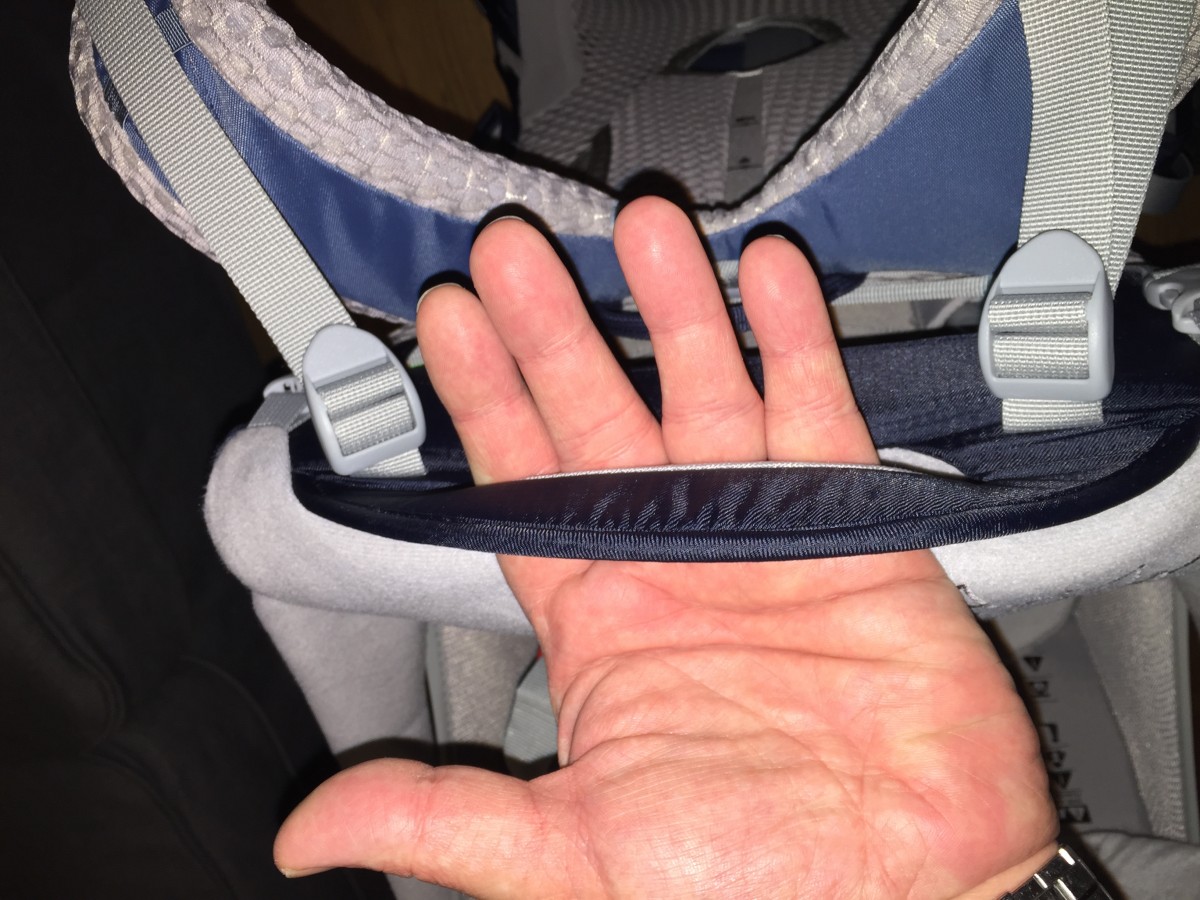 The 'cockpit' of the carrier continues the theme of easy adjustment with this product. One clip allows you to lower the seat, then it's simply a matter of pulling a handle to raise it to the correct height for the child.  Your little passenger is surrounded by a stiff frame, part of which can be folded for storage and travelling. The whole area is generously padded, and the front comes fitted with a removable and washable 'drool pad', which is another great feature!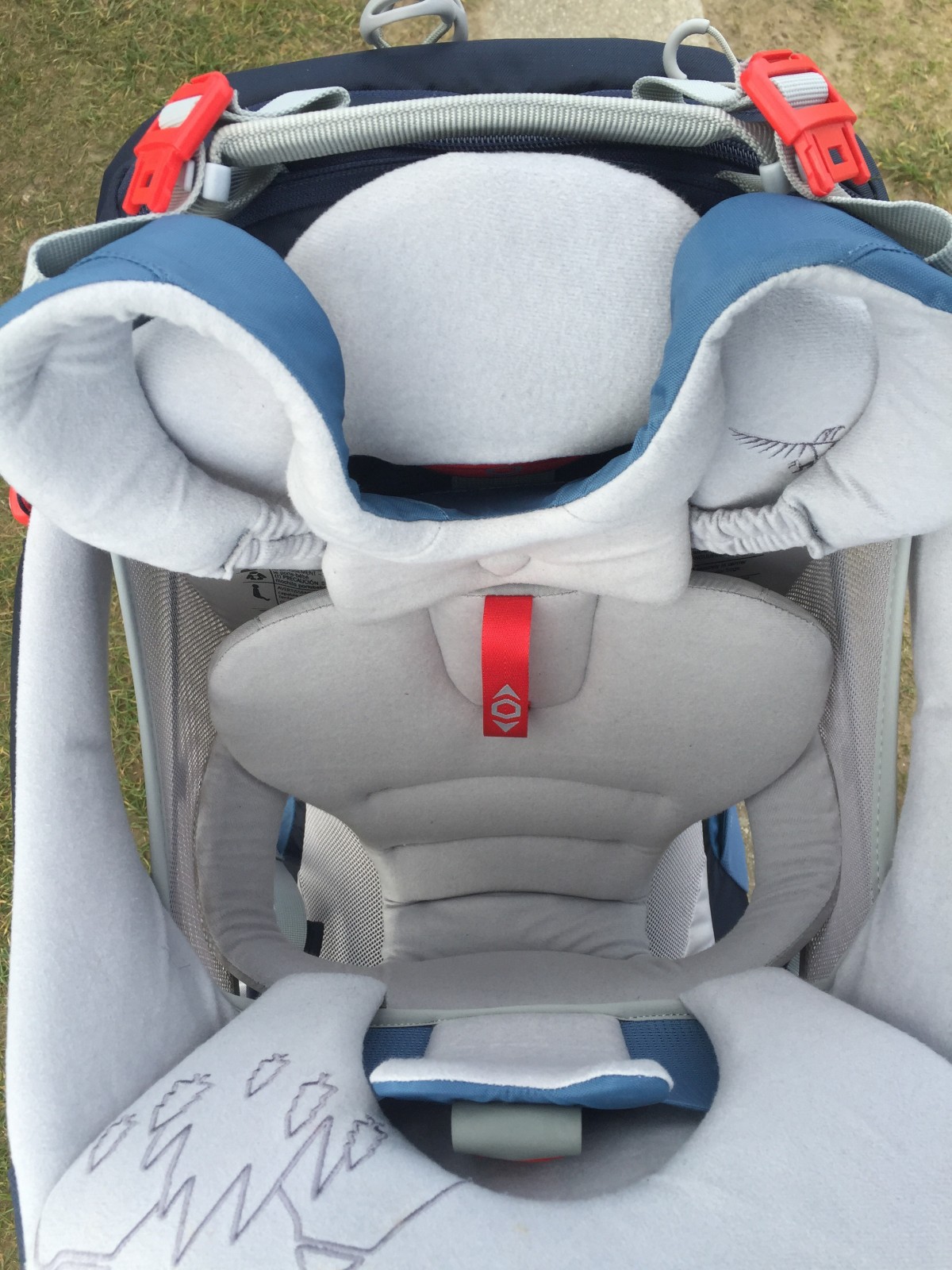 The adjustable child harness holds the whole body securely in the seat, and has sufficient padding without being too cumbersome, giving a nice tight fit. The buckle of the harness is easily clipped on and off, but is designed to make it harder for little escape artists to access and release, which gives peace of mind.  There are also clips on the rear grab handle to keep the harness out of the way, and make it easier to get your little passenger in and out! The sides of the 'cockpit' are made of a durable mesh to increase airflow and comfort for the passenger, and have a couple of decent sized stretchy pockets for stowing essentials.                                                              There are also adjustable (and removable) stirrups, which will come into their own as John grows, but he already likes putting his feet in them!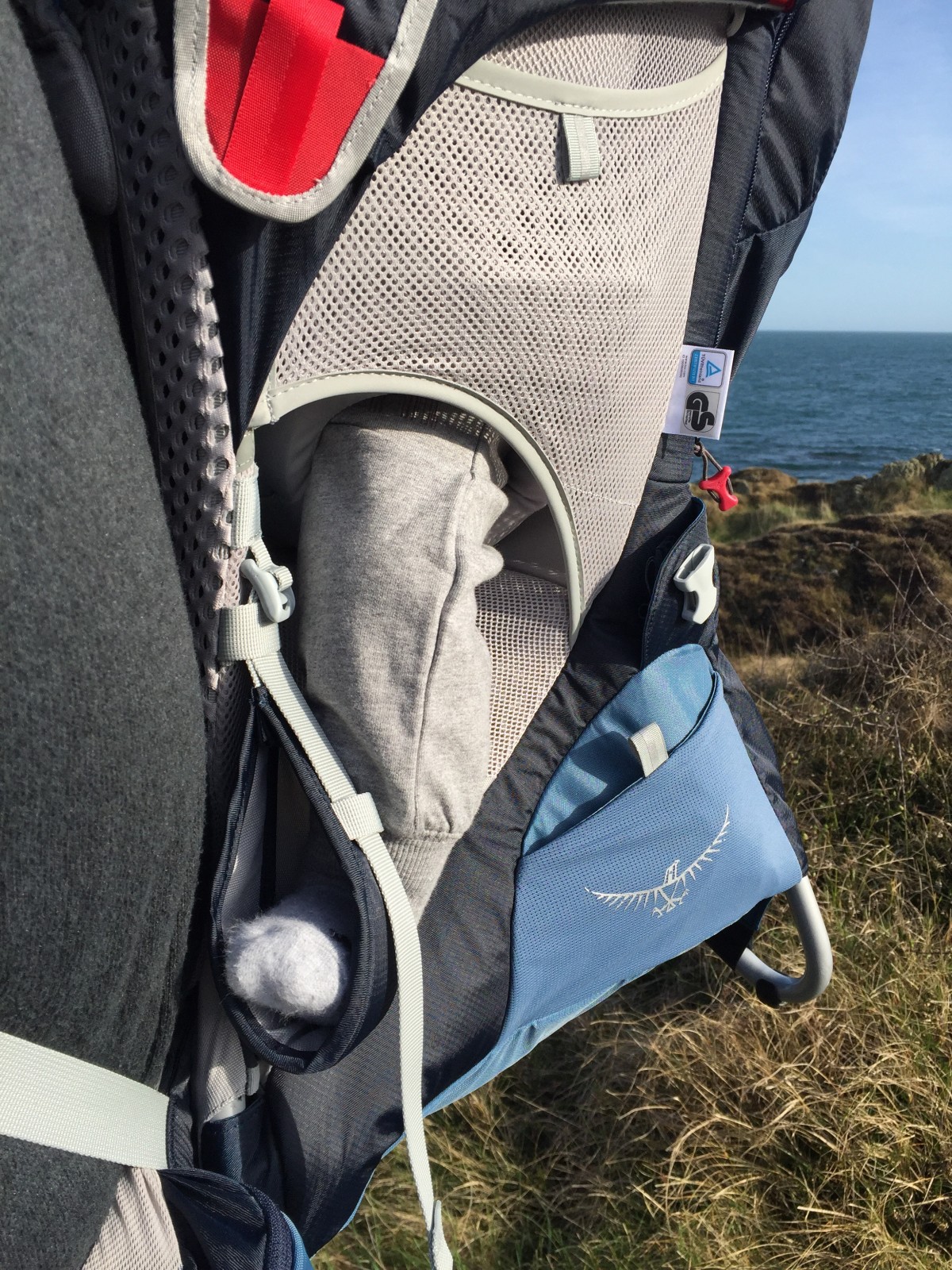 Continuing the theme of storage, the Poco is extremely well equipped in his regard. In addition to the previously mentioned hip belt and pockets either side of the passenger, it also has:
A small stash pocket behind the rear grab handle, with integrated key clip.
Wide mesh pockets either side of the base, for sunscreen, snacks etc
A small stretch mesh pocket on the harness, perfect for a smartphone etc (although I would prefer this to have a clip or Velcro fastening for a bit more security)
A large compartment at the base, ideal for nappies and spare clothing.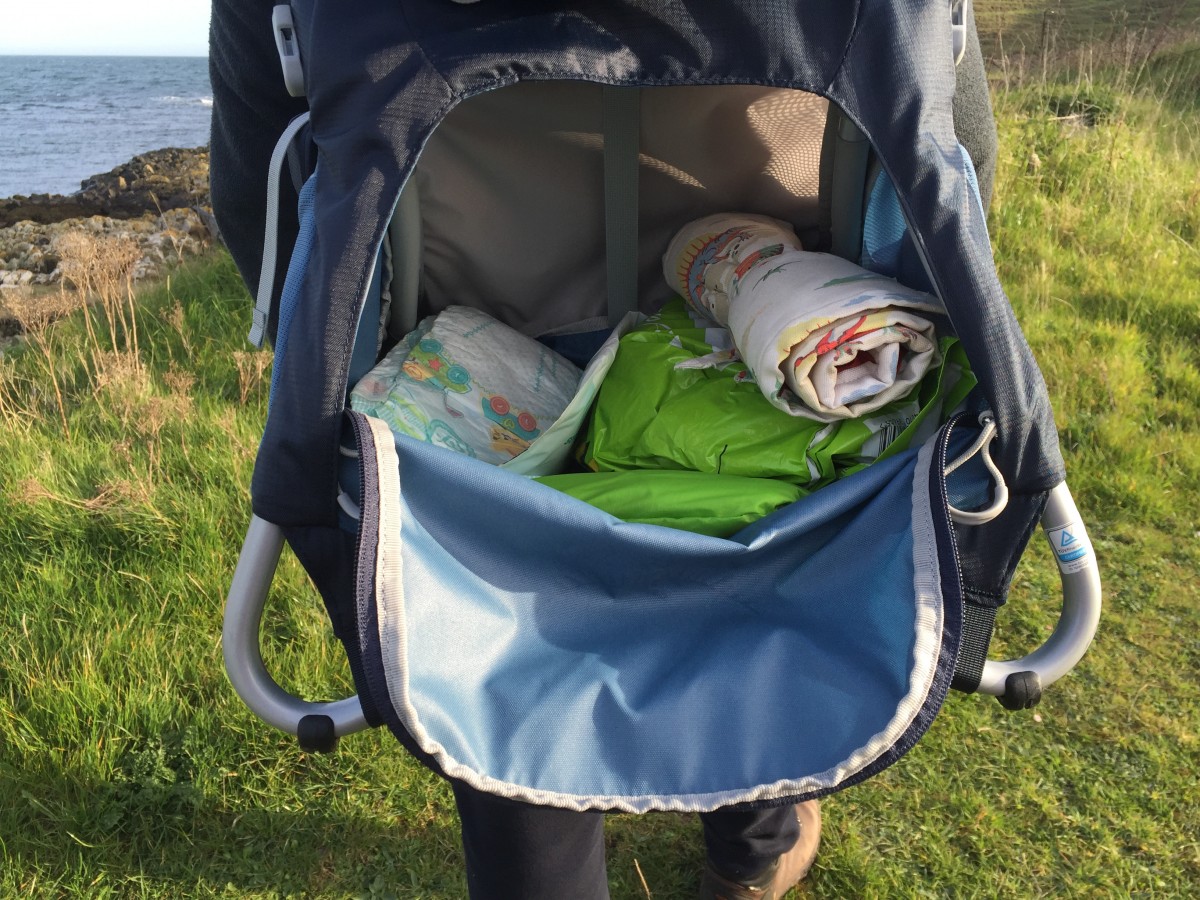 The base compartment is cavernous, and easily takes enough supplies for changing etc. The mesh pockets at the base are wide, and stretch well to fit a range of items. The mesh pocket on the harness stretches well, and would fit a range of devices. There is also the detachable 11L daysack, which has a mesh stuff pocket on it, which is secured with a nice chunky clip to keep the contents secure.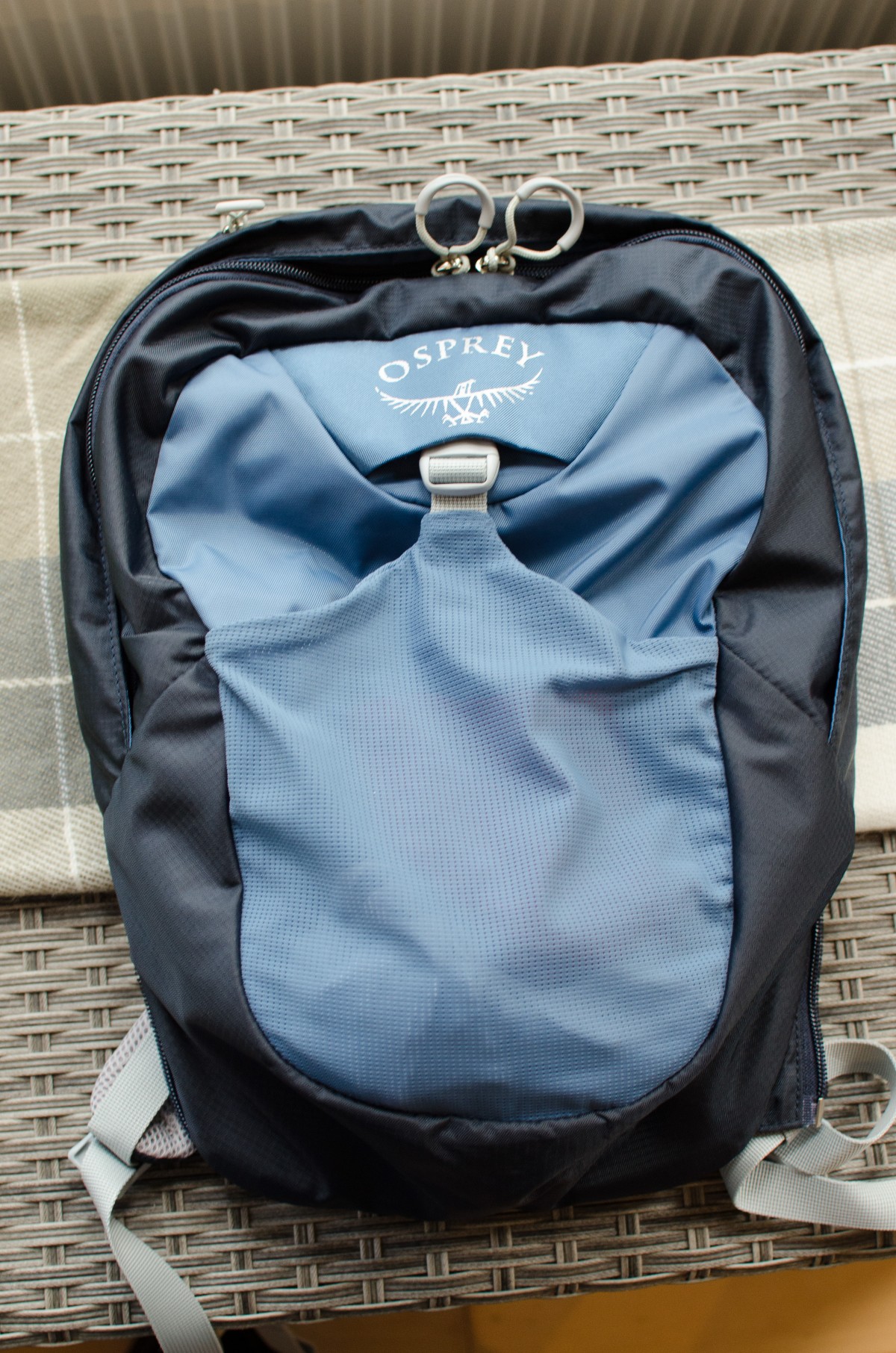 Another excellent feature is the built in retractable sunshade (SPF 50).  This is kept in it's own zippered compartment, so when you need to deploy it, it's always ready to go.
Unzip, pull out the shade, and secure with two simple hook fastenings.  It encloses the passenger like a little pop up tent, and in about 20 seconds (with a little practice) your little one will be in the shade!
The sides of the sunshade are made of mesh, keeping the space nice and airy, whilst still providing shade.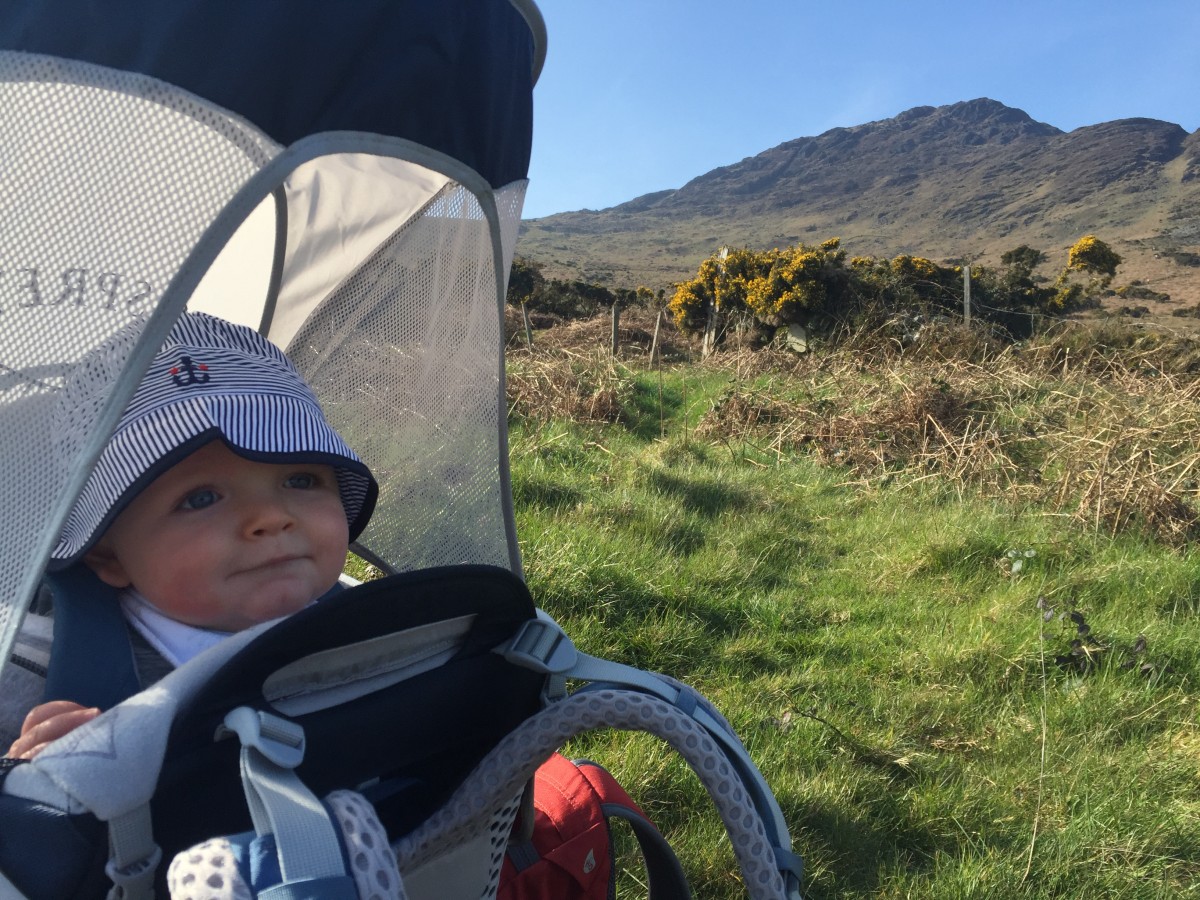 The sunshade is great, but if like me you live in a country where the rain is never that far away, protection of a different sort is required! The Poco comes with a very handy raincover (optional on some models) which uses the frame of the sunshade. Because the cover is tailored to the frame, it slips neatly over the deployed sunshade, and stretches tightly over the carrier. It is secured with 2 nice tight toggles either side of the hip belt, and Velcro fastenings on the rear of the frame, with a stretch strap at the front, easily secured with a clip.
There are two decent sized clear panels, letting light in and allowing the your little one to enjoy the views, even on wet and windy days.  It also makes a good windbreak on windy days where it isn't raining!  It packs down neatly into it's own pocket, which then stows in the base compartment.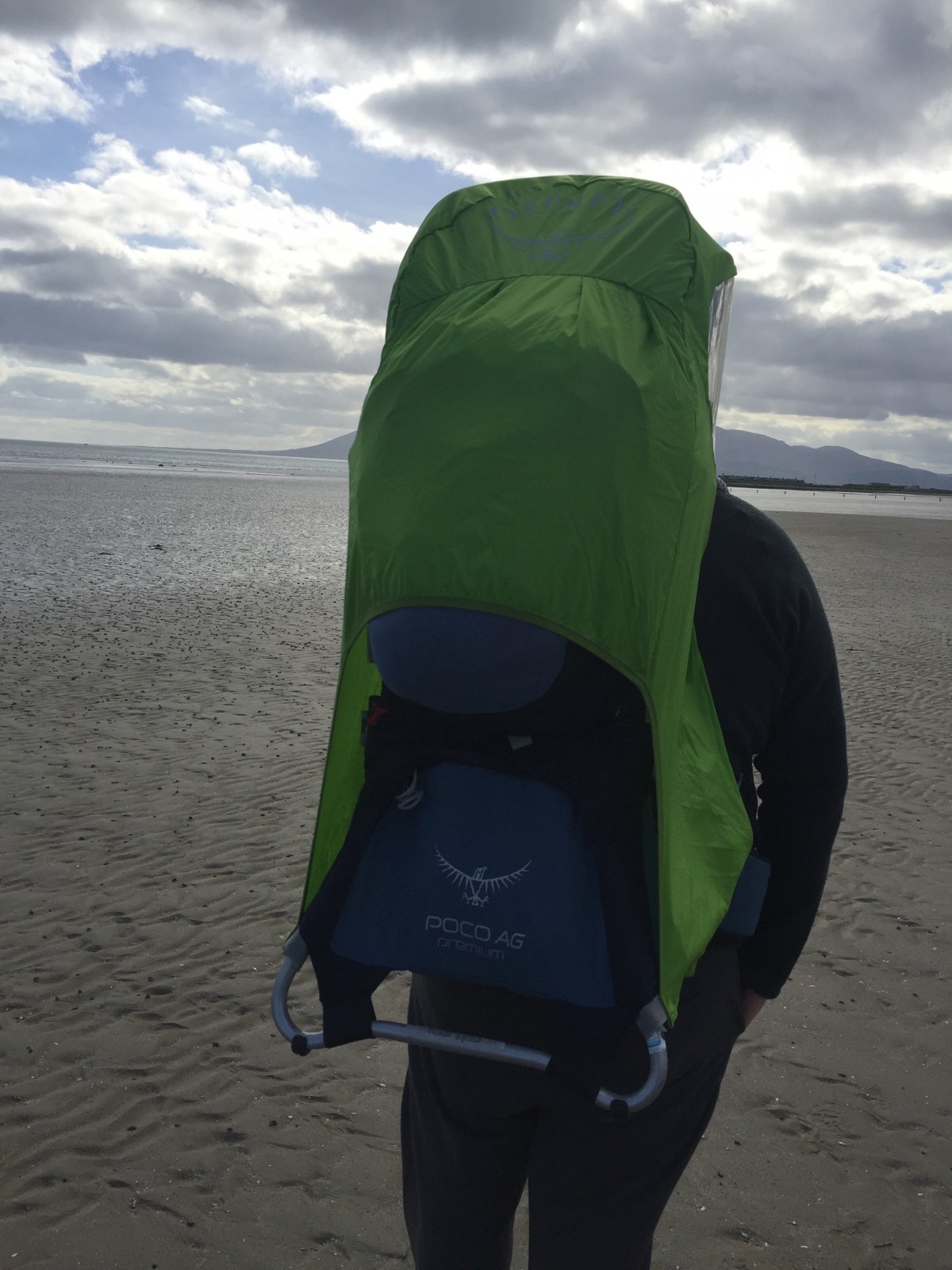 So, to sum up, apart from a couple of very minor points, I can safely say that we all love the Poco. It's safe, highly functional, comfortable for carrier and passenger, and easy to use and customise for different users. John loves sitting up high and seeing the sights, and it's great to know that he is safe and secure on my back.  It's good to be able to get out on trails where a pushchair just wouldn't cut it, so that he can experience the outdoors, and increases the capacity for adventures with your little one even before they can even walk! Highly recommended by me (and John).
The Poco AG Premium is available direct from Osprey Europe here