Two person tent
Fully geodesic
Weight: 3.97kg
RRP: £225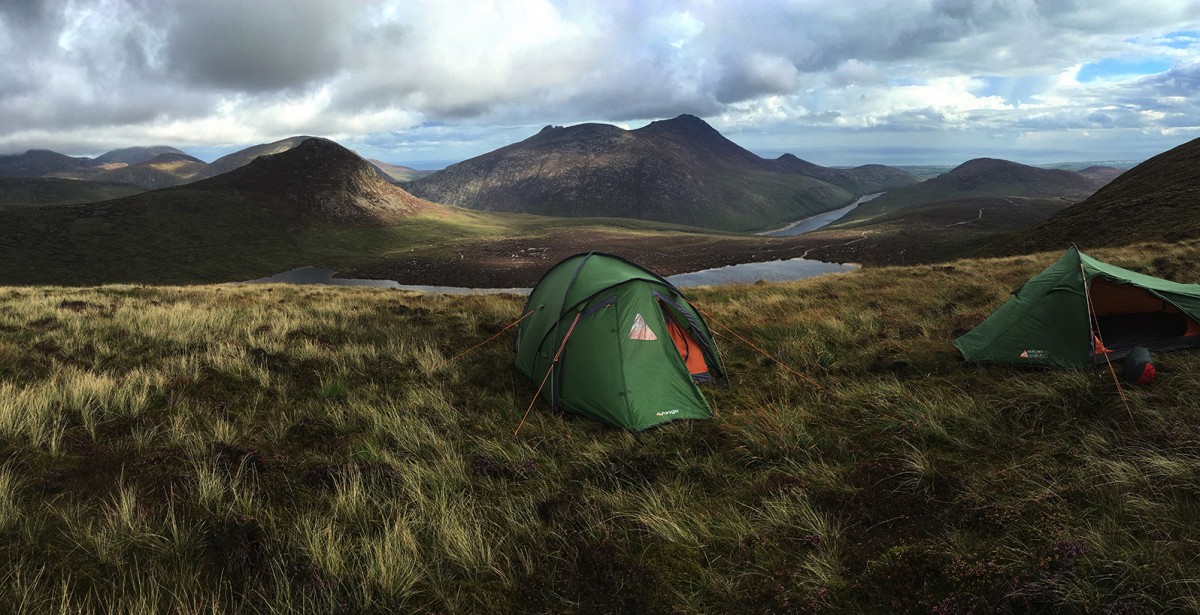 After a few insanely windy nights in my trusty Mirage 200, I was eager to test the water with something a little more stable. With a fully geodesic design (opposed to the Mirage's semi-geodesic) the Vango Nemesis 200 seemed like a natural choice. I've spent the past few months getting to know the Nemesis 200 on a range of different environments.
Specification / Feature Overview
Classic geodesic design with five pole crossover points
All in one pitch
Two large gothic arch porches
Protex 70D 5,000 Hydrostatic head flysheet
70D 6,000 HH groundsheet
Powerlite alloy poles
Linelok guys
3.97kg weight
Pack size
43.0 x ø17.0cm
Pitching time 10-15 min
Field Notes
Unlike many "two person" tents on the market, the Nemesis 200 genuinely has enough room to comfortably accommodate two people. Its high volume of internal space, tall porch arches and ample porch space make this a very liveable tent for two people sharing a shelter for a few nights.
With both porch doors rolled up you can really see the ample amount of space available inside the tent. There's more than enough room for two people to sleep comfortably. On wetter nights where things would otherwise have been quite antisocial, we've found you could have four people comfortably sitting in the tent sheltered from the weather and making the best of a bad evening.
The dual porches are particularly helpful when sharing, allowing you and your tent-mate to keep your respective rucksacks, boots etc separate and avoid clambering over the top of one another when getting out in the middle of the night.
There's ample headroom at each end and in the porches, thanks to the "gothic arch" poles which we've seen before in the Mirage 200.
There's ample stuff pouches high up and low down in each corner and there's also a little plastic hang loop, ideal for a tent lamp.
The dual porches allow a degree of flexibility in poorer weather, allowing you to close up the end facing the wind/rain, while opening the other for fresh air or to cook.
The porch doors can be rolled in from the sides, or rolled up completely to the top, letting in plenty of fresh air and allowing an excellent view. Each porch also has a little plastic window, so you can check if it really is raining as heavily as it sounds before stepping out. There's two way zips on the doors, so if you need to let a little extra air in, you can unzip the top a little and not worry about the door being teased open completely by the wind.
I've found the general structure of the tent to be extremely stable, even in high winds. When properly guyed out the Nemesis 200 has held fast in conditions that have forced others to pitch their tents in a nearby forest or more sheltered location.
The short time lapse below shows the Nemesis 200 holding steady despite high winds:
The fact that the Nemesis is freestanding is also a bonus, as it allows you to move the tent quickly and easily should you feel the need after having already clipped in the poles. The LineLok guy lines are easy to work with, even when wearing gloves. When you need to dash around your tent to tighten the guys during a storm, being able to get it done quickly is definitely a plus. The pegs are the usual Vango mild alloy, which does tend to bend quite easily, so be careful in rockier or tougher ground.
The Nemesis 200 is well ventilated, with four of the usual "pouch" ventilation points. The large porches allow easy ventilation when the weather permits.
All these features and the ample space does come at a price however. At just under 4kg the Nemesis 200 really is too much tent for one person. Many two person tents would be better described as a one person tent with bonus comfort room, but the Nemesis really should be shared in order to be practical, unless the distance being walked is unchallenging.
There's a lot of material in such a large tent, so its noticeably heavier when wet also and it does take up quite a bit of space inside your pack. Thankfully stuffing the tent is made easy by the "rapid stuff sack", which opens widely at the top. We've also already seen this with the Mirage 200 and it's a welcome feature with the Nemesis.
One unfortunate defect was the absence of one of the attachment toggles for the inner tent. You can see this in the image above where I'm about to cook in the porch. This is most likely a one off defect in the particular unit I received, but admittedly quite a shame for a tent at this price point. Vango are looking into this at the moment. I've also noticed that the silicone proofing on the pole sleeve shows wear quite quickly. John also noticed this with the Mirage 200, but neither of us have seen any noticeable loss of waterproofing or performance as a result of this.
| Pros | Cons |
| --- | --- |
| Extremely spacious | Heavy |
| Stable (fully geodesic) | Large pack size |
|  Fully featured | Weak pegs |
Conclusion
The Nemesis 200 is a proper two person tent rather than a one person tent with comfort room. Its dual porches ease the organisation of kit and keep things comfortable. Little features like two way zips on the doors, stash pouches and linelok guys add to the general convenience of the tent. A tent this size is never light and it does take up quite a lot of room in your pack.
A stable and comfortable shelter for two, or if you're not walking far – a massive space for one, with room for a friend should their tent fail. Room for four sitting should you need a break from the weather during the evening for a few hours.
Overall a very solid, well featured tent which can stand up to the weather with plenty of room for two.
BUY NOW FROM AMAZON!
If you like the look of this gear, please consider purchasing from Amazon via the link below. We receive a small referral fee at no cost to you if you do. Please also be assured that this in no way affects the content of our reviews, you'll see these purchase links in the products we hated too, just in case you disagree with us!