Am I dribbling or is this water going everywhere?
My wide mouth 1L Nalgene flask was great for carrying water, secure and bombproof, I can't fault it, but drinking from the wide mouth on the move was less than ideal. I was in need of a drinks bottle that I could easily carry and drink from on the go. I purchased the Camelbak Performance Bottle (link) to see how it fulfilled my needs.
My idea was that this bottle was for drinking from on the go and that I would carry more water to cook with in the 1L Nalgene, as it is much more secure, and carry it in my bag. I plan to store the Camelbak in the side mesh pockets of my rucksack.
Below are some thoughts and first impressions of the Camelbak bottle.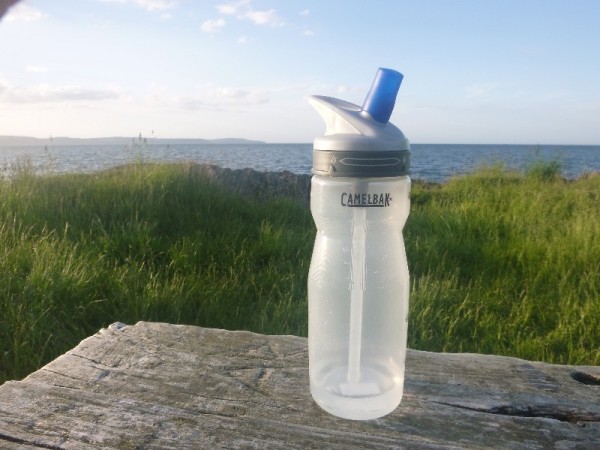 The bottle feels nice to hold and is a good build quality. The material of the bottom half of the bottle grips well and should be able to maintain some abuse ( I can't say for certain as I haven't abused it enough to comment) It's capacity of 650ml makes a nice change from the usual 500ml plastic bottle of water standard, as it holds just that little bit more.
It does feel strange at times drinking from the bottle, because you are holding it vertically, instead of tilting the bottle upwards like you do with a standard plastic bottle without a straw. You do get used to it after a while and soon it seems normal.
The handle at the top of the bottle is nice to hold and can be used with a carabiner, letting you securely attach it to a strap or buckle, so you can be sure it doesn't fall out and get lost while walking.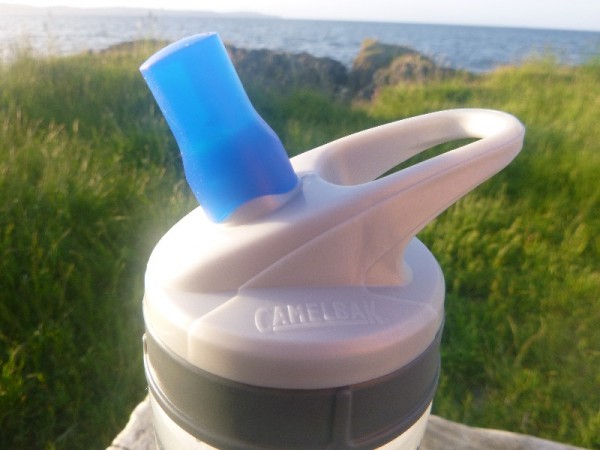 The mouthpiece is exactly the same as you find on the standard Camelbak hydration packs. The water is accessed by biting the mouthpiece and sucking at the same time. The flow of water that comes out when drinking is just about right for low/moderate thirst levels, although for times when you are really, really, dying for a drink you may find yourself screwing the top of to get more water. This is to be expected.
The bottle top offers a leak free feature, where you turn the top part of the bottle half clockwise and it click into a non leak position. All this is clearly marked with a water droplet icon, and an identical one with a strike through it. I'm not sure if I have a faulty product or they are all the same, but my "non-leak"  locked position simply doesn't work. I can still drink from the bottle when it is "locked" and the only difference is a small reduction in the flow of water. This isn't so much of a problem if you always store the bottle upright, but then does that not make it just like any other sports bottle?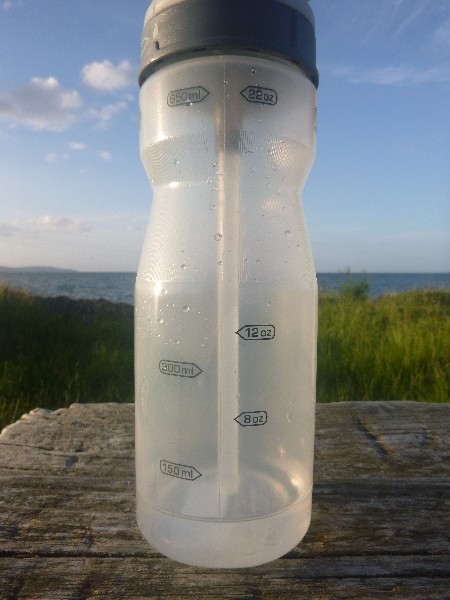 There are printed measurements on the side of the bottle in both ml and oz, making it easy to calculate what amount of water is needed for cooking or to measure how much you have consumed over a certain period of use, handy to make sure keep yourself hydrated while exerting yourself.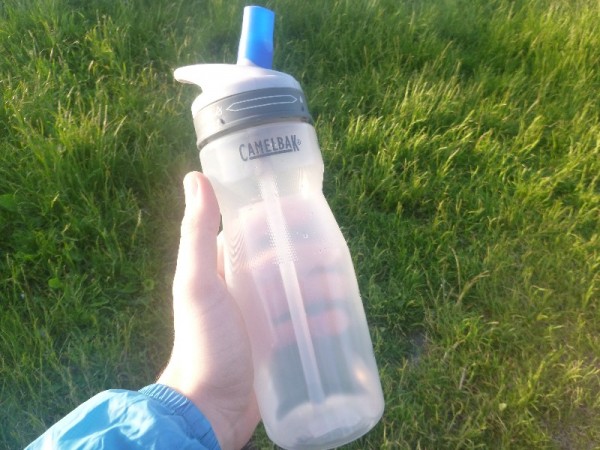 Overall the bottle works well. A simple design, sturdy construction and reasonable price gives you good reason to buy. The internal drinking straw, and top handle gives extra features that make it stand out from a regular suckie drinks bottle. A good multi use bottle for your hydration arsenal, just maybe store it upright when there is water in it.
BUY NOW FROM AMAZON
If you like the look of this gear, please consider purchasing from Amazon via the link below. We receive a small referral fee at no cost to you if you do. Please also be assured that this in no way affects the content of our reviews, you'll see these purchase links in the products we hated too, just in case you disagree with us!