Craghoppers Kiwi Stretch Pro trousers were recently a staple in my outdoor wardrobe for a number of years. They were affordable, stretched appropriately and breathed nicely under warmer conditions. Sadly they tend to lose their fitted shape after a few years of abuse, so I had to make the decicision between buying myself a third pair or trying something new.
It was at this point of indecision that I reached out to Craghoppers explaining my predicament and asking for their recommendation. They were very helpful and very kindly offered to send me a pair of their Steall trousers in return of a gear review. I wasn't sure what to expect from the trousers and their waterproof coating claim, but I held my judgement and have grown to love them over time.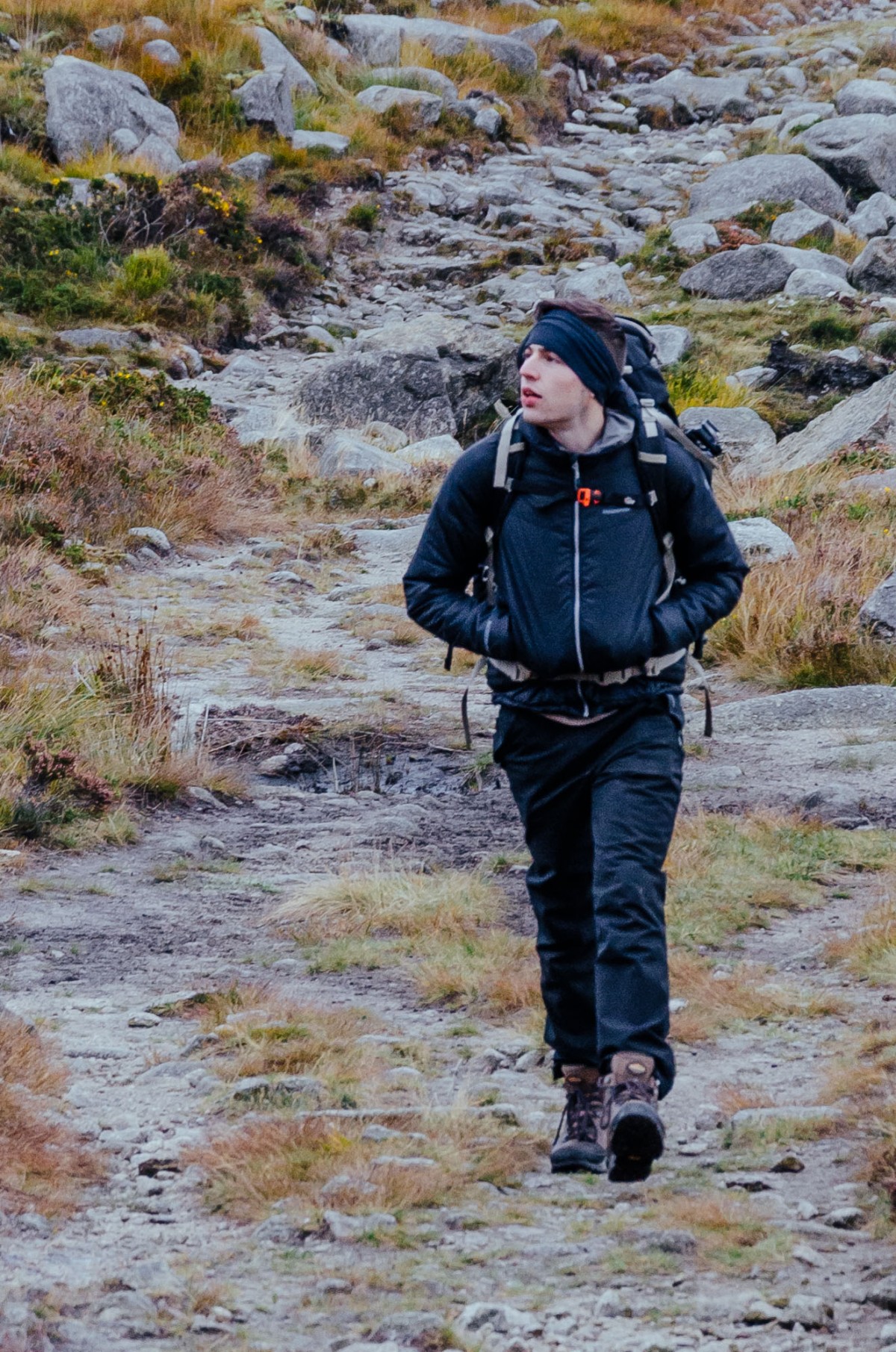 At the time of writing this I've had worn these trousers for around 10 months, throughout some rather nasty Irish winter weather and continue to wear them when the colder conditions present themselves. In comparison to the Kiwi Pro Stretch, they feel much more durable and protective.
The AquaDry waterproof membrane adds both a layer of windproofness along with the inner lining but also functions quite nicely in the rain, where it beads off water droplets. In brief, they feel very similar to the Kiwi Pro Stretch, but with better protection for colder weather; something that's always around the corner when camping in the United Kingdom and Ireland!
The pocket zips are strong and are placed in an unconventionally diagonal orientation. I'm torn between liking this design decision and loathing it. On one hand it's much easier to unzip the pocket and fit your hand into; on the other hand it means other items can be pulled upwards and fall out easily when you're reaching for something at the bottom.
Speaking of the pockets, the inside fleece lining is a very nice addition. It's soft to the touch and makes for a warm shelter for cold hands.
At the bottom of the trouser legs you will find a buckle closure system, allowing you to tighten the trouser leg to your liking. I've found this great for keeping out dirt and everything else that seems to fall into your boots throughout the duration of the walk. For lighter hill walking this means you can get away without wearing gaiters, which is a nice change from having to carrying everything you might need.
The level of waterproofing coating in the trousers is rather suprising. I've worn them on a number of foul hill days without any additional waterproof layer over them, and my legs have remained warm and dry throughout.
I suspect this is due to the nature of the design of the trousers, with the dual layer of fleece within the trouser leg. The inner fleece lining is the only one in contact with your skin, and dries quickly, meaning the amount of time your skin is in contact with moisture is limited.
While on the point of the fleece lining; don't be fooled into thinking these are all year round trousers. I find that in weather over 10 Celcius, the amount of heat they hold is too much to handle and my legs end up sweating. This of course isn't a bad point, it's merely down to the fact that to have well performing winter trousers you can't also have trousers suitable for the occassional heat of spring or summer months.
Keep these for the rough conditions and have a lighter pair for warm days and you will be covered for 90% of events. On the topic of covering all your bases, it's worth noting that these trousers come with some special washing instructions – you have to wash them at a low temperature with a special waterproof cleaner or pure soap, to keep the waterproof material in good condition. A small price to pay for such affordable quality though!
In summary I find myself more than happy to recommend these trousers for someone looking for additional warmth and wind protection for the rougher seasons. Craghoppers have done really well with this and I think for the price the trousers, which at the time of writing are selling as low as £36 on Amazon, they are more than worth their cost and I'd happily buy another pair again, and again, and again! In fact, I'd go as far to say that I think the price is a "Steall"… I'll see myself out.
Buy Now from Amazon
If you like the look of this gear, please consider purchasing from Amazon via the link below. We receive a small referral fee at no cost to you if you do. Please also be assured that this in no way affects the content of our reviews, you'll see these purchase links in the products we hated too, just in case you disagree with us!