Brand – Alpkit
Model – Filo
Item type – Down Jacket
Price – £120
Foreword
After more than a few camps where the long walk, or long week leading up to it had led to a state of semi-exhaustion, I found myself quite envious of the other campers equipped with down jackets, who could toast up at a moment's notice, no matter how ailed their bodies were from their adventures.
I tend to run warm – and have little need of an insulated jacket in most circumstances, but sometimes when you just aren't feeling the best at a camp or even when you feel like a little cosy luxury, they really are worth the investment.
on alpkit…
Like many others, I was a little sceptical about Alpkit at first due to the low price compared to other outdoor brands. I'm glad I set that aside and placed a few orders though, because I couldn't have been more wrong.
I've already ordered the Rig7 and Hunka XL – both arrived swiftly in perfect condition with a nice wee personal note (great touch). More on those another time perhaps.
The customer service, it has to be said is second to none. After ordering the down jacket I was reminded by my parents of the possibility I was allergic to down. We couldn't remember which one of us it was, but while I figured it out, Alpkit were happy for me to hold onto the jacket unused, rather than return it pre-emptively and not be able to buy it again. Fantastic.
Luckily I'm fine with down – and some poor sibling of mine isn't. So I was free to put it to the test!
First thoughts
A quick rundown on the jacket.
It's 600+ fillpower white goose down. This is measured on the EU scale, which means you're getting more bang for your buck than a garment measured on the weaker US fillpower scale. The jacket is seriously warm.
The hood is detachable, using little buttons on the collar of the jacket:
The hood seems to have the same good high-loft down as the rest of the jacket, which is great for keeping your face warm.
A nice wee touch is the baffle behind the zip, which is not only sturdy but is also down filled. This helps reduce the heat leakage through the zip and keep you toasty: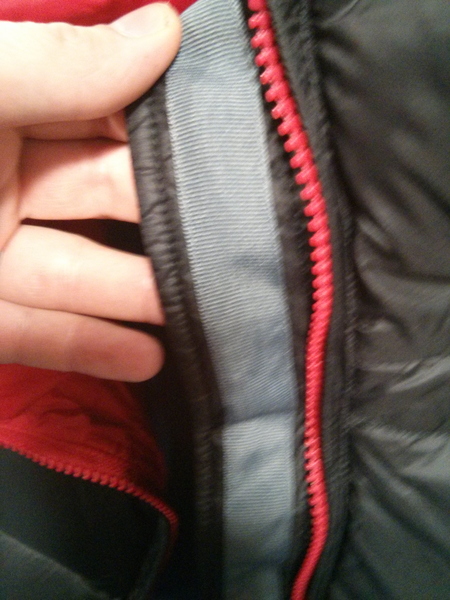 The jacket exudes quality where it matters, such as the pocket zips, which are good sturdy YKK zips, with handy zip-pullers, making them a breeze to open and close with heavy gloves on: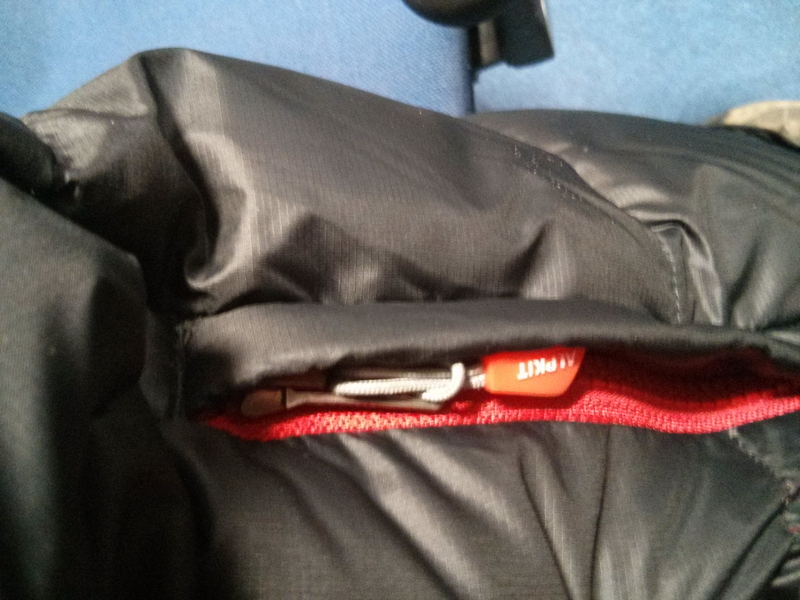 Field notes
Today was the perfect test for the Filo – the likes of weather you just don't tend to get in the fair but often wet mountains of Mourne.
Conditions were almost Alpine-like today when I decided to embark on a stroll with John and Oisin – with some messing around at shelter building while we were at it.
We started at Donard Park and headed up through the forest. At this point the Filo would have been excessive, but when we reached the wider clearing of the valley, the lower temperatures and higher wind chill meant our lunch stop was the perfect chance to test the jacket.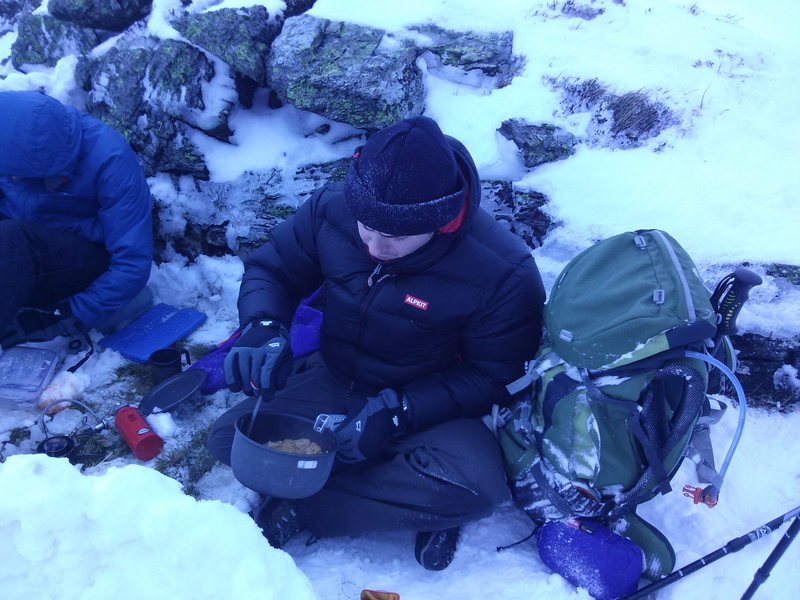 Sitting perfectly still, yet roasting like a closed wood fire, as far as my core was concerned, I was sipping a fine cocktail on a deck chair somewhere in the Bahamas.
I remained seated, boiling snow and cooking grub for a good 30 minutes. At no point did the Filo give an inch up to the elements.
For apres-mountain recovery, the Filo is the one I want to have with me.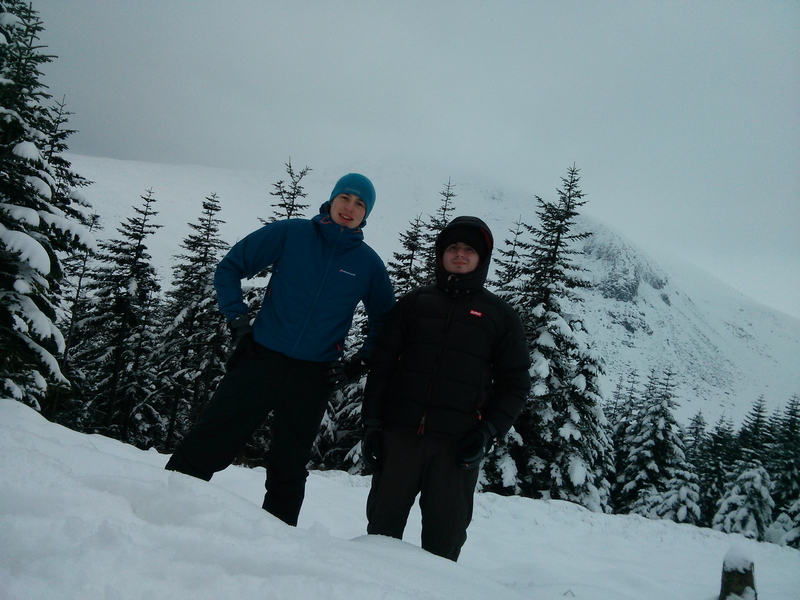 Summary
Positive: Great price, good quality materials, very warm
Negative: No velcro fasteners on cuffs. Poor hood attachment mechanism
Long Term Update (August 2015)
I have now been using the Filo jacket for over two years. The jacket has continued to perform well and the leakage of down has been very slight.
The hood attachment poppers have proven to be a point of failure, with one of the poppers no longer functioning. I contacted Alpkit to enquire about purchasing a hood separately, which is not possible. Unfortunately while the jacket continues to be warm and comfortable, it no longer has a secure hood.