Day One
Last weekend I joined John and Spud for a two day hike of the Lecale Way in County Down. We started early in Newcastle, walking the beach as the sun rose, which definitely set a great tone for the start of our journey.
Intermittent stops were needed for John to work his footage mastery, which can be seen in his recent article on the walk.
The walk took us from Newcastle along the coast passing through Ballykinler, where we stopped for our first break, some well deserved sandwiches. We were lured in by the promise of "food to go" which we assumed meant all sorts of cooked delights, unfortunately no hot food counter was to be seen, but the sandwiches were gone in record time nonetheless.
The walk then took us along the road, passing over the occasional field to reach Ardglass. One thing we had noted was the significant amount of road walking involved was tougher on the feet and knees than we were accustomed to with our usual mourne walking. John reckons in future a pair of training shoes to use on the road portions of the journey would be advisable. I can't say I disagree.
By the time we reached Ardglass we were literally dragging our feet along with us, much in need of sustenance after over 12 hours and 22 miles of walking. Much of it either in awkward cow-torn fields with deep mud, or long stretches of road. Take a look at what these cheeky chaps were wading through:
We stopped off in Doc's in Ardglass for a cod supper each, either the food is routinely top class, or we were in a state of extreme need, but it was the best fish supper any of us have ever tasted. Maybe it was a mixture of the two.
We then weaved between the cliffs to reach Ballyhoran where John's brother Peter had kindly offered to put us up for the night. It was raining and windy, but we thoroughly enjoyed ourselves, perhaps due to the bracing effects of the weather, or the rejuvenating effect of our recent meal, but none of us complained about the rain, wind or terrain. It was one of those life affirming moments in hillwalking, where you don't just endure being out in the elements, you revel in it.
"This is living eh" I heard from John. It pretty much summed up that stretch of the trip.
The elation only increased when we got back to Ballyhoran, for when we got inside there was a well stocked solid wood fire waiting and the means for spud to cook his trademark steaks. Several mugs of tea, steaks and chips later, everyone lay with the feet up while the boots dried and watched some rubbish TV about rollerblading moonwalkers and people headbutting ceiling fans. It was the perfect end to the perfect first leg of our trip.
Day Two
We rose a little later and had a good robust breakfast on the Saturday morning. Mine perhaps a little more robust than is normal for breakfast, a bowl of microwaved mashed potato. It kept me going well though and went down a treat.
The views from along the coast when we set off were yet another great start to the day.
Spud set a good pace for us to follow. At this point I was quite sore from the day before but was just plodding on through it. Thankfully there was nothing technical to our walk that day, as I'm sure I would have been making plenty of mistakes were that the case.
Before we knew it we were at KilClief castle, where John was pointing out with great enthusiasm the various "Murder Holes" where hot tar was poured and the gaps in the brickwork from where arrows could be shot upon invaders or the generally curious. It was a fun and interesting stop and a brief glimpse into another time.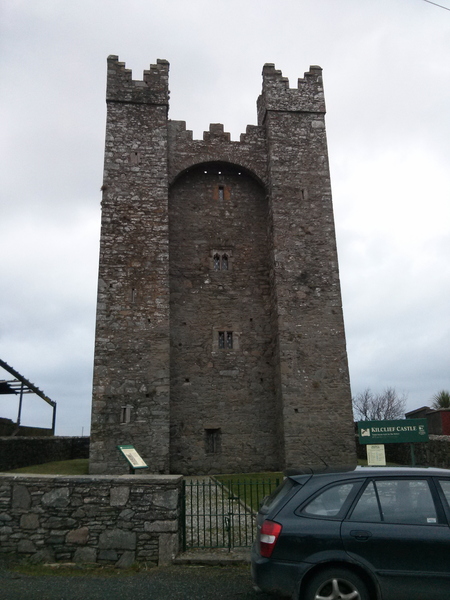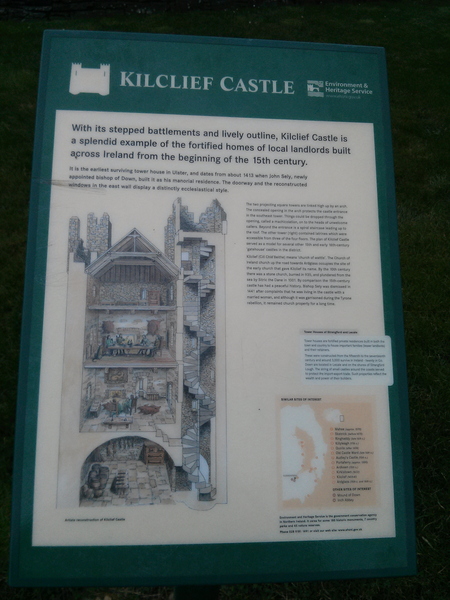 We pressed on making good progress to the sound of John's ipad music selection, eventually arriving in Strangford. Here we stopped for our hard earned tea, where there was no messing about, calorie density was the order of the day
We then looped around the edge of the lough and made our way towards Castle Ward. On the way we encountered some interesting wooden sculptures and charming woodland.
When we got to Castle Ward it was a welcome break from the long stretch of road which took us from Strangford. The paths were refreshingly soft and the scenery fantastic. On the way past I noticed an interesting "Glamping" pod – the likes of which would perhaps entice my other half into hiking?
We then met with Damien and Catriona who joined us for the final push (about half of the second day, credit to them) Which took us through mud, some mud and a wee bit more mud.
Thanks to the unnamed farmer just outside Downpatrick who decided to up-end the duckboards over what can only be described as a small pond.
The last part was tough going, I was entirely spent by this stage of our journey, but having two people fresh to the walk certainly helped. Damien shared some interesting insights into photography, maybe if we're lucky you'll see him as a gallery contributor some time.
When we neared Downpatrick we headed around the back of the Downshire mental hospital, then headed into town. I limped up the steps of the Downpatrick centre, where our 46 mile journey came to an end
We had yet another dose of Docs at Spud and Catriona's house and thankfully Damien kindly drove me home. It beat limping onto the bus, I barely made it up my stairs as it was!
Unfortunately my GPS was only used for the second half of the trip.
Be that as it may, the Garmin Adventure record for the second day is available here
A great trip with two great mates. Couldn't have went better.