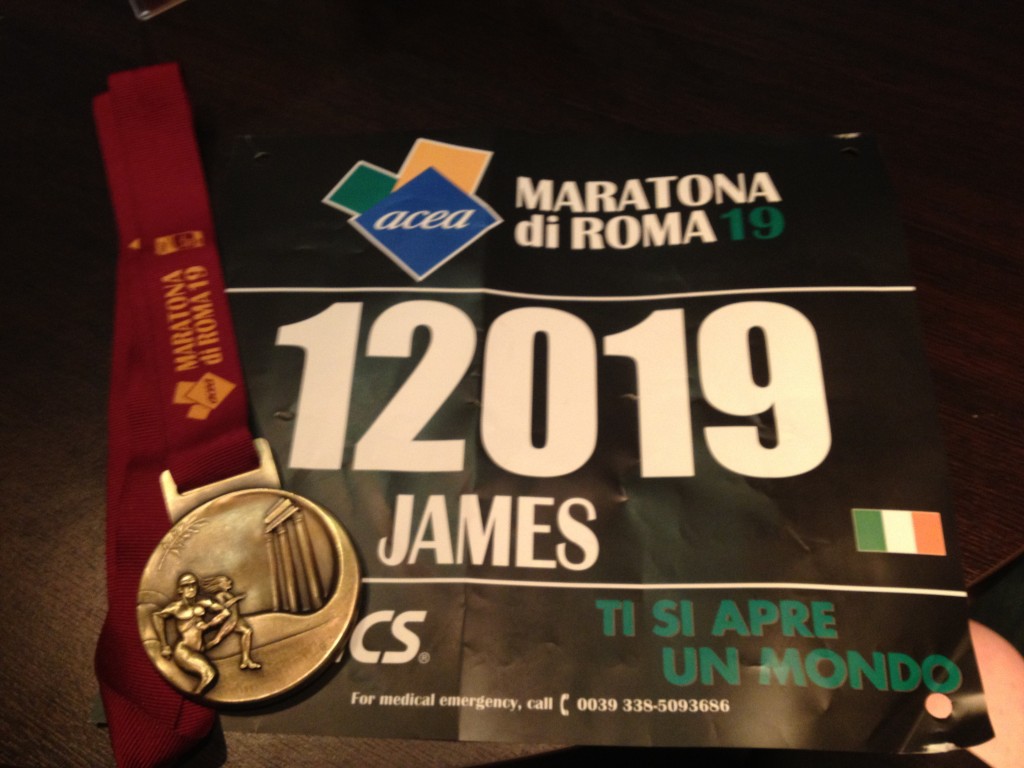 I set off for a Holiday to Rome recently full of dread and anticipation. That naggling feeling in the pit of your stomach sat heavy for many days before the holiday. Having agreed to participate in Rome Marathon many months previously, work commitments and life in general had conspired against my training. Worse still on a training run many months previously I'd bottled it mentally and I was defeated in my own head. This, I was to discover, is where any victory or defeat ultimately originates. The Marathon in Rome was to become a battle of redemption within myself.
On a dark wintry Sunday afternoon months previously I had agreed to join my running partners for a training run of 20 miles. I had fallen way behind on my training and they were building theirs stronger and stronger. As I pounded the grey streets of Belfast with them I could feel myself getting weaker early into the run and stuggling to keep up with them in the early miles. Heavy freezing rain blew horizontally into my face and my inner voice began to torment me. Why are you here? Why are you doing this? Go home…You can't possibly do this.
The self criticism battled against me further into the run and as I grew more tired and began to walk sections of it my friends words of encouragement grated against me and just made me more angry at myself. At my body that wasn't doing what I told it to do anymore. At my legs that seemed to be filled with battery acid. I pulled out of the training run and sent my friends onward. Walking home in the damp cold streets I cursed myself and wondered where my love of running had dissapered to.
THE ROAD TO REDEMPTION
I didn't run a single time in the next two months. I was broken from this run in my head and gave in to the excuses that are always so readily available: no time, too busy, naggling injury and all the others we tell ourselves. The date of the marathon approached and being defeated mentally already I had my excuses planned for my friends: that I'd have to pull out with an injury. They'd understand I had thought.
Then something tragic happened. My good friends Mother died a week or so before the marathon after over 20 years of battling heroically against disabilty. This is what had got my friend into running and as I heard how he was going to smash this marathon again in her honour I got angry at myself for being beaten mentally. I got a rage within me that said I don't care about training, I don't care what the limits of my body are…. I'm going to do this marathon because my friend deserves a friend who won't quit on him. I thought about my friends Mother who battled for life for over 20 years through terrible conditions and how she didn't quit. At that point I was in and knew I wasn't going to quit either. Regardless of what it cost me.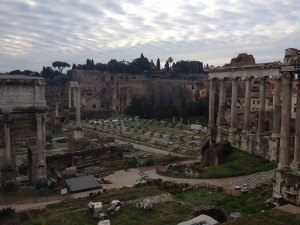 Assembling at the Colloseum in Rome I was motivated simply by a strong inner voice that said "No Matter What, I'm not going to quit". The bang of the start went and off I jogged with heavy with fear of failure.
The miles began to take their toll and I stuggled on. I thought of my friends Mother and her own battle. I thought of the prospect of having to tell my friend that I'd not completed the marathon. Then around mile 12 it hit me…. I knew I was going to complete the Marathon. I'd cracked it mentally. My legs got lighter and my pace improved. I loosened up. I knew that even if I had to crawl across the finish line I'd still do it. I smiled. If truth be told I actually also shed a little tear. I'd won back the battle in my head. I'd redeemed myslef. I'd got righteous in myself again. I wasn't a loser anymore.
I limped across the finish line the happiest I've ever been in a long time. The medal hung heavy on my chest and I was ecstatic.
In the days following the marathon I've recouperated and began running again: having regained my love of running and knowing how it can be when you've been cracked mentally.
And on I run….
And on I run…
And on I run…