Brand – New Trent
Model – IMP120D
Item type – Reserve Battery Pack
Price – £39.98
FOREWORD
As a proud owner of an LG Nexus 4 Android phone – I'm well familiar with the issues of battery endurance that come with using a smartphone in the hills.
On one of our previous walks of the Lecale way, I carried my Nexus 4. It lasted well for a time, until it began an automatic update of 30 or so applications while we were out walking. The battery flatlined within half an hour. While it would have made sense to turn off background data, these sorts of things happen in the hills and it always makes sense to have a backup plan.
Somewhat more crucially, I carry a Petzl Nao head torch, which I will review shortly. The torch is fantastic and provides such great output my hiking buddies often turn their torches off when we're walking together.
It charges over USB  also – meaning I have two great, useful devices which could benefit from a portable form of USB charging.
The Portable Charger Concept
The "portable charger" isn't a new concept. The idea is simple – you have a high capacity battery which can be charged at home, then carried with you in your travels. The charger provides a cable to connect to your other portable devices (head torch, phone, USB powered talking bunny) and you re-charge those devices from the ample capacity of your portable battery.
The problem with many of these devices in the past is that they have failed in three main areas which are extremely important to anyone relying on them in a mountain environment:
Capacity
Most portable charger devices have been extremely lacking in charging capacity – capable of providing only a partial charge for your portable device.
The IMP120D excels in this area providing 12,000 mah of charge from full. That's enough to charge my Nexus 4 smartphone from empty Six Times!
The only downside to this is that all this capacity takes time to fill from the mains. The IMP120D requires 18 hours to charge from empty.
Charge Rate
Even among the few devices which a proper capacity, charge rate has always been an issue. High capacity is of little use if your phone cannot be charged in the time you have to spare.
The IMP120D has two charging ports, one providing 1A of power (for smartphones) and another providing 2A (for tablets). The charge rate from each of these ports is just as much as you would get from using a wall outlet. Allowing for a quick charge time – important if you're giving your head torch an emergency charge.
Robustness
Some of the cheap grey-import devices I have used in the past have fallen apart in the hills and let me down.
The IMP120D seems sturdy and robust, even during a freezing cold snow camp it held up well.
APPEARANCE, FEEL, MAIN FEATURES
While not tiny by any means, the device fits neatly in the palm of the hand and at a weight of 317g it won't weigh your pack down too heavily in return for what it provides.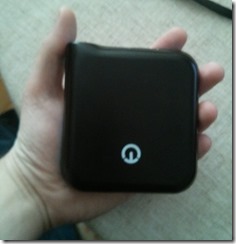 The construction feels solid, which is reassuring when out in the hills.
The IMP120D has two USB ports, one with 1A output and one with 2A. Any device which is powered by USB can be given some extra juice using these ports: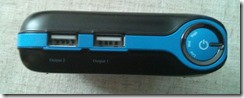 The power button on the right needs to be held in for two seconds to activate charge, ensuring the device won't discharge in your pack. Also charging will automatically stop once any devices have been disconnected.
The power button features a power ring which shows the power level of the battery as it discharges:

The main advantage of this device though is its massive capacity. It can fully charge a modern smartphone around six times from flat,  provide six full charges to a USB powered headtorch such as the NAO, or any combination of the both.
One caveat to note though – the AC charger which charges the battery itself before leaving for your trip – is quite chunky. If you plan on travelling long enough to require a re-charge of the device (1 week+) you should bear this in mind: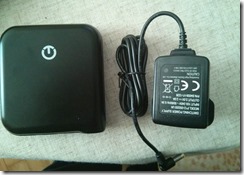 FIELD NOTES
When it comes to any device intended for use in the hills – the proof is in the pudding. I have taken the IMP120D on several day walks and one particularly cold camp, where it held up well.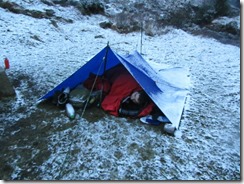 The charger lay under this tarp, unexposed to precipitation but definitely exposed to some quite severe temperatures – happily charging my phone and head torch while I slept.
SUMMARY
Positive: Huge 12,000mah capacity. Fast Charging. Robust Build Quality. Can Charge Two Devices At Once.
Negative: Too weighty for ultralight types at just under 320g  Bulky AC charger to charge the device does not travel well. Price is premium compared to budget battery brands.
Overall  I have come to view the IMP120D as an essential piece of safety equipment for my time in the hills, as it is able to keep my headtorch and phone serviceable even in times of unexpected power drain. That said however, it would be understandable that some may not wish to carry the extra weight, or pay just under £40 for the safety margin.
Review Update – July 2013
As of July 2013 the New Trent IMP120D no longer comes with the bulky DC adapter charger. The device is charged via a micro USB connection for greater portability. This is the version on sale below.
BUY NOW FROM AMAZON
If you like the look of this gear, please consider purchasing from Amazon via the link below. We receive a small referral fee at no cost to you if you do. Please also be assured that this in no way affects the content of our reviews, you'll see these purchase links in the products we hated too, just in case you disagree with us!