I chose the Black Diamond Icon for the rugged design and great light output. It hasn't let me down once.
I had been both blinded and amazed by the Petzl NAO during a quick overnight forest bivi. The thing was so bright that all three of us could walk along the forest track, in its light without needing to use our own torches. It was after this event that I realised I needed a brighter headtorch. Yes my Silva Siju was a handy torch, that was both lightweight and could fit in my pocket with ease, but seeing it in comparison to the Petzl made me realise that in a more serious situation it wouldn't provide much light to see with.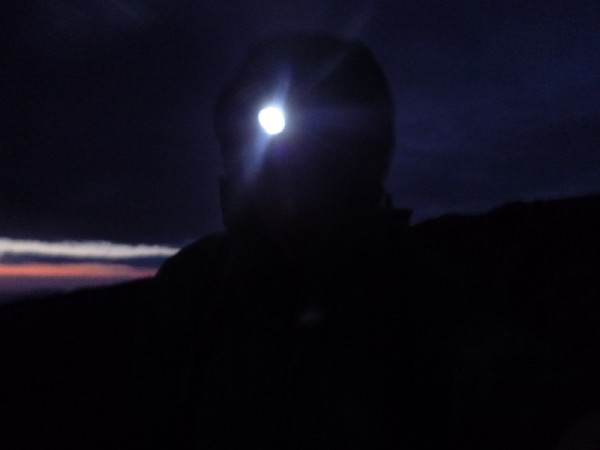 So the search started for a headtorch, and along followed reviews and price comparisons. Why not just get the Petzl Nao you ask? Why not get the headtorch that had made me see the light (sorry, that was a bad pun), well it was priced at £135, and I couldn't bring myself to spend that much money on a headtorch at the current time.
After looking about the market, I identified that I would like a torch with at least 150 lumens light output, and maybe even more if I could afford it. In the end, after lots of looking, I narrowed it down to either the Black Diamond Icon or the Petzl Myo. Both were very similar in lumens output and spotlight distance and in all honesty there was very little separating the two. The Myo had a smart programmable lighting mode, which the Icon didn't, but the Icon had an IPX 7 waterproof rating which the Myo didn't.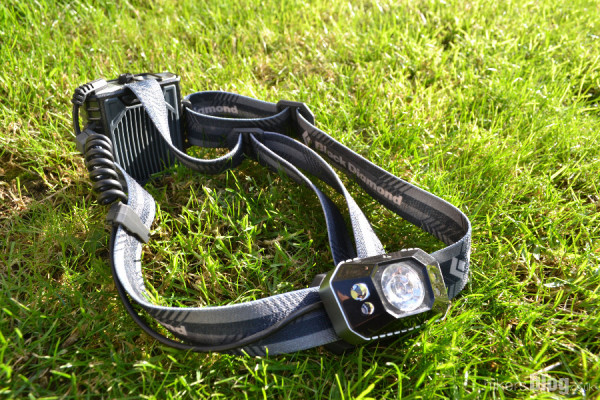 In the end, as you can see, I chose the Black Diamond Icon. I haven't used the Petzl Myo, and I'm sure it would have proved to be a brilliant headtoch and suited my needs just fine, but I personally felt it more useful having a torch that performed in the worst conditions instead of programmable lighting modes.
After nine months of use (and still going) I can very easily say I am happy with my purchase. Wearing it torrential rain isn't a worry, and neither is it turning itself on in your pack. It's a very sturdy build, and it has fell out of my coat pocket a number of times and lived to tell the tale. The QuadPower LED will light up the trail in front of you with a spotlight like beam, while the two SinglePower LEDs will provide you with an even spread and a dimmer light for preserving battery life.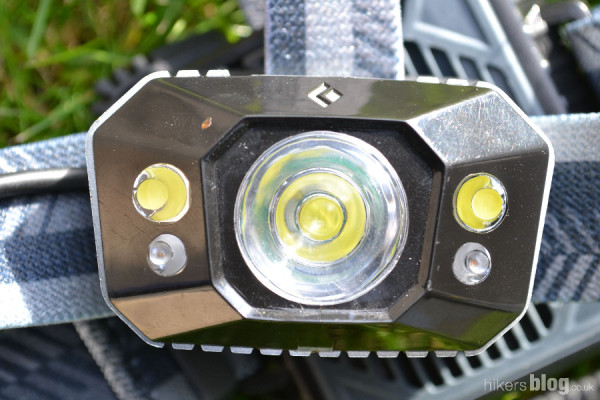 The power of the headtorch is impressive and casts either a spotlight beam, or a dispersed wide spread  beam or a red night-vision beam. The red is of course for reducing reflections when looking at maps,  and also for preserving your eyes vision after they have adjusted to the dark. The red beam can be accessed without switching on the white lighted LEDs meaning you don't lose your night vision, this feature is a nice touch.
I find the power of the beam on full settings is more than adequate to use when hiking, it lights up the ground well and also has a great reach into the distance when looking ahead. Even though I've never scientifically set out to measure how far the beam goes, I feel that the marketed 100m reach is spot on.  On the other side of this powerful beam is the soft glow of the dimming mode. This option is perfect for tent use as you can save battery while still being able to see what you are doing.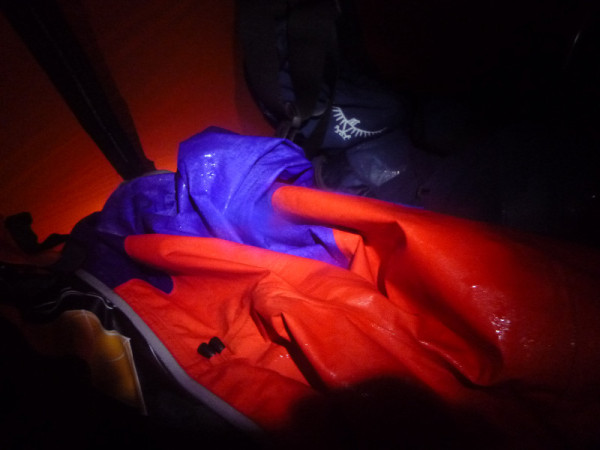 The battery life on the Icon is a claimed 70 hours, which isn't far off what you can expect to get out of it. This estimate will vary (quite a bit) depending on what modes you use and how intense you set the light output to. The light will gradually fade when the batteries are nearing their end, which gives you a way to measure when they need changed. Not that you would need a way to guess the battery life, because Black Diamond have given you a way, with the battery indicator on the bottom of the head light, which glows a certain colour depending on the charge left, a very useful feature to check before you leave for the outdoors.
On the topic of batteries, I thought I would note that the headtorch takes 4 AA batteries. Personally I think this is a much better approach instead of including a rechargeable battery pack, as it lets you carry spare batteries, which can be bought anywhere and everywhere. It is also possible to use rechargeable AA batteries in the torch. If you are planning on using the headtorch in extremely cold conditions, it may be wiser to get the Icon Polar, which lets you store the battery pack inside your coat, via a long cable.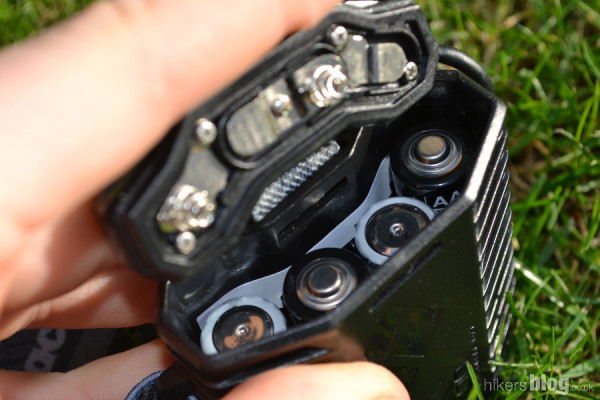 The battery pack itself is very comfortable and secure to wear on the back of your head, and while you may think it could feel heavy or irritating, you could only expect something like this after long periods of use, just like any other headtorch. If you aren't used to something set against the back of your head, simply wear a buff or hat for extra padding. I personally think that battery packs stored on the back of your head, with the light on the front gives head torches better balance and stops them getting front heavy.
The only fault I can find with this headtorch is the small fact that the headtorch can't tilt directly to the ground. The angle that you can tilt the light to, won't be enough to light up your feet while holding your head high. This may seem like a bad design, but when you think about it, it could very well be purposeful so that you don't shine the light onto your face and blind yourself with the 200 lumen output.
In conclusion, if you want a super bright head torch, that is completely weather proof and provides an amazing array of lighting options, you could do much much worse than the Black Diamond Icon. It's simply great, it works, and it works very well. If your debating as to whether or not to buy it, I'd personally ask you why have you not bought it yet, it's worth the money, for certain. It's perfect for hiking, and I have read that many people use it for running too, simply because it is so bright.
BUY NOW FROM AMAZON
If you like the look of this gear, please consider purchasing from Amazon via the link below. We receive a small referral fee at no cost to you if you do. Please also be assured that this in no way affects the content of our reviews, you'll see these purchase links in the products we hated too, just in case you disagree with us!