The view of the track in front of me blurred, as one or more of the rivulets of sweat streaming down my face, mixed with what was left of the factor 30, found its way into my eyes.  The stinging necessitated a quick pit stop and a fumble for something, anything, to wipe my face, so I could see where I was going again, and resume my walking,  my word it was warm!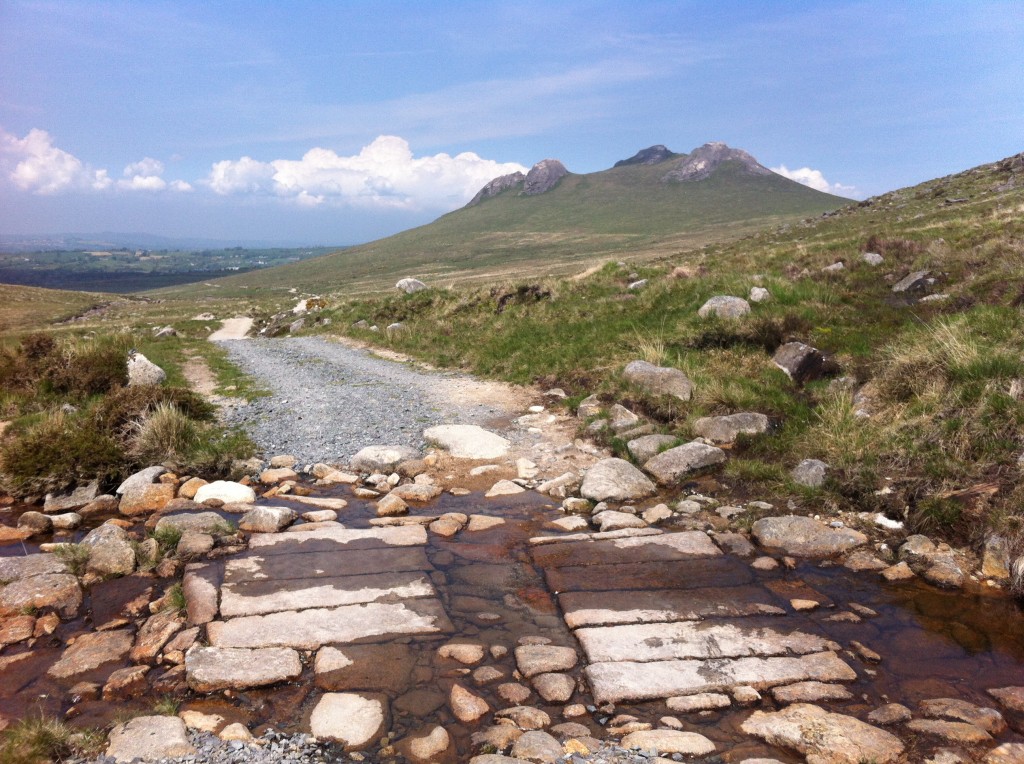 I have a saying, "you can pick the day, but you can't pick the weather".            This is usually rolled out after heading home to dry out after a prolonged soaking in the hills, but today, exactly the opposite was true.  There were times where a shower of rain would have been welcome, but there was no sign of that in the hazy blue sky, where only a few cotton wool wisps lazily and effortlessly made their way along, oblivious to the sweating eejit making his way along the Hen track in the western Mournes.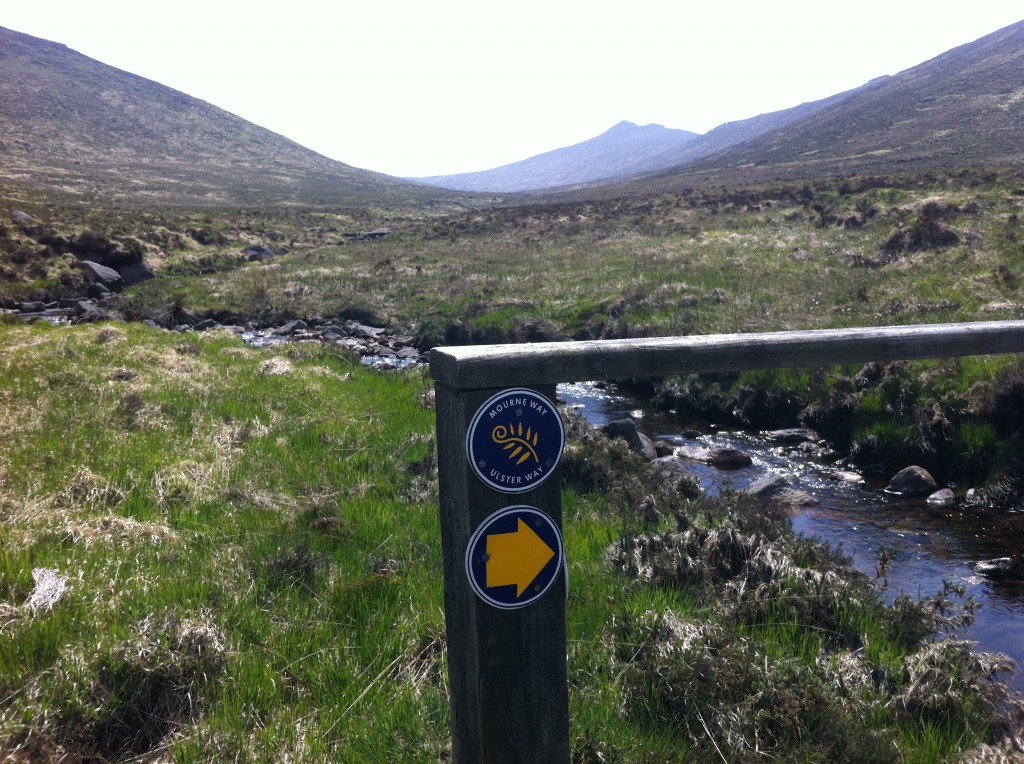 I had decided a couple of weeks previously that I was going to tackle the Mourne  Way in a day. I had never done the whole route, but had walked most of it at one stage or another, and was confident that with a long days walking, I could get it ticked off the ever growing list of walks that I intend to do "some day".  The weather had been fantastic the whole week, and the forecast was for another scorcher, which actually troubled me more than a forecast for rain and wind would have! My plan was to start as early as possible and get as much walking done in the relative cool of the morning, as I knew when the sun really got going, then it would be a tough slog for me to complete the 26 mile route from Newcastle to Rostrevor.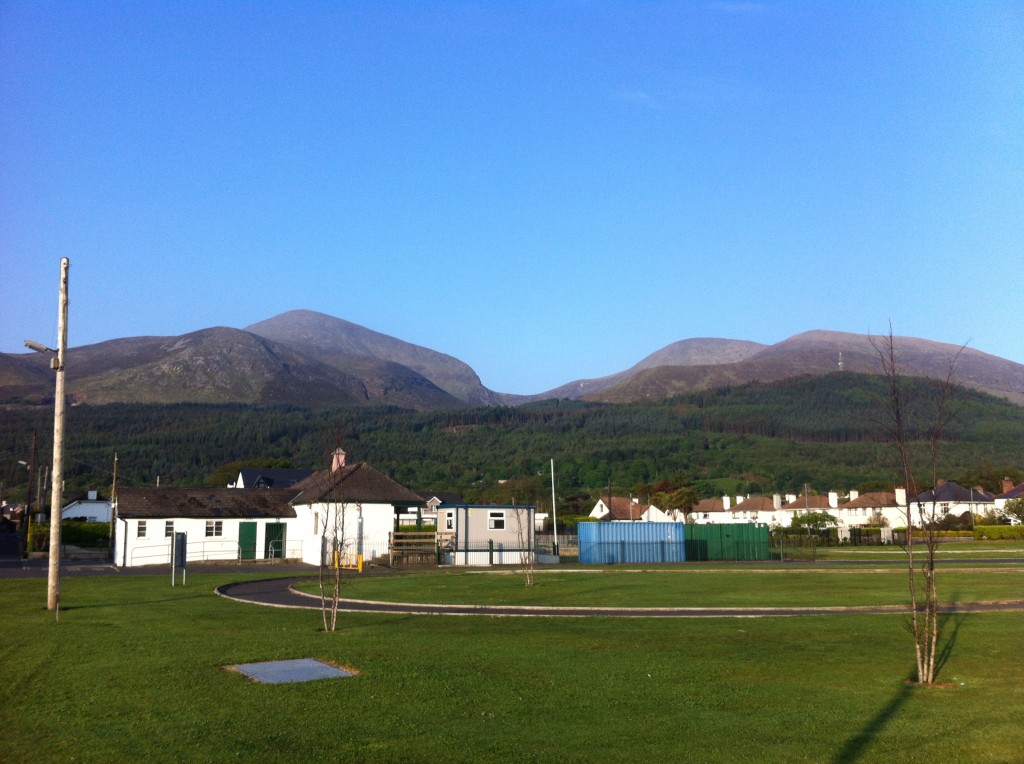 My brilliant wife dropped me off in newcastle just after 6 am, and off I went.  The mournes looked glorious, and it was warm, even though the sun had only started its long journey across the deep blue sky.  I made my way towards tollymore, smiling when I saw folks on their way to a days graft, while I was going to spend a lovely day enjoying some walking.  The thick forest shaded me as I made my way through tollymore, and it was a great way to start the walk, allowing me to get warmed up without getting too warm!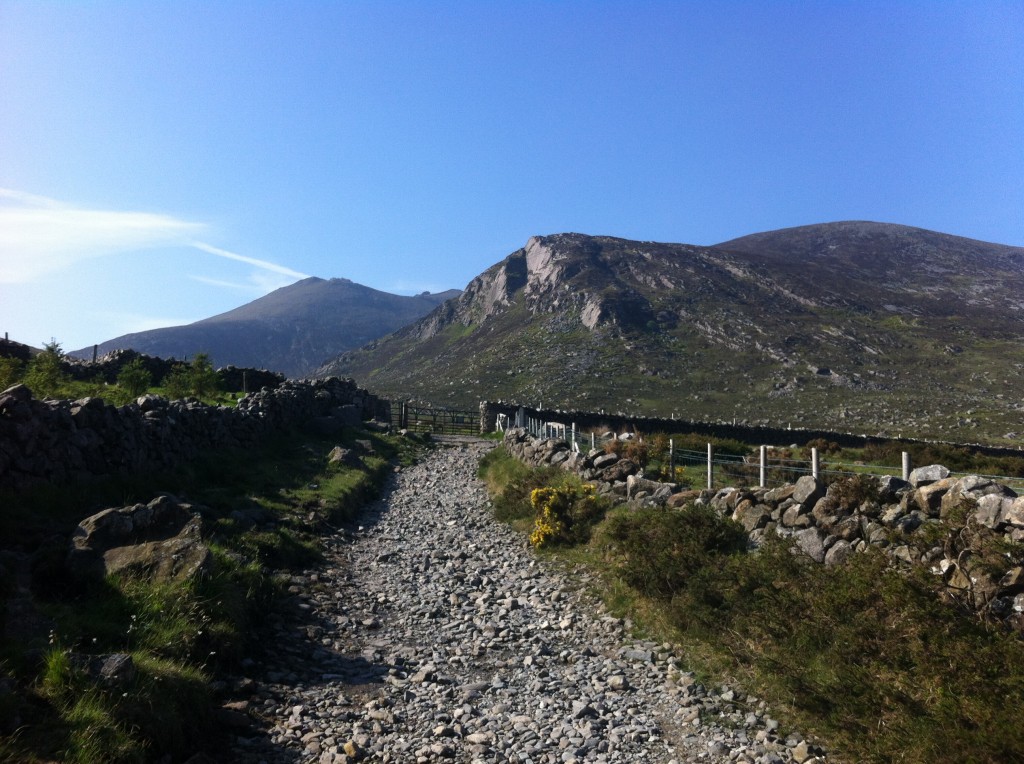 I made good time, and soon found myself making my way up the Trassey Track.  Usually I would be making my way into the hills from here, but instead bore right, travelling under the bulk of meelmore and meelbeg, with hardly a breeze strirring. I made it to the far end of Fofanny reservoir, and stopped for a snack, it was just after 10 am, I hadnt seen a single soul the whole way  to there from Newcastle, and I felt good sitting in the morning sun enjoying some well needed refuelling.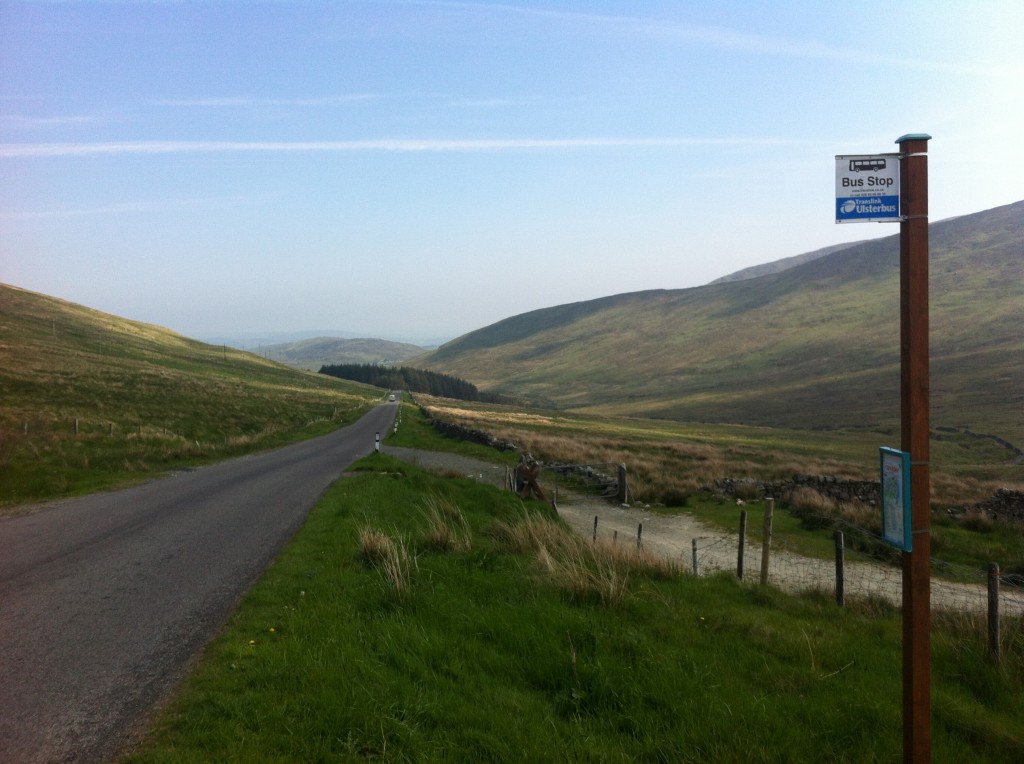 On I went, making my way up the road to the Ott carpark, a brief brush with civilisation, as a gang of cyclists on what looked like an organised ride swished past on their way down the hill, their effortless speed contrasting with my slower progress going the opposite way. "Morning" "Morning" Morning", it was to be the longest conversation I would have from now to the end of my walk! Then it was a steep pull up Slievenamuck, round behind  Spelga and Spaltha, and across the River Bann.  I stopped on the small bridge that crosses it for a while, marvelling at the fact that this small rocky river eventually winds its way right up to the north coast.
The Western Mournes came next. I love this part of the mountains, and the view up the Hen track was something to behold, even though, as previously mentioned, I was finding it difficult to see at times!  The Sun was blazing down, with only an occasional warm breeze providing any sort of relief from its glare in the shelter of the mountains. Walking into the sun now, I was glad of the fact that I had packed my sun hat and had brought plenty of fluids!  I must admit, I was finding the heat tough, and my pace slowed considerably. The Rocky and Rowan Tree rivers glistened in the sunlight, their deep pools almost hypnotising me, the urge to just jump in and lie in them had to be fought more than once!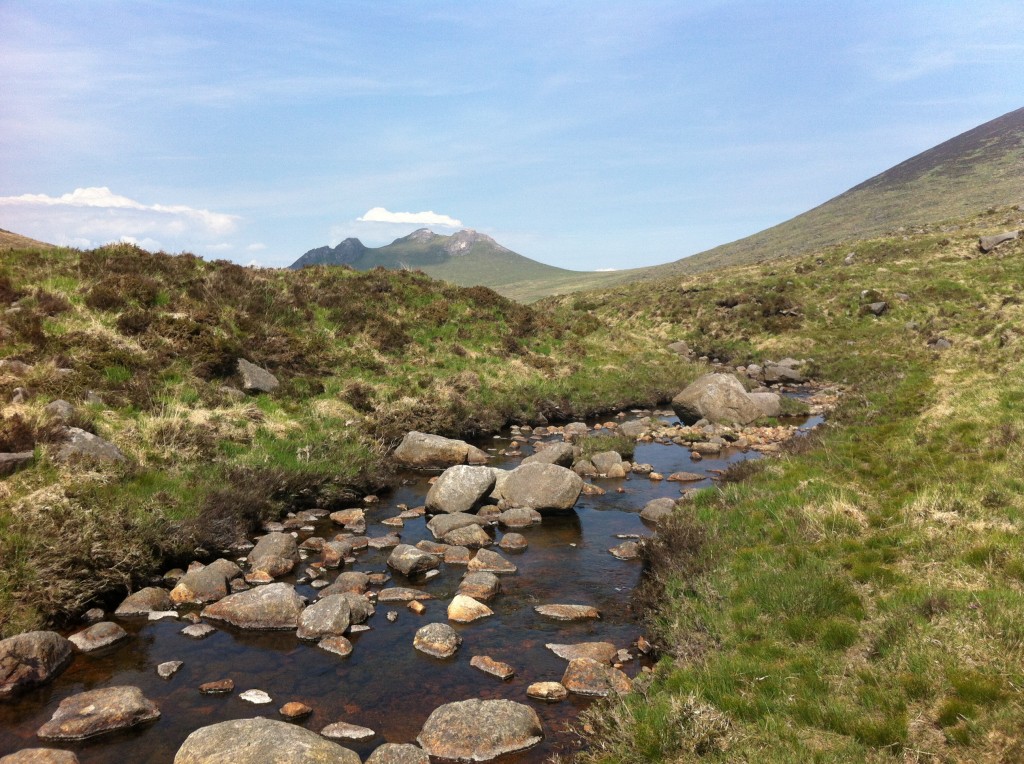 I could see my path ahead of me when I crossed the Rowan Tree River, and I knew that when I made it to the col between Rocky and Tornmarock, that it would be pretty much all downhill to the finish in Rostrevor. The breeze had picked up as I made my way up, and its cooling effect combined with the easier downhill walking, buoyed my spirits. Another refuelling stop overlooking Leitrim Lodge was enjoyed, and on I went. As I descended down the valley, pockets of trees provided cooling shade, but I wasn't out of the woods yet, literally! The last few miles of the walk were on forestry tracks, and their hard surface was tough on my tired feet. It was along one of these tracks that I caught my first glimpse of Rostrevor down on the glistening coast, but it still looked quite far away!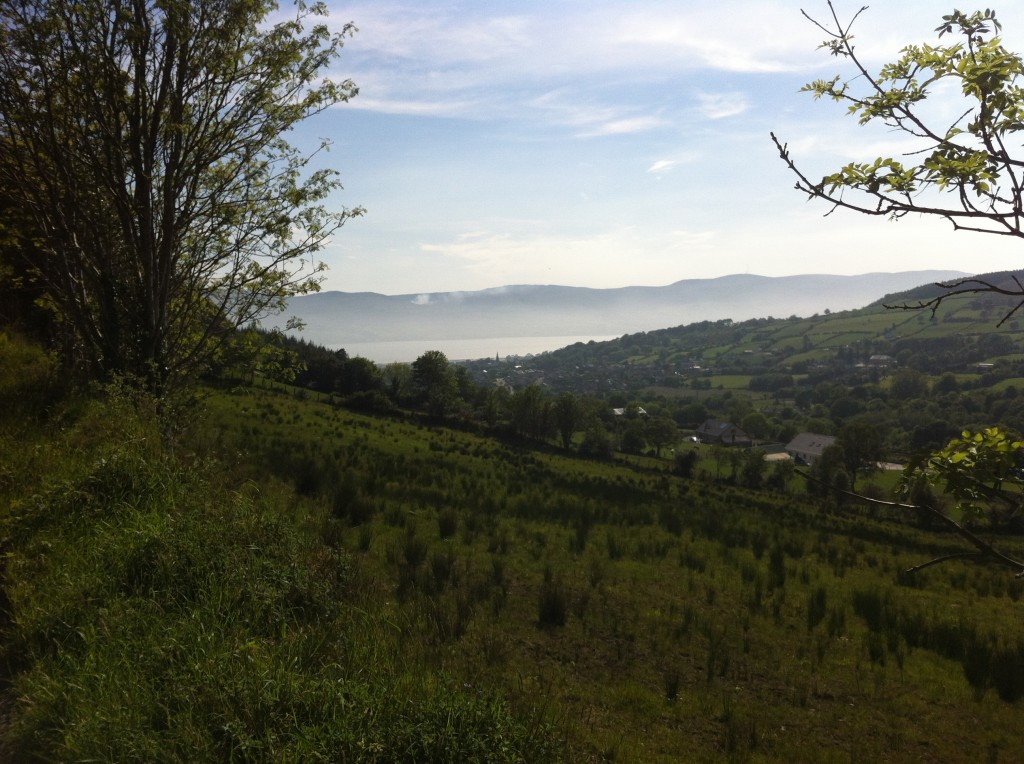 From there it was one foot in front of the other stuff, and the further I walked and the closer I got to the town, the more people I saw. The delighted squeals of children having water fights as parents barbequed their dinner was quite a contrast from the solitude I had experienced on my trek, but it was good to know that I had almost done it. I arrived in Rostrevor about 1730, 11 hours after I had started out in Newcastle, tired but happy.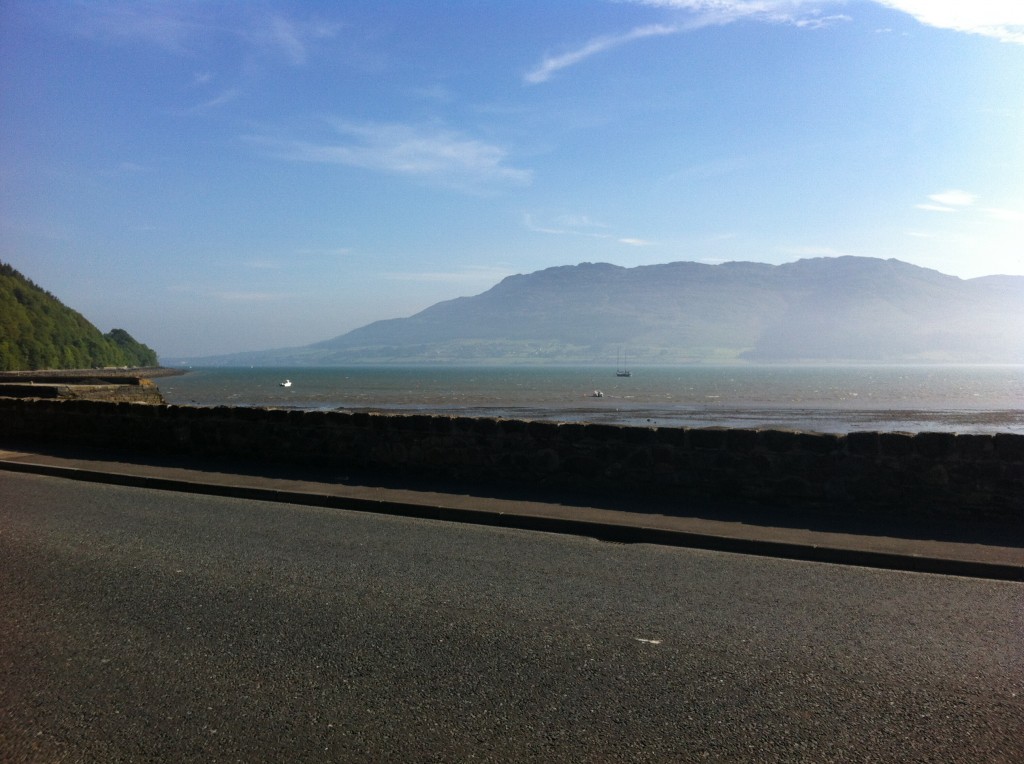 There was only one thing left to do, and that was to treat myself to a cold pint of cider and ice in one of the bars, it was honestly one of the best things I have ever tasted, and I felt I had more than earned it!  The Mourne Way is a fantastic walk, and I plan to do it again, though hopefully in cooler weather this time!
Thanks for reading.