Having owned several cheaper waterproof jackets over the years, I thought it was high time for an upgrade, and made the decision to purchase a quality, reliable jacket from an industry leading brand such as Rab.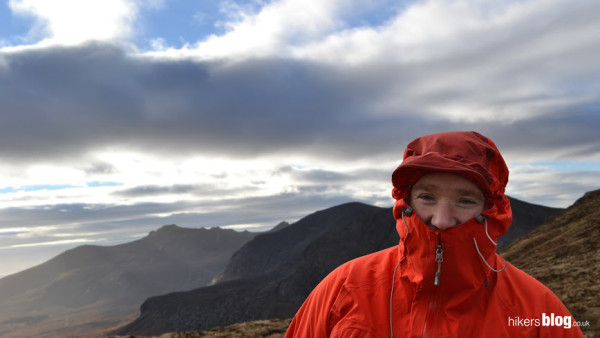 All the previous waterproof jackets I owned had lacked breathability, which resulted in walks outside ending with me soaked from the inside with sweat, rather than from the rain outside. So I felt it was time to purchase a new waterproof jacket that would keep me dry.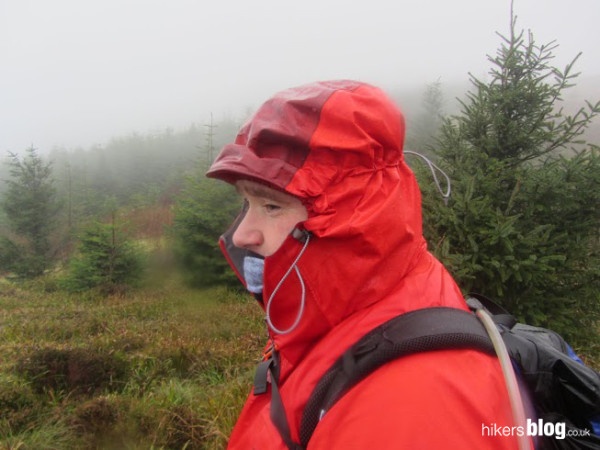 While exploring and researching my options about a new waterproof jacket, it seemed Gore-Tex had the majority share in the market for waterproof clothing.
After many hours searching online, and some retail therapy, the name eVent started to pop up.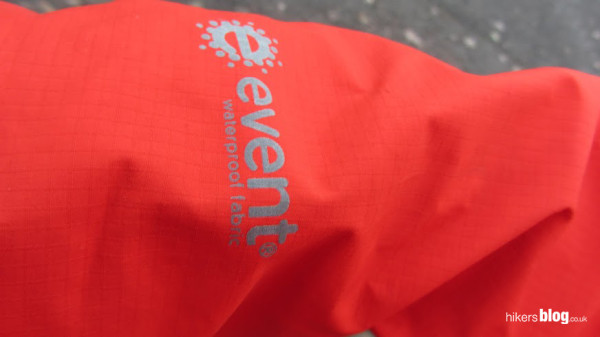 The eVent fabric boasts waterproof, air permeable technology with larger pores, which allow the passing of air more freely from the inside out, keeping the wearer cooler and dryer than a standard waterproof fabric.
I had certain requirements I wanted from my new waterproof jacket – I wanted to ensure I got a really good fitting jacket, one that could fit a base layer and fleece under should I need to layer up while on the hill.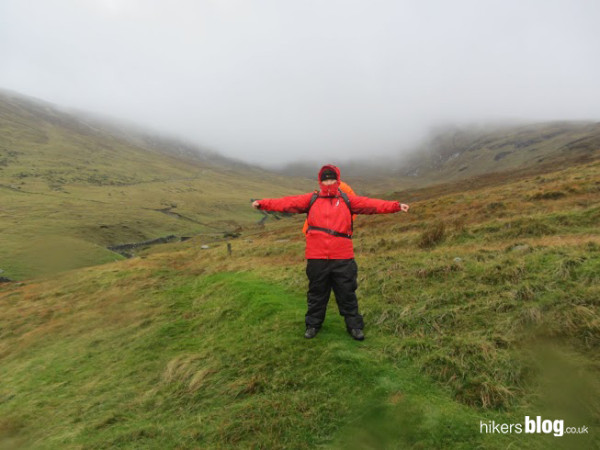 Also my previous jackets were cut much longer, and I sometimes found them awkward when scrambling on steep ground.  After much deliberation, I decided to go with the Rab Latok Alpine. It is designed as a climbing & mountaineering jacket, although personally I have used mine for everything from scrambling on icy summit torrs, to walking the dogs in the rain!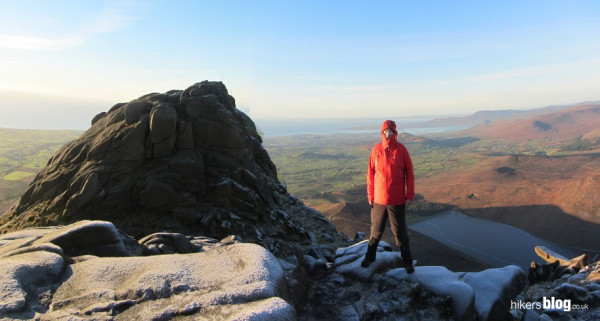 One concern of mine with the jacket would be the main zip, which has an internal storm flap.  I struggled to understand the reason behind this, most other jackets have an external storm flap, keeping the chance of rain away from the zip in the first place. However, as yet I've had no dampness or rain getting through, so maybe I'll hold off on any criticism for the time being.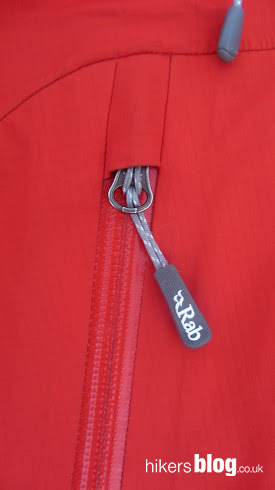 The two main outer pockets are set quite high, allowing for ease of access if wearing a harness or a pack, and are able to hold an OS map.
Two smaller inside pockets are handy for keys,mobile phones or a camera. The cuffs have sturdy Velcro closures, great for adjusting the cuffs while on the move. Another nice wee feature I like is the comfort padding inside the collar.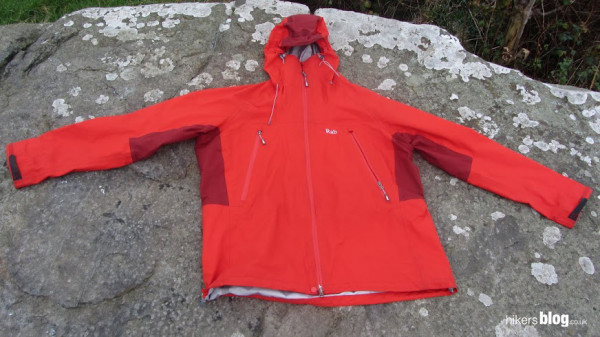 Weighing in at 450g, it's not the lightest in its class but I have found the hard wearing eVent material to be robust. The hood has a toggle closure which allows you to adjust to suit the persons head, or helmet if wearing one. The hood also has a tuck away feature on the collar, although  I've just worn mine out most of the time. The jacket has a very streamlined design but this is sensibly designed with the climber or no fuss hiker in mind.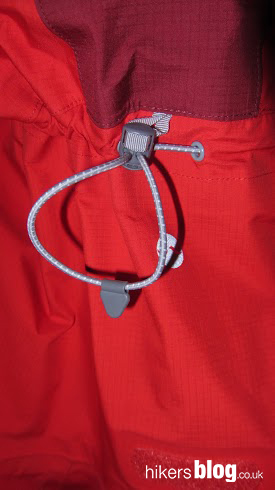 Being only 5 ft 7 ", I found the medium cut Latok to fit me quite well. My friend Eamonn who is over 6ft tall, also has a Rab Latok Alpine jacket and has found its cut a bit too short, and prone to riding up.  My first outing wearing the jacket was the day after I purchased it, when I joined a friend for a wild camp in the Mourne Mountains.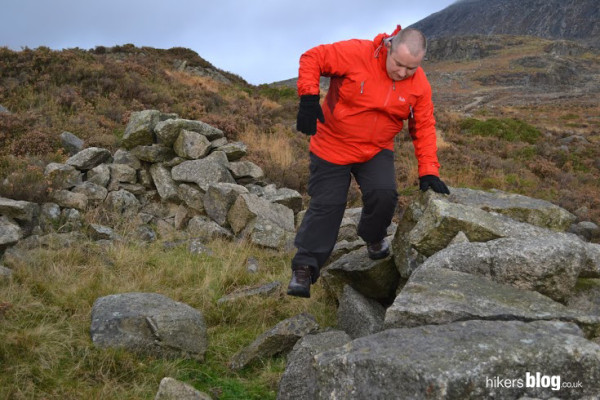 Upon waking the following morning, we were greeted by torrential rain, now who in their right mind would smile at such a thing?
But there I was, cocooned in my Latok jacket, laughing at the dark skies, and marvelling to myself as I watched the lashing rain roll off my jacket, it really was a different class from my previous waterproofs!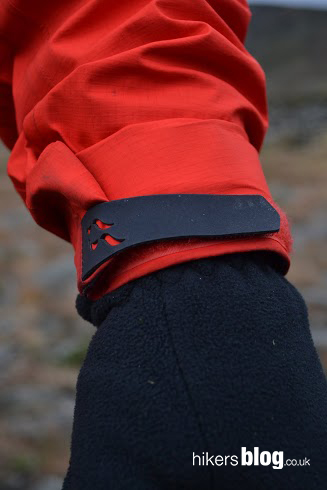 Main Features
eVent 3 layer waterproof material

Robust
Two way water resistant main zip.
Adjustable helmet compatible hood & wired peak
Two good size chest pockets that can be easily accessed when wearing a rucksack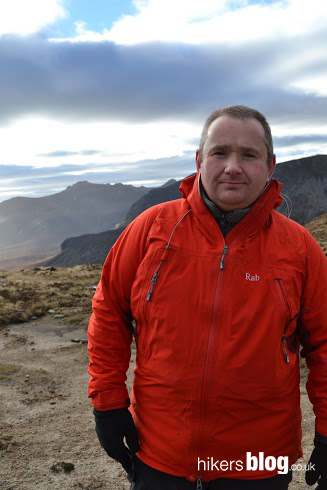 That leads me on to product care,something that can be overlooked by many, you cant simply rely on the jacket to care for itself year after year.
Hiking, wearing a rucksack, and even just general usage, results in the product needing washed and reproofing to maximise its performance.
As my jacket is a vibrant colour, it does tend to show up any dirt or mud, but then at least I know when it needs washed!- wash your jacket according to manufacturers instructions- use a technical liquid soap or pure soap flakes.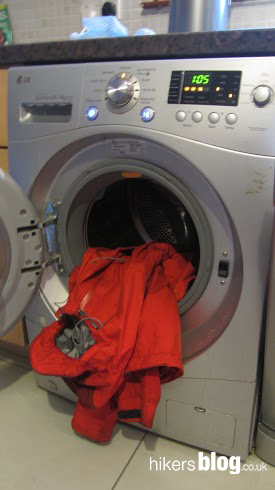 Conclusion
Having owned a Rab Latok Alpine for just under four months now, how would I rate it? I am generally very happy with the jacket, although I still have a few concerns about  the waterproofness of the main zip in the long term. In relative terms, eVent is still quite new in the marketplace, and there is some good evidence to suggest it's breathability is somewhat better than Gore-Tex. On the scale of which system performs better, I've struggled to find the answer. Generally what I hear is that they are a pretty even match, granted Gore-Tex seems to require less care, but for me that's not too important for me as I've always been very attentive when it comes to looking after my kit!
BUY NOW FROM AMAZON
If you like the look of this gear, please consider purchasing from Amazon via the link below. We receive a small referral fee at no cost to you if you do. Please also be assured that this in no way affects the content of our reviews, you'll see these purchase links in the products we hated too, just in case you disagree with us!
Men:Women:
Find a bargain on eBay
The Rab Latok Alpine jacket is frequently available on eBay at lower prices.