I bought this rucksack during October of 2013 after finally giving up a five year old backpack that was coming to the end of it's days. I'll be the  first to admit that I had reservations about spending the £180 retail price at the time, but since purchase I have been convinced that it has been completely worth it.
Some rucksacks in the Lowe Alpine range are light, and sleek, and look really sporty when you put throw them over your shoulders; but this isn't one of them. The Cerro Torre is quite simply a workhorse. It's big, it's tough, it's matte black material doesn't really look like much, but it does what you ask of it and then some more.
Features
The pack has some nice features including stretch side pockets, lashing points and a zip that allows a partner to access the main compartment of your bag without having to removing it from your shoulders.
The lashing points are perhaps one of my favourite features on this bag, as they allow you to strap sleeping mats, firewood, walking poles or even other bags to the outside of your rucksack securely and with little effort. This only increases the carrying capacity of the pack, as by carrying your sleeping mat strapped to the outside, you have extra room on the inside for food or clothing.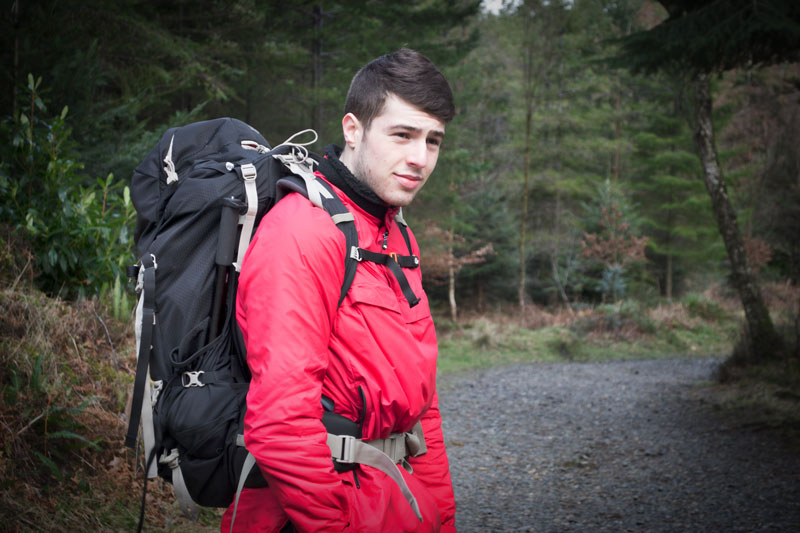 Unfortunately my version of the Cerro Torre doesn't come with hip pockets, which was rather disappointing when you take into account the high retail price I paid for it. Don't let this put you off however, as there are versions available with hip pockets – just pay attention when shopping around if they are something you must have.
Another feature I am very pleased with is the adjustable back system. I followed the fitting instructions on the Lowe Alpine website and found out my back was classed as short – not a size I would have imagined – and adjusted the back system appropriately. After doing this I felt the rucksack sit much nicer on my body and it felt more comfortable than before.
Something that I noticed was different from other rucksacks that I have owned in the past is where the bottom of the pack rests on my back. Previous rucksacks have usually sat on my waist, just on my bottocks; but the Cerro Torre sat higher up my back, resting on the curve just above my waist. This felt strange at first, but after a bit of research I read that this is a design feature to allow your upper half to rotate with greater ease, and to allow your legs more space to move when walking.
Capacity
I'm not sure if I would classify the capacity of the rucksack as a feature, but if I did, it would hands down be the best feature about this pack. With 65 liters of space to fill, and another 20 liters if you extend the top, this pack can easily carry everything you could need for a extended backpacking trip into the wilderness, and carry it in comfort at that.
I've personally carried a tent, two sleeping bags, a stove, gas, food for two people and all the other extras that you would take while camping. Don't mistake that example as me telling you how much is comfortable to carry, as each person will vary individually; but from personal experience I can comfortably carry 20Kg in the pack when I need to.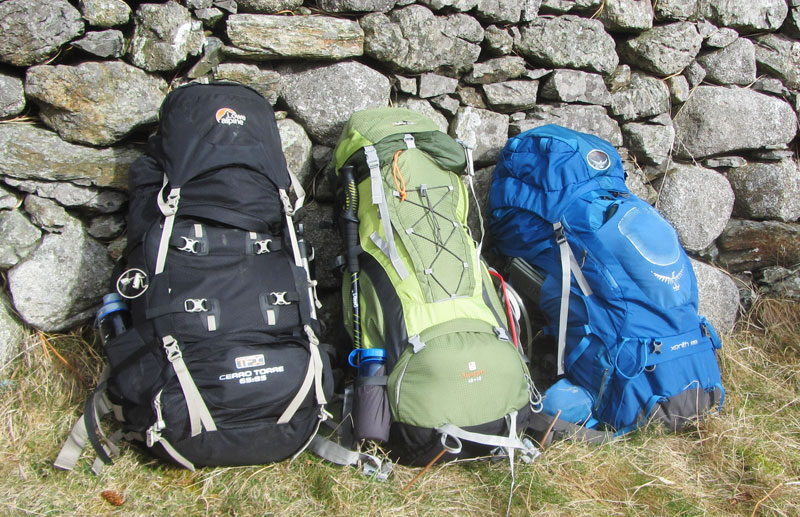 The above photograph shows the 2013 Cerro Torre 65:85L in comparison to the 2015 Vango Sherpa 60+10L and the 2013 Osprey Xenith 88L rucksacks. The Cerro Torre rucksack, which has a similar capacity as the Osprey Xenith differs in that it is taller, more narrow and packs in a more vertical sense in comparison to the Xenith.
Build Quality
The build quality of this rucksack is something I can't fault. The zips are strong, the material is rip resistant and the padding on the shoulder straps is firm but comfortable. It's essentially what you would expect from Lowe Alpine: high quality, strong and comfortable to wear.
I like to think of it as the Transit Van of the rucksack world: purely practical and takes everything you can throw at it.

After two years of use, my rucksack still looks great, except for the odd dirt stain; but that's to be worn as a badge of pride to showcase all the adventures you've been on.
When first putting the rucksack on, I did worry that the stiffness of the straps would trouble me, but after wearing it a couple of times they soon loosened up and became more comfortable.
Conclusion
Do I recommend this rucksack? Absolutely. Is it worth the price tag? Absolutely. If I lost mine would I buy another tomorrow? Absolutely.
It's probably one of my favourite bits of kit. A piece of kit that's never really noticed because it simply works without problem in the background – a bit like good quality socks.
If you're thinking about getting one; get one. I love mine, and if you're like me and will use it for wild multi-day hiking and camping trips, I predict you'll find it hard to fault.
BUY NOW FROM AMAZON
If you like the look of this gear, please consider purchasing from Amazon via the link below. We receive a small referral fee at no cost to you if you do. Please also be assured that this in no way affects the content of our reviews, you'll see these purchase links in the products we hated too, just in case you disagree with us!