"For the end of November the weather is very mild" I stated as I stared out the tent porch and into the grassy patch of Earth in front of me. Right I was, 9 degrees Celsius is nearly tropical when you're used to freezing outside in the wind and rain – thankfully the overcast skies held no rain and only served to keep the temperatures at a nice moderate level.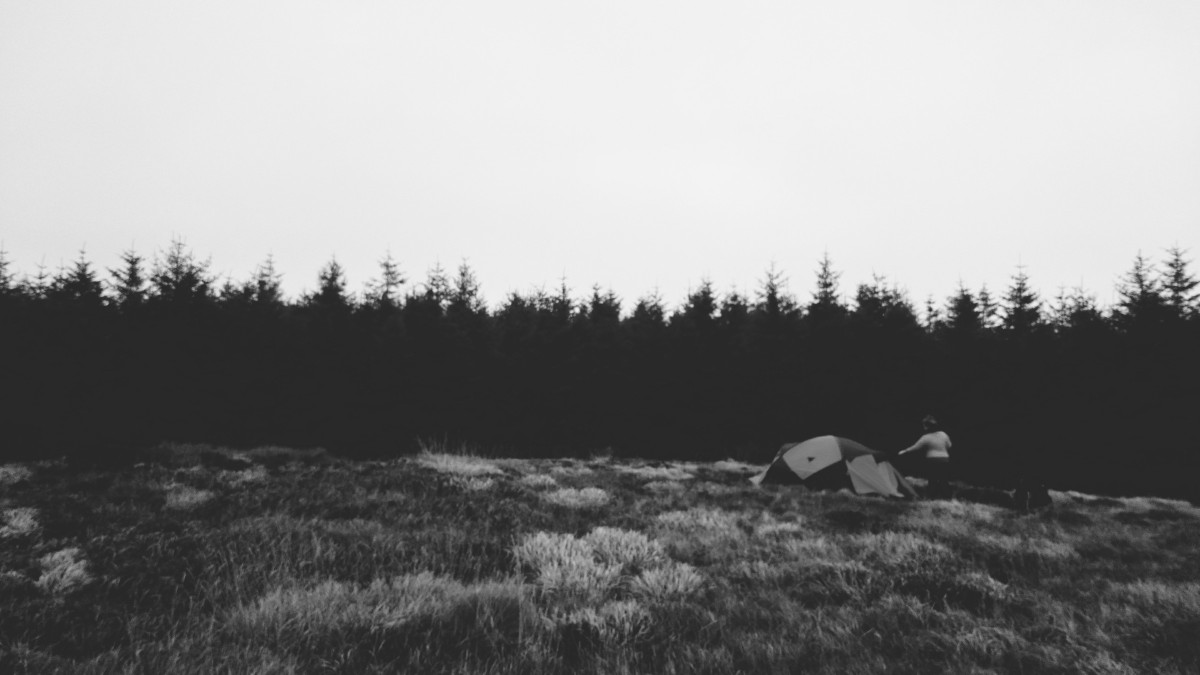 Not even the overcast November skies could do anything about the winter sun, and within an hour of arriving at Binevenagh it was soon dark. I admit it did feel strange sitting in your sleeping bag at 4:30pm and nearly falling asleep, but with it being so dark outside and so warm inside it was hard not to.
I snoozed for an hour and listened to the sound of nothing outside the tent while thinking about what the weather might be like in the morning. Around 6pm I got up from my slumber and started to make some dinner; tonight's dinner was super noodles and chorizo sausage, a recipe I stole after salivating over the sight of it at the end of day one of the Mourne Mountain Marathon 2014.
After dinner was eaten and pots and pans cleared away it was around 7pm and I found myself back in my sleeping bag and slowly drifting off to sleep. Twelve whole hours later I awoke to the chirping of a bird in the distance – don't you just love getting a good nights sleep outdoors. It didn't take me long to get up out of bed and put my cold boots on in the dim morning light.
I took off from the tent with the intention of taking some photographs of the sunrise but as you can guess with such overcast skies the day before, there wasn't much of a chance to be treated to a sunrise. Lucky for me, I caught a brief moment where there was a orange glow in the distance and I managed to capture it on camera; even with cold fingers.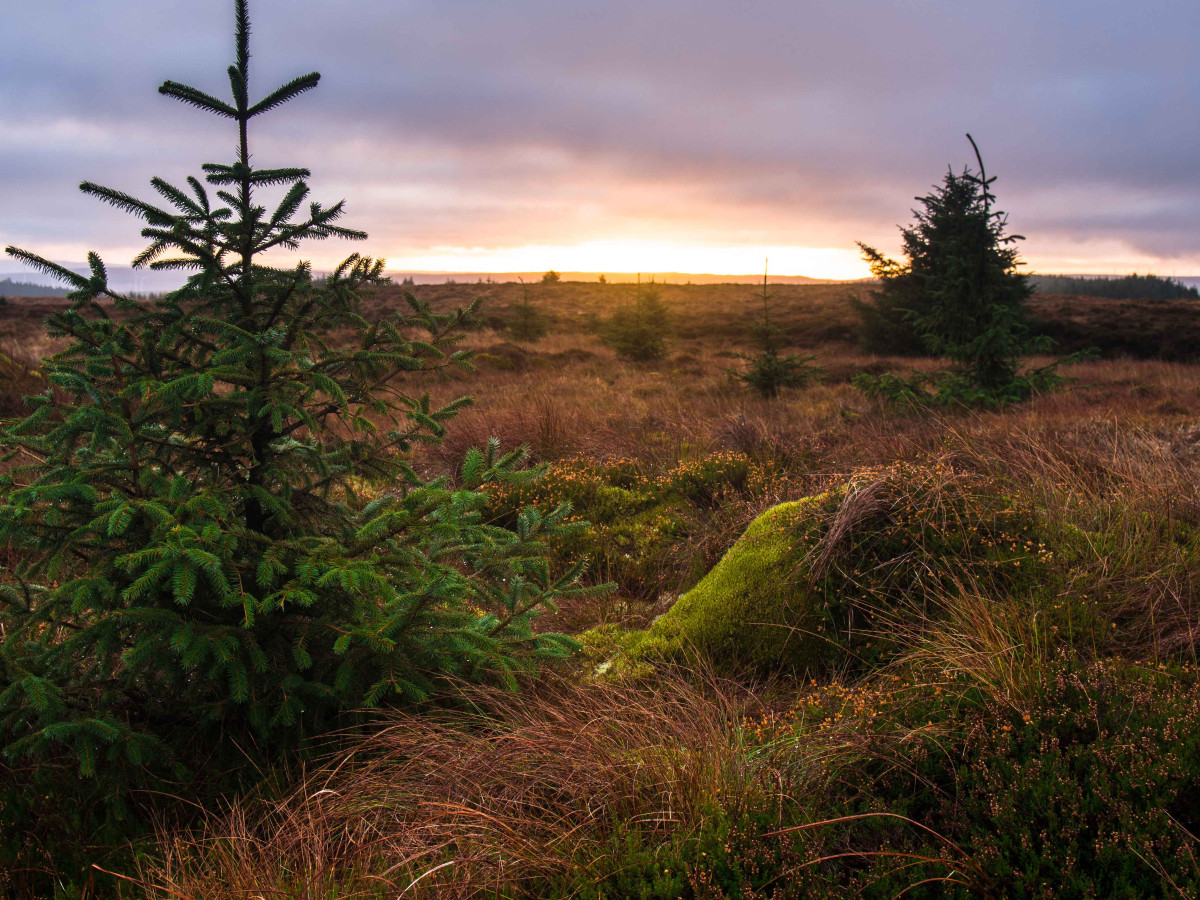 After that the sun soon disappeared and I was left to walk around Binevenagh in a dim grey sort of atmosphere. None the less, the sights were still spectactular and with the morning mist starting to clear I could see the river Roe, Lough Foyle and across to Co. Donegal.
When walking along the bottom of the cliffs of Binvenagh I found a patch of land that I thought would make a great campsite and it wasn't until I got closer that I noticed someone else had had the same idea before me, as I spotted a small ring of stones used for a campfire no doubt.
It is hard to walk along the bottom of these cliffs and not stand in amazement at the sheer scale of them – even though they are not the tallest, I couldn't help but feel small as I gazed up their vertical walls.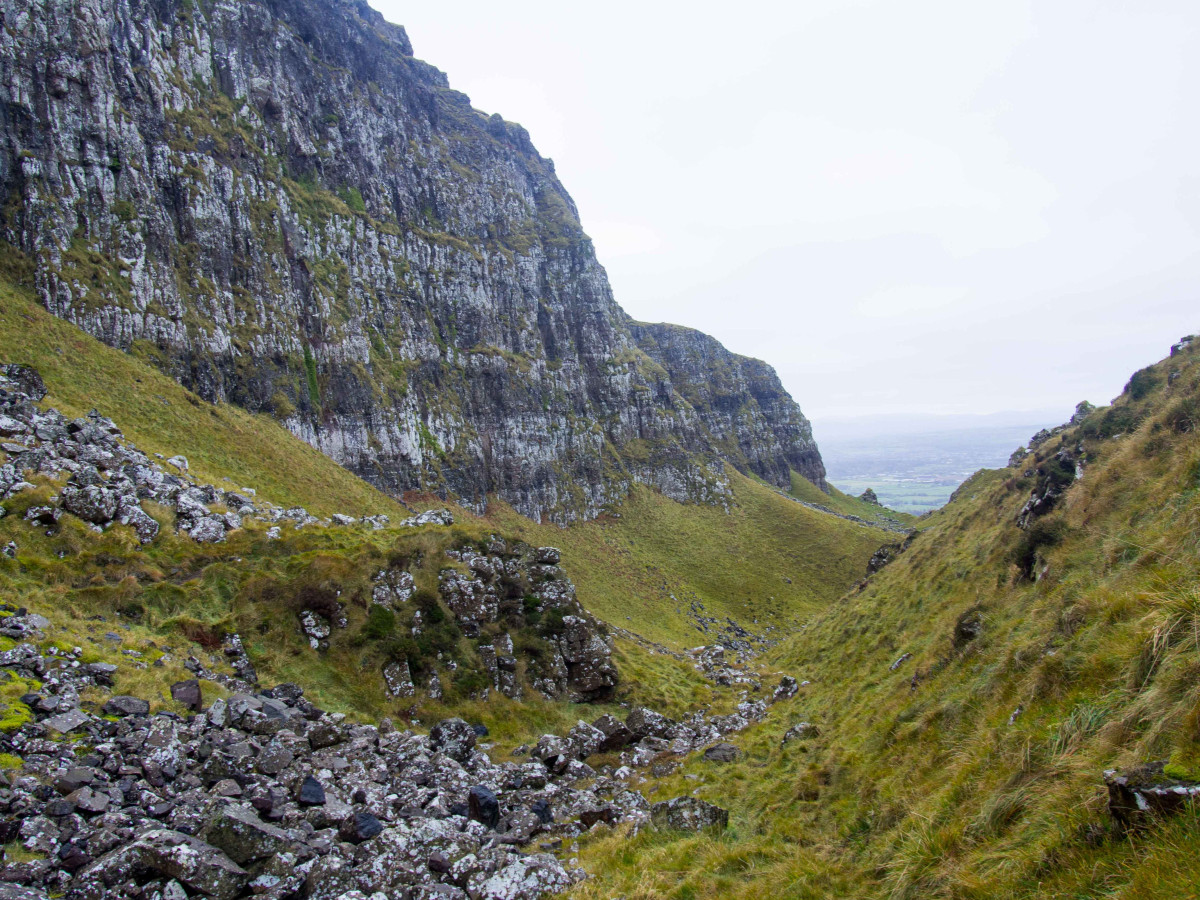 Overall this was a very enjoyable overnight camp in a rather accessible area. My only wish was that there was a bit more sun, but you can't have everything!