A lightweight one man tent, that comes with a small pack size and a very attractive price tag.
I purchased the Force Ten Helium 100 because it ticked the boxes of being a lightweight, one man tent, that packed up small and didn't cost an astronomical amount of money, and I can tell you now, it doesn't disappoint.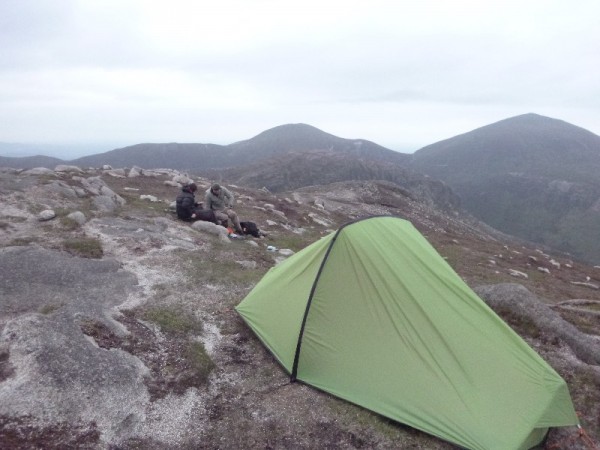 You may think that £200 for a tent is pretty dear, which I understand, but compare this to similar one person models at that weight and you will see that it is a very reasonable price overall.
If you are reading this I suspect you are looking for a similar solution to your tent needs, something light, that doesn't break the bank. The Helium 100 weighs 1.15 kilograms, which is a brilliant weight for the RRP of £220, and I'm sure there are cheaper deals out there.
The tent will pack down to a much smaller size than the stuff sack provided. Tested the tent packs into a 1.5L dry bag (poles excluding) with room to spare.
Features
The Helium 100 has two skins; the inner and outer, and pitches outer first. It can also be pitched all in one, which is the far easier option practically, and also ensures that the inner tent doesn't get wet when pitching in the rain. This is something that you will only appreciate when it is pouring down and you want to get into your tent as quickly and as dry as possible.
Overall the tent takes 5-6 minutes to pitch by yourself, a very respectable time and a very straight forward process, insert main pole and two end poles, and then peg down; simple.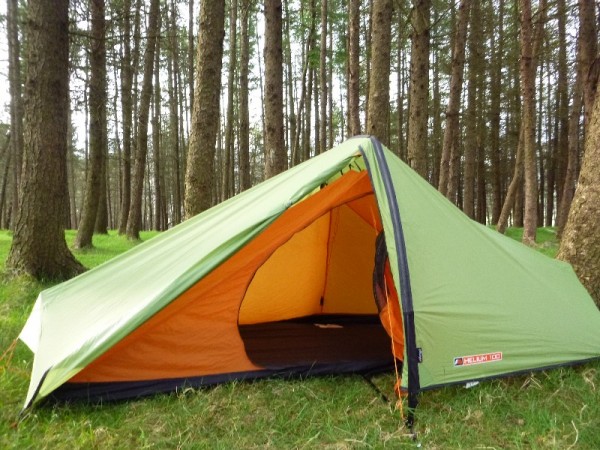 The tent pitches with one pole along the center and two small poles at either end, a proven design throughout lightweight tents. This set up of one central and two end poles provides good stability in strong winds, keeping both ends low to the ground, where there is less wind, while also providing good head room. The central pole slips through the tent sleeve with relative ease and although it can be a little tricky getting it back out, it works well.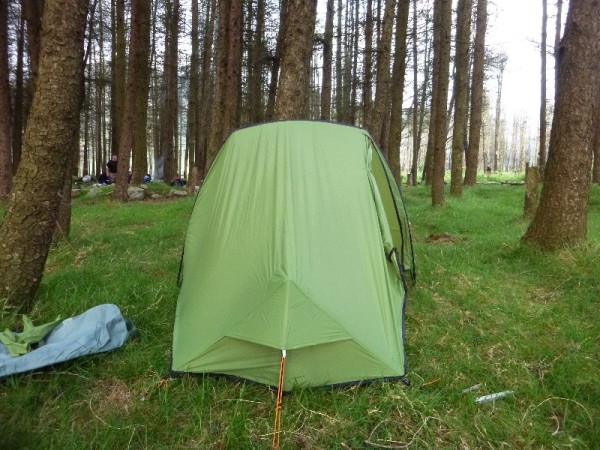 The two end poles provide the headroom at each end of the tent and also serve as a mesh panel used for ventilation. I haven't experienced any condensation inside the tent to date, just ensure adequate air flows through the tent.
The top of the end pole slots into a sleeve and then the bottom into an eyelet at the bottom on the webbing of the tent. The end poles are very secure and won't simply fall out because of looseness.
One small issue
The only issue I have with the end pole design is the way which the inner tent attaches to the outer tent. It attaches by elasticated cord to a hook above the end pole(which is attached to the outer), and the elasticated cord can detach when the tent is moving about in high wind. This is because the elastic cord loop is too thin in comparison to the hook.
This problem can be solved by doubling over the loop and attaching it to the hook, this reduces the space in the inside area of the plastic hoop and stops the cord jumping about in high wind, and therefor falling out. This also makes the inner tighter and less likely to flap in your face when it's windy – a big bonus!
The porch of the tent is reasonably spacious for one man use, it is big enough to cook in (cautiously) and will store a rucksack and shoes. The tent door has two zips and can be opened from both the top and bottom, a handy feature that aids ventilation and makes it easier to peek out and see if the weather has improved without letting it in.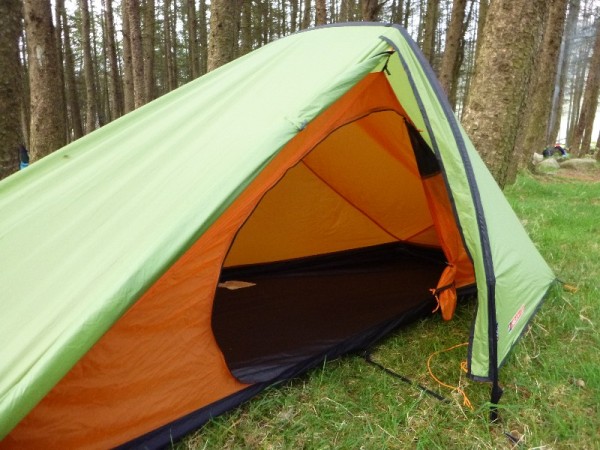 The inner area has enough room to lie in with some space left over for wet clothes and extra kit but not much else. At 6ft tall I find that there is enough length in the tent for comfortable sleeping, with 3-4 inches (that's an estimate) to spare at each end. 
Spacious living is not something you should expect when you want a lightweight tent, but in my opinion the Helium achieves the perfect amount of space for weight.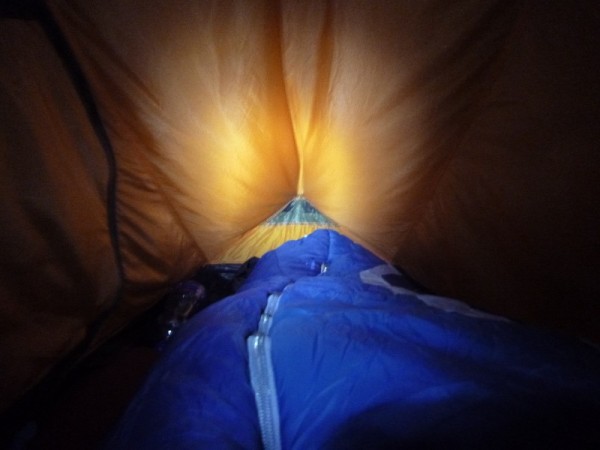 The outer tent can, and very well may be, flappy in the wind. It can be hard to achieve a fully taught tent, but with the small weight and pack size and the very affordable price tag, this is something you sacrifice and  if I'm honest isn't really a massive annoyance.
Even though the outer tent can be flappy, the Dyneema guy lines and Tension Band System ensures the the tent stays stable in high wind. This is aided by the V-shaped pegs that you get with it. Throw this in with a 5000mm Hydrostatic Head (The amount of water that can sit on top of the fabric before penetrating it and you get a tent suitable for general year round use.
Pros
Lightweight and great pack size

Stable in bad weather

Great inner size
Cons
Small-ish porch

Slightly flappy in wind
In conclusion I'm very happy with my Helium 100 and I definitely don't regret buying it. I think Force Ten (Vango) have done a very good job in producing a great tent with such a great price tag. I'd definitely recommend one.
**Update from use during Mourne Mountain Marathon 2014**
Myself and my teammate used this tent during the Mourne Mountain Marathon 2014 for our overnight camp. It was great for its lightweight properties, but don't expect a roomy experience. The two of us fitted in snugly head to toe, which is the only way you could get two people to fit in. It was warm enough during the night with two people sleeping in it and we had to open the door to let some cool air in. Unfortunately this extra body also meant extra condensation which soon built up on the inner of the tent. Our sleeping bags and faces got damp throughout the night, but you can't really expect a one man tent to handle the condensation from two people. Overall I'm happy with its performance and I would use it again for a mountain marathon.
BUY NOW FROM AMAZON
If you like the look of this gear, please consider purchasing from Amazon via the link below. We receive a small referral fee at no cost to you if you do. Please also be assured that this in no way affects the content of our reviews, you'll see these purchase links in the products we hated too, just in case you disagree with us!